Catherine O'Mullan - Head of Curriculum and Operations
Welcome to our Careers Night event page. You can discover all there is to know about our Full-Time Courses which start across the College from next September. So whether you're completing your GCSE, A Levels, Leaving Certs, or a course at our College, this is your opportunity to find the perfect course at NWRC to help take your career ambition to the next level! Teaching staff from across all our subjects areas have provided an overview of their courses, so click on the 'Our courses' link below to listen to and find out more. And, you can make your online application for a course through this page also – see the link below to start your application journey.
We are also delighted to have input from a range of local employers who are currently recruiting for numerous job opportunities across our region – click on the Job Opportunities link to find out about the opportunities they have on offer.
LIVE CHAT …Remember, if you a question about a College course, or require some general advice, you can use our live chat facility (in the corner of your screen). Send your query through, and a member of our team will be ready to help.
Careers Advice
Together with our team of Career Advisors and support staff, we aim to support students in their educational journey and help them meet their employment potential. We deliver a wide range of bespoke programmes and interactive workshops tailored to the student's needs.
We strive to close the gaps to support students to meet their employment and higher education potential through the development of soft and hard skills.

Frequently Asked Questions
To apply for a full-time course, you must be 16 years of age or over on or before 1st July in year of entry. Applying for a course at NWRC is easy. Our Student Services Team are available to guide you through the application process.

For more details, contact: 028 7127 6000 or email admissions@nwrc.ac.uk

You can also book an appointment with our careers team to chat about your options and make sure you are choosing the best course for you, email careers@nwrc.ac.uk

Full-time course applications are now open online.

Our dedicated team of careers staff aim to support students in their educational journey and help them meet their employment potential. Get in touch with careers to arrange a 1-1 appointment or a workshop to aid you in developing your CV. We also have a CV writing tip booklet to guide you step by step.

Job application successful? We have interview skills workshops and mock interview sessions available to ensure you're prepared.

For help with your UCAS application call down to the careers desk. Staff can provide you with the UCAS application help booklet and our handy hints and tips booklet for writing personal statements. You can also participate in our UCAS workshops which will assist you in registering and completing your application form.

If you don't have traditional A-Level / GCSE qualifications, we can take into account the knowledge and skills you have gained through work as a foundation for your study.

This includes learning gained through:

Life and work experiences (paid and voluntary)
Community-based learning
Workplace learning and training
Continuing professional development
Independent learning

This process is called Accreditation of Prior Learning (APEL). This means entry through which learning achieved outside education or training is assessed and recognised for academic purposes. Please note if the course requires you to have English Language and /or Maths at GCSE level or equivalent these cannot be assessed through the APEL process.

You will be assigned an APEL Adviser who will support you through the process by introducing you to the relevant guidelines, building your confidence as a learner by identifying your strengths and skills and advising you on how to prepare your portfolio of evidence of learning.

To schedule an appointment with an APEL Advisor in your subject area, contact our Quality Enhancement Unit: qeu@nwrc.ac.uk

NOTE: Normally APEL applications need to be made well in advance of the course start date in September.


To apply or for further information view our College APEL documents below:

After completion of your GCSEs you can progress to one of our Level 1/2/3 courses. All courses have specific entry requirements so be sure to check these on our website or speak to a careers advisor.

Entry requirements based on ROI qualifications usually relate to Leaving Cert or Leaving Cert Applied qualifications. Please consult our prospectus or contact a careers advisor if your highest qualification is Junior Cert. There are some courses listed which do not require any formal entry criteria and these may be a useful starting point in which to build your career progression.

Completion of our Level 1/2/3 courses will enable you to gain the qualifications needed for progression to higher level qualifications within the college.

After successful completion of your A Levels or Leaving Cert you can progress to a higher education course within the college. NWRC have a number of Foundation Degree, HNC and HND qualifications. You also have the option of applying for a HLA – Higher Level Apprenticeship in which you can work with an employer whilst gaining your Foundation Degree.

The careers team within the college provide careers information, advice and guidance before you apply and throughout your time at the college. We also provide you with information and guidance on how best to progress after course completion.

Visit our NWRC Jargon Buster for further details on the types of qualification available.

Here at NWRC we deliver a wide range of bespoke programmes and interactive workshops to help students plan their education around a clear career path.

You are more than welcome to arrange a meeting with a career's advisor.

To arrange a meeting with us contact us via email careers@nwrc.ac.uk

or call 028 7127 6111

You can also message us on any of our social media platforms: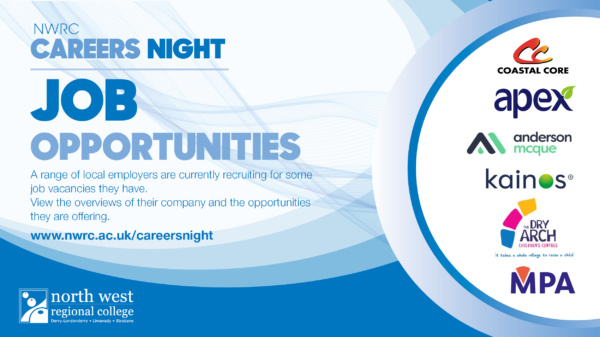 JOB OPPORTUNITIES
We are delighted to introduce representatives from a range of local employers who have provided an overview of their company and the job vacancies they are currently offering. Please scroll to below to view their video presentations and if you are interested in any of their opportunities, we encourage you to follow-up by visiting their website for further details on how you can submit an application for the positions of employment they are currently advertising.
Our team at Anderson McQue deliver world class talent solutions within the full recruitment process, from initial candidate attraction, to advanced global support services and international mobilisation.
To find more about the careers opportunities available at Anderson McQue click here.

Apex Housing Association (Apex) provides housing, care and support for the needs of the whole community in a variety of settings across Northern Ireland. Apex is a major housing association managing a stock of more than 6,000 homes, which will grow to over 7,000 when our current planned programmes are completed. Our business is housing and associated care and support services. We employ almost 700 staff throughout the organisation. We're also an accredited Investor in People.
To find out more about the careers opportunities with Apex click here.

Pre-Employment Programmes. NWRC are now recruiting individuals for a range of FREE pre-employment training courses which include guaranteed job interviews. These short courses are fully funded through the Flexible Skills Fund or ERAP and will give individuals the skills that employers are looking for, in the areas of Construction, Electrical or IT & Customer Service.
To find out more information and apply click here.

MPA is the recruitment partner of choice to some of the world's leading and innovative organisations. We provide permanent, contract and temporary workforce solutions to both the private and public sectors. Over the last 24 years we have developed a strong, award-winning presence throughout multiple sectors by bringing innovative recruitment and human resource services that add true value to our clients workforce and talent acquisition processes. Every week we are proud to send 1,300+ people into the workplace.
To find out more about the careers opportunities with MPA click here.

Our people lead from the front, solving the biggest challenges for the world's biggest brands. Our clients say that our people stand out – their enthusiasm, innovative approach, and commitment are what makes us such a special partner. With us, you'll work on projects that make a real difference, build a better world through technology, and leave a lasting positive impact and change the way our customers work for the better. We have 400+ global vacancies, and over 40 roles available in Derry/Londonderry.
To find out more about the careers opportunities with Kainos click here.
Kainos Academy - From school students with big dreams to digital professionals with high hopes, our Academy empowers exceptional people to do great things. Our Academy has grown to become an industry leading training and career development programme. With over £1 million spent each year, our learning and development initiatives break the mould to provide new routes into tech. The only prerequisites? A keenness to learn, and a desire to change the world. Our Academy opportunities include:

We are Budget Energy, an energy provider based in Derry/ Londonderry, Northern Ireland. We are dedicated to bringing a cost effective choice to the Northern Ireland electricity market.
We are always on the lookout for energetic, positive individuals who can add value to our teams, here you will become part of a vibrant workspace with a very welcoming workforce.
To find out more about the careers opportunities with Budget Energy click here.
Jobs & Benefits Office
Are you currently unemployed and looking for work? Or in employment and would like to increase your working hours. Or perhaps you have a job offer or self-employment opportunity?
Help is available from your local Jobs & Benefits office. Contact your work coach or local office to discuss your specific needs and the support available.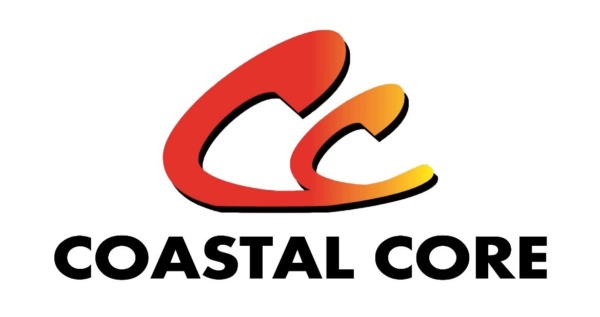 Coastal Core Training is a specialist first aid training company providing a wide range of training courses uniquely tailored to meet the needs of our learners, whether it's individual, business or community group training we've got it covered. Our training is categorised as follows:
Workplace Training
Ambulance and Clinical Training
Community Training
Schools First Aid Programme
Blended First Aid Training
Online Training
To view Coastal Care presentation please click here.
To find out more about the careers opportunities with Coastal Care click here.
The Dry Arch Children's Centre is a Charity which offers a range of support services to families such as accredited childcare, SureStart services, educational and development programmes for children, parenting support, youth support and family support.
The Dry Arch have three centres; two in the busy town of Limavady (Catherine Street and Greystone Road) and our main Centre located in Glenshane Business Park, Dungiven.
Our Children's Centres have earned an excellent reputation for quality of service, friendliness and dedication to the children and families we serve. Everything we do is designed to ensure that we provide the best possible services in a friendly, safe and well resourced environment, with experienced and highly trained staff.
To view the Dry Arch Children's Care presentation click here.
To find out more about the careers opportunities with The Dry Arch Children's Centre click here.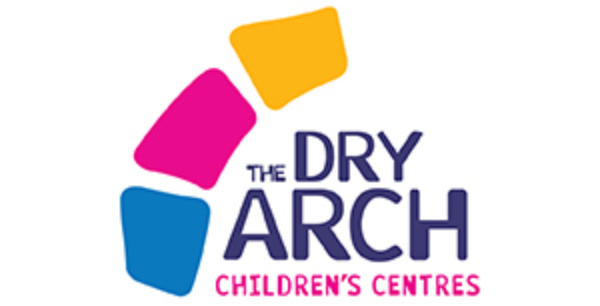 HGS is a global leader in business process management (BPM) and optimising the customer experience lifecycle. We are committed to our mission of enabling our clients to become more competitive every day. Our expertise lies in combining technology-powered services in automation, analytics, and digital with domain expertise focusing on Back-Office processing, Contact Centres and HRO solutions to deliver transformational impact to our clients.
By the merit of being in the customer service industry for more than four decades now, HGS has been in the thick of all innovations that have swept CRM operations worldwide. Over the past two decades, we have built expertise in nine industries, serving both international and local clients across seven geographies. Now, we are ideating new-age careers in each of these verticals to help us revolutionise today's customer experience, leading our clients to the forefront of their business.
To find out more about the careers opportunities with HGS click here.
My time at the College has been amazing. The tutors are so helpful and encouraging, even in these difficult times where things are anything but normal. I can not recommend this course enough for anyone who has a passion for Art and Design!

Rachel Buckley

Apprenticeships differ from school because you can actually earn a wage while gaining your qualifications.

Declan McEleney (ApprenticeshipNI Welding)

The support I received from my lecturers at NWRC was incredible. They always pushed me to my full potential and gave me the confidence to open my own beauty salon.

Vanessa Canning (Hair & Beauty)

There's such a friendly and social atmosphere at the college. My lecturers were extremely supportive and the facilities are first class.

Leroy Grant (Barbering)

I've always wanted to learn Sign Language and this course fitted in perfectly with my full-time work. I enjoyed it so much I've decided to continue my learning next year.

Breidge Patton (British Sign Language)

Everything the Music departament at NWRC had on offered sounded appealing and was the obvious next step for me after my GCSEs.

Ben McDermott (Music)

Hunter Apparel Solutions are a large, diverse team of highly experienced people, Hunter's software engineers, designers, tailors and problem solvers work together to create smart work wear. Our ideas and innovations come from our people. Every one of our team is supported and encouraged to challenge and innovate. We are diligent and determined. Together, we are ahead of the game. Together we are Hunter.
Perhaps you are a sales specialist or an expert in logistics. Maybe you are a clothing designer or an expert in fabric technology. If you think you can add to the Hunter team, send your CV to team@hunterapparelsolutions.com
To find out more about the careers opportunities with Hunter Apparel Solutions click here.