Two former students of North West Regional College (NWRC) who went on to open their own successful businesses, are to receive honorary awards at the college's Higher Education and Access Graduation ceremony on Monday.
Aaron McElhinney and Aoife Harvey will be among more than 600 students to be acknowledged as Graduates from the College's Class of 2023 at the graduation ceremony in the Millennium Forum, on Monday, October 30.
Aoife Harvey is an art graduate who runs her own business AH Designs. She previously studied the BTEC Level 3 in Art and Design and the UAL Foundation Diploma at NWRC Limavady and graduated from Ulster University with a first-class honours degree in Fashion and Textiles.
This year Aoife won the BBC Northern Ireland Television series A Stitch Through Time where she went head-to-head against three other designers over four weeks of competition.
Aaron McElhinney is a computing graduate. After graduating from university in Edinburgh he became a mortgage advisor at 26 and went on to open his own business Smart Mortgages at 34. He is one of the founders of local tech hub The AMP Growth Incubator, the first privately funded incubator in the North West.
Aaron is passionate about supporting young people to pursue their career ambitions.
Graduates of Art & Design, Business, Computing, Construction, Engineering and Science, Hairdressing and Beauty Therapy, Early Years, Health & Social Care, Hospitality, Tourism, Sport, Media, Music, and Performing Arts will gather at the Millennium Forum with friends and family to mark the successful completion of courses undertaken at the College's Strand Road, Limavady and Strabane Campuses.
A number of students will also receive special awards for achievements including academic excellence, commitment and creativity.

Principal and Chief Executive of NWRC, Leo Murphy said: "As College Principal, I am very proud to acknowledge the success and achievements of our Higher Education students. We are very proud of our Higher Education Curriculum, and we are delighted to be able to offer these university level and professional development courses giving people in the region the opportunity to study locally.
"We are especially pleased to welcome our honorary award recipients Aaron McElhinney and Aoife Harvey who both are great Ambassadors for our College.
"Well done to all our students and I wish them the very best for the future."
The college's graduation ceremony will be streamed live on NWRC's YouTube channel, takes place at the Millennium Forum on October 30 at 12 noon. The host for the event is BBC presenter Barra Best.
We are especially pleased to welcome our honorary award recipients Aaron McElhinney and Aoife Harvey who both are great Ambassadors for our College.

Leo Murphy

Principal and Chief Executive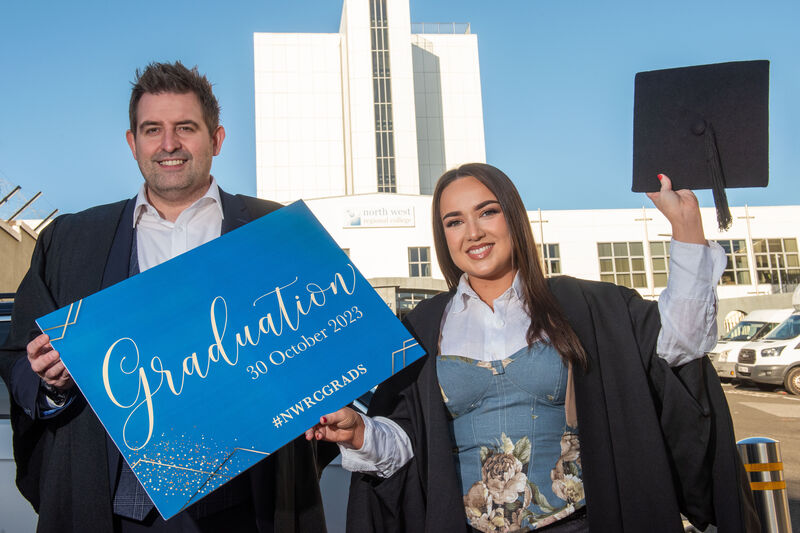 Aoife Harvey and Aaron McElhinney will receive honorary awards at North West Regional College's graduation ceremony on October 30. (Picture Martin McKeown)