Whether you are organising a networking event, or an esteemed conference, North West Regional College has a wide range of events facilities on offer to ensure you have the perfect room / environment for your needs.
At NWRC we guarantee memorable and successful events for all occasions, from large-scale corporate functions to charity events. A selection of modern conference and meeting facilities are available all year round, with training and meeting rooms accessible out of academic term time.

We use our in-depth knowledge of our campuses and media facilities to provide the support you need to stage a successful event. We can also tailor menus to your exact requirements – from business breakfasts and working lunches. We have our fabulous Flying Clipper Restaurant, as well as our new Barista bar.

A number of venues across our Strand Road campus, Derry~Londonderry, that can host up to 200 delegates
A choice of high specification training / meeting rooms
Rooms containing a wide range of audio-visual equipment
Excellent catering to suit all budgets, tastes and requirements
All facilities are fully wheelchair accessible
Fully equipped performing arts theatre
Northland boardroom D3.311
Our modern, spacious boardroom is perfect for your next business meeting or conference. With a beautiful view over the River Foyle and Peace Bridge, this could be the ideal space for you. The boardroom can seat up to 22 people and has a wide range of audio-visual equipment to include; an 86" touchscreen and an integrated module PC with a wireless keyboard and mouse.
Northland training suite D3.308
Our fully equipped training suite is ideal to use as a teaching/training facility with 10 high specification work stations. Our training suite hosts a maximum of 40 people with 20 tables in a lecture style setting. With an 86″ touchscreen, built-in PC and dimmable light system, you will have sufficient audio visual equipment for all your requirements.
Northland lecture theatre D3.306
Our spacious Northland Boardroom is a great area to host an event for up to 97 people with lecture style pull down tables. There is a lectern with an inbuilt wireless PC and mic. There is also a large projection screen that's perfect for presentations, a dimmable light system and support for DVD and BluRay.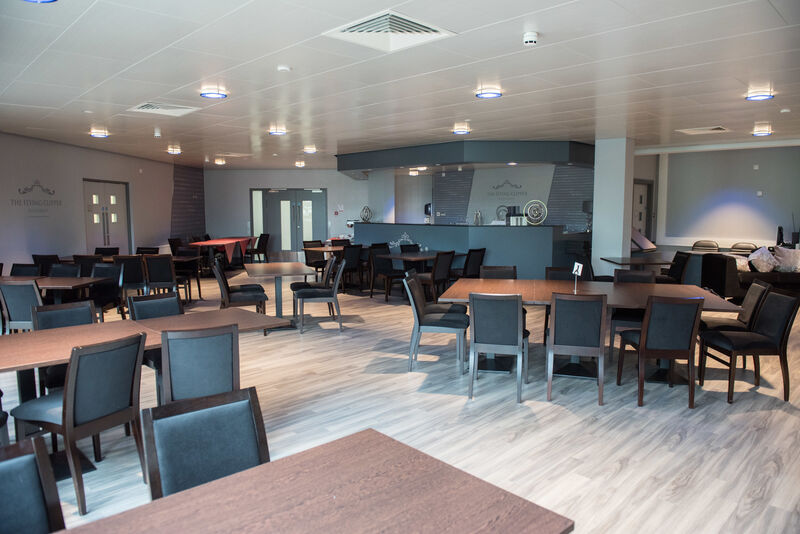 Flying clipper restaurant
The Flying Clipper is a fully equipped restaurant with seating for up to 80 people. Catering is available to suit your requirements, whether it's a buffet style lunch or business breakfast, we can provide what you need. There is also an 84″ touchscreen with an integrated module PC and a wireless keyboard and mouse – ideal for presentations.
Foyle theatre
A beautiful modern theatre with fixed seating for 170 people with additional portable seats that can be used to accommodate up to 200.
Computer
iMac / 3.3GHz i5 processor / 8gig RAM / Full Microsoft Apps suite
Projector
NEC PX1005QL 4K Laser Phosphur / Long Throw/Short Throw Lens
Screen
10ft x 8ft Motorised
Lighting Desk
Avolites Tiger Touch 2
Lights
Selection of Source 4 Profiles / Selection of ETC Fresnel washes / Stairville NovaQuad LEDmoving washes x 10 / Showtec Indogo 5500 LED moving profiles x 10
Sound Desk
Allen & Heath SQ6 plus Digi stage box AR2412 / Selection of mics for Live use / Seating / Audience Systems motorised bleacher seating. 10 rows of 13 seats.
Use of Premises
Minimum charges per session, Monday to Friday)
Foyle Theatre – £200.00
Northland Lecture Theatre – £100.00 – £200.00
Northland boardroom (Conference Room) – £70.00
Northland training suite (IT Rooms) – £100.00
Flying Clipper restaurant (Large spaces) – £ 80.00
General Classroom – £ 50.00
Meeting Room – £ 40.00
All fees per session which is a Morning, Afternoon or Evening
Saturday, Sunday and Bank Holidays – Double Rate
Beyond normal working hours (9am-5pm Monday-Friday), all day Saturday and Sunday and Bank Holidays there will also be additional staff costs
Catering
Catering is available to suit your requirements, whether it's a buffet style lunch or business breakfast, we can provide what you need. Our catering prices can range from £1 – £15pp