Get on course with NWRC
With over 550 courses to choose from across 18 different subject areas there has never been a better time to study with us.
The application process can vary, depending on the type of the study programme you choose. To makes things easier, we've separated this section by our different study options. Simply choose the one that is relevant to you to get all the information you need.
If you have any questions or concerns about the application process, chat to our friendly Admissions team today: 028 7127 6000 or email admissions@nwrc.ac.uk.
Depending on which course you apply for, you may be required to attend an interview / audition. Once we have received your application, one of our Admissions Team will contact you about your next step.

Please note: To apply you must be over 16 years of age or over on or before 1st July on year of entry.
For more details, contact: 028 7127 6000 or email admissions@nwrc.ac.uk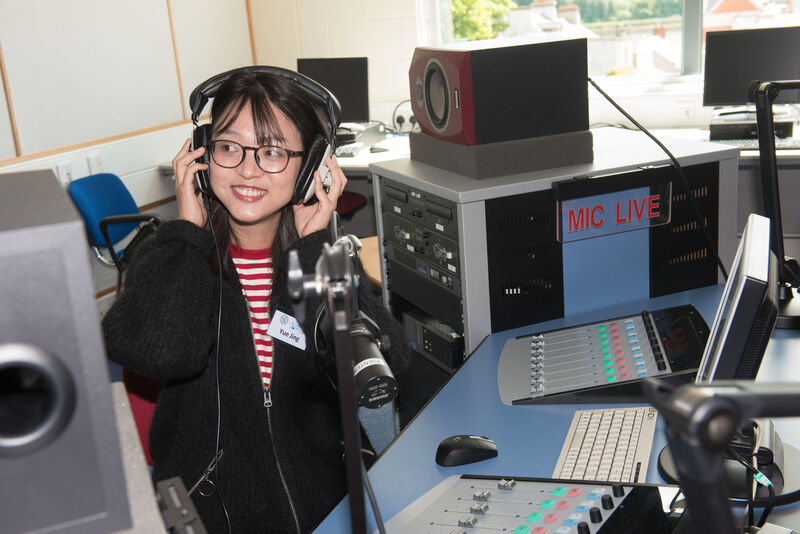 Am I an International Student?
International students will have to fill out a separate application form and should not use the standard NWRC online application process.

Complete our short online quiz to see if you qualify as an International Student.
My course covers the many different aspects of Esports, from playing games competitively, to creative media which includes making videos and writing gaming articles.

Aaron Smith (Esports)

My time studying Art & Design at Limavady campus allowed me to fully develop my creative and technical skills that I use every day running my own business, Amity Tattoo, in Ballymoney.

Abigail Smyth (Art & Design)

I love my course at NWRC and I'm really excited about the university opportunities available locally with the new Medical courses at Ulster University, Magee.

Amy Hutcheon (Health Sciences)

Apprenticeships differ from school because you can actually earn a wage while gaining your qualifications.

Declan McEleney (ApprenticeshipNI Welding)

I chose to study at NWRC because it was the best place to learn about the world of hospitality! The facilities at the College are great and I've gained lots of experience working with the public.

Ben Hall (Hospitality)
Online Application FAQs
See below for answers to some of your most frequently asked questions. If you have an admissions query which has not answered here, please email admissions@nwrc.ac.uk.
You can access your online account by clicking here or alternatively by clicking on "Students" in the main menu and selecting My Course Application.

Log into your account to track the status of your application, update your personal information, add your qualifications, upload evidence of results, upload photographic ID and check communications you have received.

You can apply online now and our Admissions Team will review your application and follow up accordingly via email. View our How to Apply page for a step-by-step guide on applying for a full-time course at NWRC.

Find your course online or download a course guide.

Please note: To enrol on a Full-Time course at NWRC you must be over 16 years of age on or before 1st July in year of entry. An aptitude test and/or interview may be required to gain entry onto some courses.

It is important to note that we process enrolments on a 'first come, first served' basis and courses fill up quickly so don't delay, apply today.


Part-Time enrolments for courses starting from September usually open in May. Follow us on social media to stay up to date.


Username / Email

You can log into your account using the personal email address you used when originally setting-up your online account
Your 'Username' is the first part of your personal email address (up to the @ symbol). E.g JoeBloggs123@hotmail.com would be "JoeBloggs123"


Password

On the online application screen, click 'Forgot your password'
Enter your Username
You will receive an email with a link to reset the password to your account


If you are still having trouble accessing your online account please contact the IT Helpdesk on 028 7127 6565 between 8:30am and 5pm (9am to 4pm on Fridays), or email IS.Helpdesk@nwrc.ac.uk.

If you have entered your username or password incorrectly 3 times your account will be temporarily locked. You should try to log in again after 60 minutes. Alternatively, you can contact the IT Helpdesk on 028 7127 6565 or email IS.Helpdesk@nwrc.ac.uk.

You can add qualifications you are currently studying or have already received, by logging into your online and going to the Qualifications page.

If you have met the course criteria for your chosen course you can upload your results and a copy of your proof of identification online by following the steps below.


Scan or take a clear photograph of your qualifications and proof of identification (Note: Must include your name and date of birth).

Log in to your online account by entering the Username and Password that you registered with initially.

Select the Evidence tab from the navigation menu on the left-hand side.
Select Evidence Type from the drop-down menu (e.g. Exam Results).
Under File(s) to Upload click 'Browse' and select the photograph/document you saved in Step 1.
Click Upload and you will receive a pop-up message to show that your evidence was uploaded successfully (Note: The results uploaded must match the information provided in your application)

The document(s) will now appear at the top of the screen to show it was uploaded successfully.


If you experience any technical difficulties or would like to discuss your application with a member of staff please contact admissions@nwrc.ac.uk call 028 7127 6000.

For information on how to pay for your Part-Time course please visit our How to Pay section on the website. Here you will find all methods of payments and convenient ways to pay.

All of our applications and enrolments are processed online and all correspondence will be communicated via email. Please check your email for up-to-date correspondence. It might be worthwhile checking your junk mail also. During busy times in August and September, it could take up to 3 working days to receive a response.

If you have not received a response within 3 days, please email our Admission Team at admissions@nwrc.ac.uk.

The method in which your interview / information session will take place will be indicated in more detail in your email correspondence from the College. Your interview / information session methods may vary from face-to-face, telephone or online via Microsoft Teams or Zoom.

During this session you will have an opportunity to meet College staff and find out more about the course you have applied for so please use this as an opportunity to ask questions.

Don't worry if you are unable to attend. Simply let us know in advance via email admissions@nwrc.ac.uk and we will reschedule the date of your interview or information session.

Simply email admissions@nwrc.ac.uk advising on which course you would like to change to and our friendly staff will be happy to assist.

To avoid disappointment we recommend you contact us as soon as possible to request a change as places can fill up quickly.

All course information is available on our college website. You can also download one of our course guides.

For in-depth course information and advice, you can contact our Careers Academy at careers@nwrc.ac.uk and one of our experienced careers advisors will get in touch, and arrange an appointment if necessary.

Our Student Finance team can provide you with advice and guidance on funding options available to support you during your studies. Whether it's advice on fees, loans and bursaries, or how to access the benefits you're entitled to, we can help.

Depending on your circumstances you may also be eligible to claim financial help towards expenses associated with your course, such as:

Travel to and from College
Books, materials and equipment
Uniform
Maintenance/living costs
Childcare

For more information, or to get help completing your student finance application, contact studentfinance@nwrc.ac.uk.

Letters are available upon request at any of our main receptions (Strand Road, Limavady and Strabane campus). To request a letter you MUST bring proof of identification. Please note, letters will state the name of the course you are enrolled in and also the start and end date for the course.

If you require additional information to be added to your letter, please email dataprotection@nwrc.ac.uk

If you are under 19 years of age on 1st July in year of entry, live more than 3 miles from your nearest college and are studying a Further Education course (Level 3 and under) you may be entitled to free transportation to and from the College.

Check eligibility and apply directly for a bus pass through the Education Authority website.

If you are not eligible for a bus pass, you may be entitled to support from the College Hardship Fund. Contact studentfinance@nwrc.ac.uk for advice.