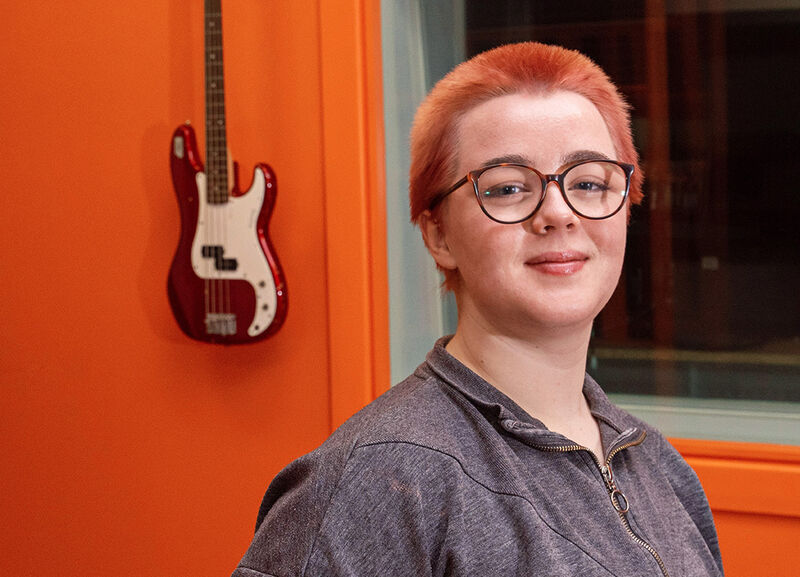 I never had an easy time at school, but since being here at the College I've never felt more supported or valued. It really is an amazing place.
Previous Education before you came to NWRC?

After completing my GCSEs I started my AS levels, but after Year 13 I decided to leave and study at NWRC instead.
-----
Why did you choose to study Music at NWRC?
I live in Portrush. I chose to travel 2 hours everyday to study Music at Strand Road campus because there was nowhere locally who could offer me the type of course I wanted at such a professional level.
The course at NWRC has a lot to offer me as a young musician. The lecturers are always willing to help, supporting you towards meeting your own professional goals as well as in your modules for the course. Being surrounded by professionals with so much passion and experience of the music industry really gives you an insight into what your career could look like.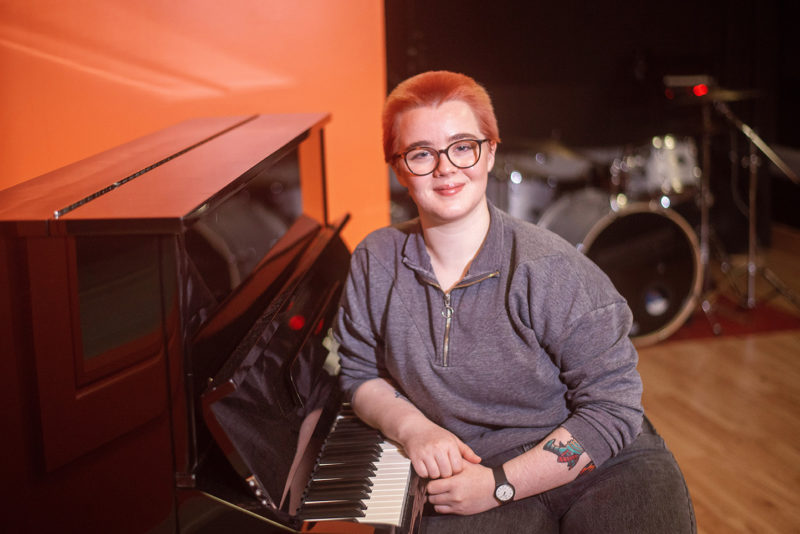 -----
Tell us a bit more about your course
My course in music performance is a really diverse and interesting course to be on. One of the main things that we focus on is getting experience in all areas of the music industry, such as using production software and composition. This allows us to explore what we enjoy as well as getting the opportunity to interact with new mediums we've never had experience with before.
There's also a really big emphasis on collaboration with your classmates in performances both in and outside of the College.
Overall I feel that my course has done a really good job of preparing me for my life as a musician beyond NWRC.
-----

What are your plans for the future?
I plan to progress to study Higher National Diploma Music here at the College for the next two years.
-----
Would you recommend this course to other students?
Honestly, I couldn't recommend it highly enough. I never had an easy time at school but since being here at the College I've never felt more supported or valued, it's a really amazing place.
Also the life experience you get from having so much control and power over your own learning is great. We can build connections with outside agencies and are offered performance opportunities that are unreal if you work hard. I would never have had these opportunities at school.
Making the decision to come here has been one of the best things I've ever done, and I'd encourage anyone thinking about coming here to apply now. You won't regret it!
Follow in Sarah Jane's Footsteps
Make your mark with a course that excites you, challenges you, and prepares you for career success.