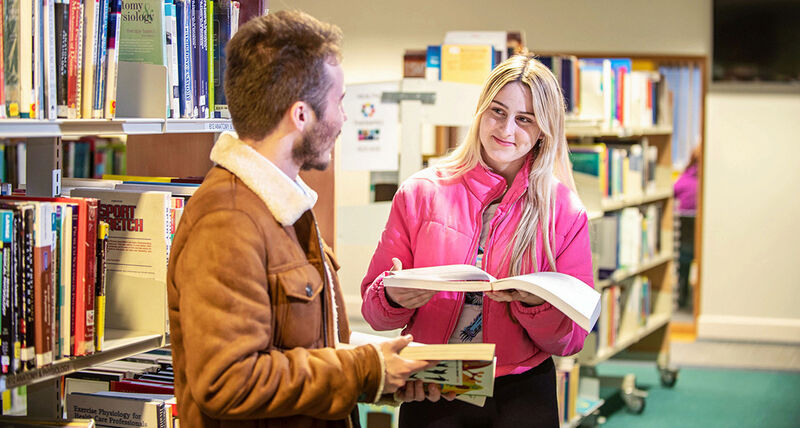 Library and Learning Resource Centre
The library service is central to all the college's academic activities and is here to support learning and teaching.
All new students receive an induction to the library service and all full-time and part-time students may enrol as a library user allowing them to borrow books from any of our libraries. College student cards are used as library cards.

The library at North West Regional College provides a comprehensive service to staff and students across all 3 main campuses.

What services are available?
Borrow books, journals and newspapers
24/7 access to specialist online databases in a wide variety of subjects
Digital / e-learning resources (e-journals and e-books)

Study area and access to computer facilities

Private study pods for individuals and small groups
Printing, photocopying and scanning facilities
Binding and laminating service
Selection of stationery for sale
Late night opening until 8pm, Tue-Thu (Strand Road)
Expert guidance and assistance from library staff to help you research assignments
You can also contact the library desk by calling 028 7127 6124 for the most up-to-date information.
Strand Road

Limavady

Strabane

Monday
08:30am - 5:00pm
08:30am - 1:00pm
13:30pm - 4:30pm
10:00am - 2:30pm
Tuesday
08:30am - 8:00pm
08:30am - 13:00pm
1:30pm - 4:30pm
5:00pm - 8:00pm
10:30am - 12:30pm
1:00pm - 4:30pm
5:00pm - 8:00pm
Wednesday
08:30am - 8:00pm
08:30am - 1:00pm
1:30pm - 4:30pm
10:00am - 2:30pm
Thursday
08:30am - 8:00pm
08:30am - 1:00pm
1:30am - 4:30pm
5:00pm - 8:00pm
10:00am - 2:30pm
Friday
09:00am - 4:00pm
09:0am - 1:00pm
2:00pm - 4:00pm
10:00am - 12:30pm
Students will be provided with an annual one-off £5 credit for printing/photocopying.

When your credit has been used, students can purchase top-ups using their Student ID, payments can be made at the library issue desk or at the main reception.

College students and staff can find more details about the Library service and its resources on the Library Guide available from Student Portal.