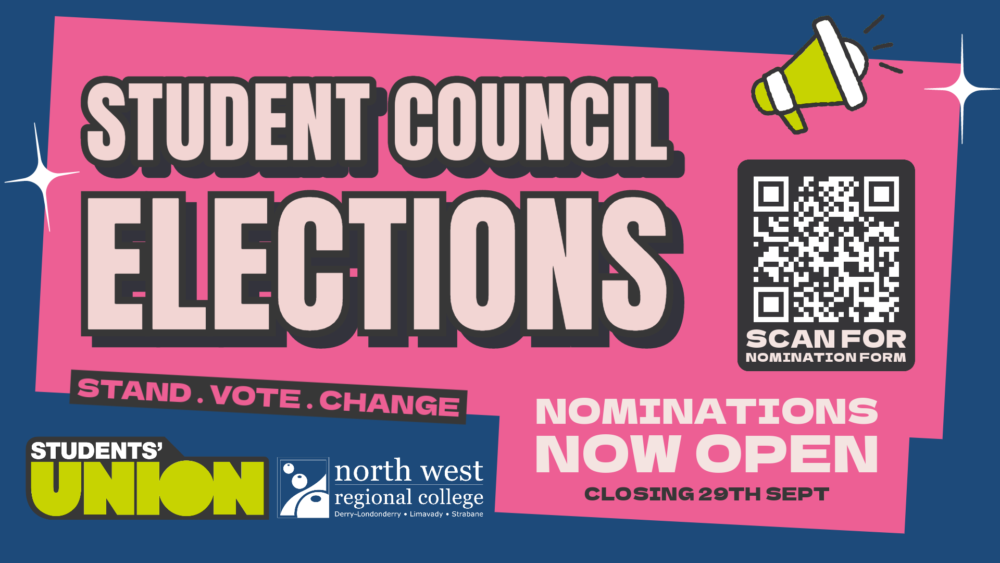 The role of the Student Council
Each year, a team of students are democratically elected to lead the NWRC Student Union Council. They make sure that our students are heard and have what they need to learn and thrive whilst at college. They keep in touch with your views and meet with the senior leadership of the college to share what students want and need to have a great student experience at NWRC.

They work to tackle all issues relating to student life - from national campaigns, to student welfare, to things you want to change on your course, as well as making sure the Students' Union offers what you want it to.
Our Student Council represents you and your views in a host of different ways, on issues ranging from social experience to academic quality, to liberation and much more.
Student Council Elections 2023
Do you want to shape student life, meet new friends and boost your CV? Stand for election and make a real difference. Nominations close Monday 29th September.
You can run for election, become part of the Student Council and help provide a "voice" for students!
The Students' Union Council is made up of 14 cross-college elected Student Officers who have varied responsibilities in the day-to-day running of the Union. For more information download our Elections Guide.


What roles are available?
The Student Governor sits on the Board of Governors which means the student perspective is included in any major decision making within the College. Students can also be elected to the following roles:

Student Governor
Student President
Entertainment Officer
Welfare Officer
Part-Time Student Officer
LGBT Officer
Secretary
Disability Officer
Women's Officer
Get Involved!
Students from across all five campuses are encouraged to get involved with the Union body to organise events, support campaigns, trips and fund-raisers. It is an incredibly important team and we want you to get on board!