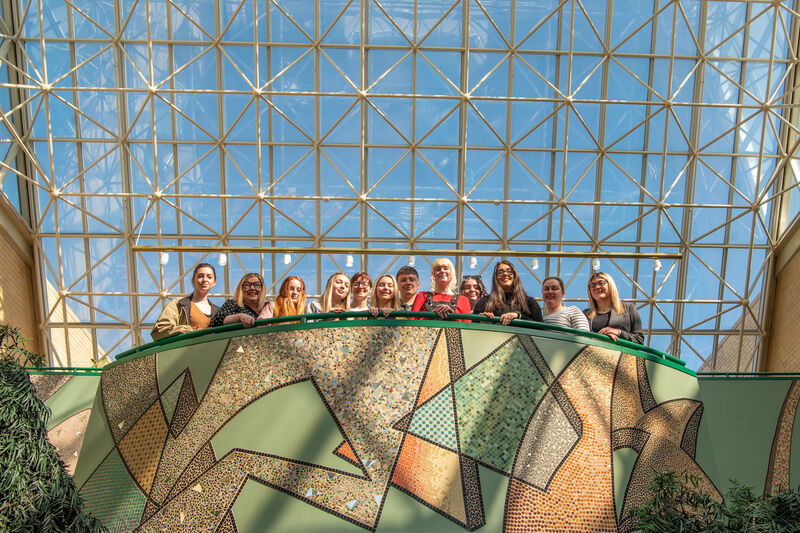 A cultural interchange between Pennsylvania College of Technology and visitors from North West Regional College in Northern Ireland – a two-week whirlwind that was five years in the making – came to a close with memories indelibly shared and lives irrevocably altered.
Ten students and two chaperones flew into Philadelphia International Airport on March 14 before transport to Williamsport for an immersive variety of activities. The group experienced a number of academic areas at Penn College – human services, dental hygiene, nursing, radiography, paramedic, history, etc. – engaged in discussions about apprenticeship and study-abroad programs, and took in regional attractions that included shopping and the World of Little League Museum.
"This has been genuinely out of this world," said NWRC's Stephanie McGuinness, curriculum manager and a lecturer in health and social care. "We have been absolutely blessed by the inspiration you've given us and the kindness you've shown us. The opportunities you granted these students changed their lives, and we are going home as very different people."
"These students" proved to be an enthusiastic and personable bunch, ages 18 to 22 and evenly split between health studies and social care majors. They are Alisha Catterson, Kayleigh Clifford, Kayla Mulvaney, Jace Bailey, Zack Ford, Blaithin Skeet, Emma Gallagher-Cooke, Natalie Eckeberg-Timoney, Nicole O'Neill and Emily McGuinness.
"Thank you for having us, for driving us and for listening to our bad jokes," said Bláthnaid Leonard, a lecturer in health and social care, who accompanied Stephanie McGuinness and the students. "Without your help, we would never have had the opportunity to visit 'small-town America,' and we're grateful that you put up with our daily madcappery."
Penn College President Michael J. Reed, grateful for the partnership and looking forward to cultivating the relationship with NWRC, said, "This experience has been equally beneficial for our students, faculty, staff and community members who engaged with our guests."
"Our visitors' outlook and personal stories of perseverance and service were truly inspiring," he added. "Their gratitude, witty humor and the lessons we learned from them made all efforts more than worthwhile."
The trip had been in the works since Bronagh Fikri, NWRC's European and international projects officer, made an apprenticeship-related visit to Penn College in 2018 in conjunction with the Pennsylvania Department of Community & Economic Development.
The back-to-back-to-back complications of Brexit, COVID-19 and the war in Ukraine stymied progress until – in just three weeks – arrangements were made for what is hoped will be a recurring program.
Shannon M. Munro, vice president for workforce development and one of the key people on hand during that 2018 introduction, was equally instrumental in making sure the March entourage had the best possible experience.
She worked with her college co-workers and off-campus contacts to craft a purposeful and pleasurable itinerary, and led off the tour-ending discussion in the Davie Jane Gilmour Center.
"To the students – Alisha, Kayleigh, Kayla, Jace, Zack, Blaithin, Emma, Natalie, Nicole and Emily – I hope you have enjoyed your time here and have learned from us as we learned from you," Munro told the inaugural group. "We expect that you have set the path for more exchanges in the future for our students and for yours. This has been a powerful and eye-opening experience for us at Penn College and all those who have interacted with you."
She said the guests also saw firsthand how eager Greater Williamsport residents are to share their connections to Ireland: from the people who considered them celebrities due to the "Derry Girls" series on Netflix; to their chance encounter with a 94-year-Irishwoman who was convalescing at UPMC Williamsport and appreciated a taste of home; to their interactions with students, staff and faculty; and to the warm welcome they received wherever they traveled on their many road trips.
"While we often learn of the many differences when we interact with people from other countries, we also learn how similar we are, and that we all share the same desire to learn and to connect and that we have countless more things in common than those that set us apart," Munro said.
Her remarks, introducing the NWRC students' valedictory appearance before a campus audience, were a perfect segue to the visitors' review of United States and United Kingdom culture. As each of the students stepped to the lectern, the musicality of their lilt-kissed words leaving listeners spellbound, there emerged a celebration of the "lovely and encouraging people" they encountered throughout their stay.
With little prompting from the PowerPoint slides they'd collaboratively prepared, the students held forth with their keen observations, peppered with frequent utterances of "amazing" and "fantastic" that were anything but hyperbolic.
Their assessment covered a lot of ground in a brisk hour: comparing the two nations in the areas of mental health, food and obesity rates, socioeconomic background, athletics, clothing, social interaction, the use and misuse of alcohol and other drugs, crime and punishment, employment opportunities, and the educational system.
The guests were particularly impressed by the resources available to Penn College students – the prevalence of industry-supported equipment in instructional labs, the various job-prep assistance provided by the Center for Career Design, a campus police force and crisis intervention services, and the variety of campus dining options.
Among their favorite memories were hot chocolate and S'mores at the home of assistant nursing professor Tushanna M. Habalar and her family, following a woodland hike with President Reed; team-building exercises on the Fish Real Estate Leadership Challenge Course; visits to UPMC, Penn State, and to the college's Lumley Aviation and Schneebeli Earth Science centers; hands-on learning in School of Nursing & Health Sciences labs; and an introduction to lacrosse and baseball, rarities in the Irish sports world.
The students also gave an appreciative shoutout to John F. Chappo, assistant professor of history/history of technology, and Craig A. Miller, associate professor of history/political science, who invited them into a number of world and American history courses.
"There was a level of engagement in the classroom, inquisitiveness and a maturity that was beyond their years," said Chappo, a strong advocate of experiential education. "They were not afraid to have frank discussions, and they modeled civil discourse very well."
The faculty member also joined his colleagues for a discussion of further opportunities through the Global Experiences program – most pointedly in the area of collaborative project-based service learning – and spoke during a traditional Irish breakfast in Le Jeune Chef Restaurant about Ireland's contributions to this country.
"Your story is very much the story of America," he told the NWRC students, noting that such iconic trailblazers as Henry Ford, Walt Disney and Neil Armstrong were of Irish descent. "A pioneering spirit is very much in your DNA."
The college's chief government and international relations officer, another integral facilitator of the North West Regional College visit, said its success provides momentum for ongoing – and far-reaching – alliances.
"The college is eager to expand our partnerships with institutions in the U.K. and Ireland, hoping to build on our already strong relationships at both NWRC and Queen's University Belfast, and we are all grateful for the U.K. government's 'Turing Scheme' support for this first large-scale exchange," Patrick Marty said. "Partnerships like these are vital to our mission to prepare workforce leaders for the global marketplace."
Munro's closing gratitude to the two NWRC coordinators put a fitting ellipsis to the proceedings, as souvenirs turn to substantive consideration of that further cooperation.
"We became quick friends," she told Leonard and McGuinness, who just as quickly issued a reciprocal invitation to visit their college. "Your willingness to go with the flow as we built this schedule has allowed us to create an organic experience based on the interests of all the students. We met our goal with this exchange; we hope you did, as well."