The Honourable the Irish Society have launched seven new scholarships for trainees at North West Regional College (NWRC) offering financial support to students during their training.
Earlier this week members of the society visited the college's Springtown Campus to officially launch the scholarships and get a tour of the building which has recently undergone a multi-million-pound redevelopment.
The Irish Society scholarships, each worth £1,000, are open to students enrolled at the college's campuses on a Level 2 traineeship in: Brickwork, Carpentry and Joinery, Painting and Decorating, Engineering (Fabrication and Welding), Motor Vehicle Maintenance and Repair, Motor Light Vehicle Body Repair and Wall and Floor Tiling.
Samantha Traynor, Head of Training and Skills at NWRC said: "On behalf of the college I would like to thank The Honourable the Irish Society for this support they have offered to our students in Crafts, Construction and Engineering areas.
"At our campuses we offer a wide range of courses to support students achieve their career ambitions.
"To apply for a scholarship students must demonstrate an excellent attendance rate on their traineeship programme of study, as well as on and off the job training. I'd encourage as many of our eligible students as possible to apply for what is a wonderful opportunity to receive financial support during their studies."
Edward Montgomery, Secretary of The Honourable The Irish Society, said: "The Society has always been a firm supporter of education locally and the trustees are delighted to be able to offer these scholarships to students in Crafts and Trades at NWRC.
"NWRC continues to deliver sterling work in crafts and trades, training young people for in-demand careers across Northern Ireland. We look forward to hearing the success stories of all these students and meeting them in the future."
Closing date for receipt of applications forms is: Friday 2nd December 2022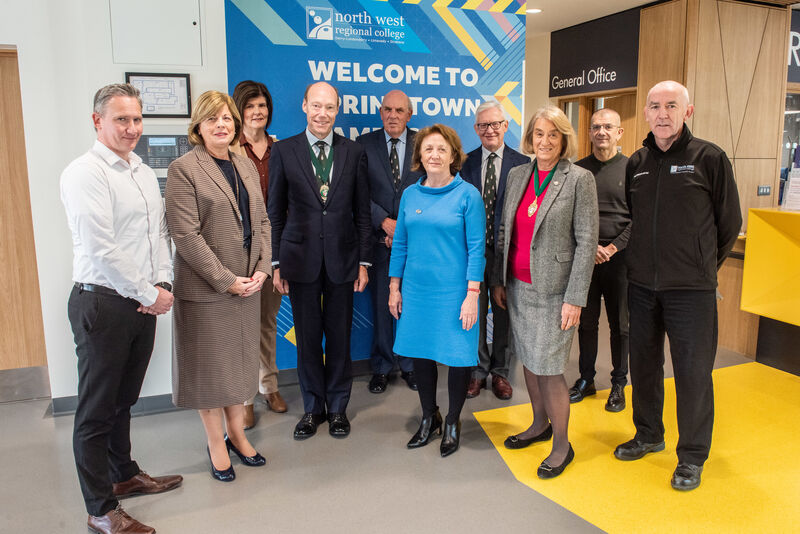 From left to right: Paul McGarrigle, Curriculum Manager, Dr. Catherine O'Mullan, Director of Curriculum and Academic Standards, NWRC, Samantha Traynor, Head of Training and Skills, NWRC, Mr Edward Montgomery, MBE DL, Secretary, THTIS , Mr Oliver Sells KC, Trustee, THTIS, Mrs Anne Corbett, Trustee THTIS, Mr Eamonn Mullaly, Trustee, THTIS, Mrs Wendy Hyde, Deputy Governor Elect, THTIS, Barry McDaid, Curriculum Manager, NWRC, and John Cartin, Deputy Head of Training and Skills NWRC. (Picture Martin McKeown.)