It's World Social Workers Day on March 21, and NWRC is marking the day by celebrating our staff and students who have worked in Social Work. First up is Curriculum Manager Judith Horner.
Name:
Judith Horner
(Curriculum Manager and Lecturer in Health & Social Care)
Years spent at NWRC:
9
What campuses do you work in?
Limavady and Strand Rd
Describe your job in under 50 words.
My job is dynamic, busy, and exciting. I really enjoy the mix of teaching and management that I have in my current role. I really enjoy being able to contribute to and influence the curriculum we offer here at North West Regional College, as well as still teaching students, which I love.
What was your path to becoming an educator?
I completed my BEd Hons degree in Teaching when I left school aged 18. After working in mainstream education for a few years, I decided that I would like to re-train as a Social Worker, so I returned to University and completed my BSc Hons in Social Work. I worked mainly with individuals with mental health issues, learning disabilities, and challenging behaviour as a Social Worker, and I loved my role and the work I was doing. When I saw that NWRC was recruiting for Lecturers in Health & Social Care, I jumped at the chance to combine my teaching and social work skills!
Most rewarding part of your job.
I especially love working with students to help them find the right course, and then the right career path, for them. As a College, we offer such a wide variety of courses that there will be something for everyone, whether they want to progress to University, study further at NWRC, or move straight into the workplace. Seeing our students come out at the other end of their career journey is wonderful, and the most rewarding part is when they come back to tell us how much their time at NWRC influenced their career choice.
How does FE in your subject differ from education at school?
The most important difference, in my opinion, is that Health and Social care in FE is delivered by lecturers who, as well as being qualified teachers, are also qualified Nurses, Mental Health Nurses, Social Workers, Midwives, and more! Because we have 'walked the walk' and know exactly how things work in settings such as a Hospital, we are able to teach from experience - not just from textbooks. We are able to offer a wealth of knowledge, skill, and experience that can only be achieved from years of working in these professions.
Tell us about some of our student successes. (e.g. where have they gone on to work/study?)
So many students I have taught over the years are now qualified health professionals, which is wonderful to see. I have many past students who are now working as Adult nurses, Mental Health Nurses, Social Workers, Occupational Therapists, and Teachers, along with many more who have found the job they love and are working as Special Needs Classroom Assistants and Healthcare Assistants. We are fortunate here at NWRC that so many of our students keep in touch and let us know when they graduate or secure their dream job. There is a pathway for everyone at NWRC, whether your goal is to enter the workforce or go to University.
Best moment at NWRC?
Probably when a student from my first-ever class at NWRC got in touch to let me know that she had completed her Degree in Nursing. It was such a proud moment, and whilst I now have many, many students who have graduated, I continue to do my best with every student I teach to ensure that they are on the course and career path that is right for them.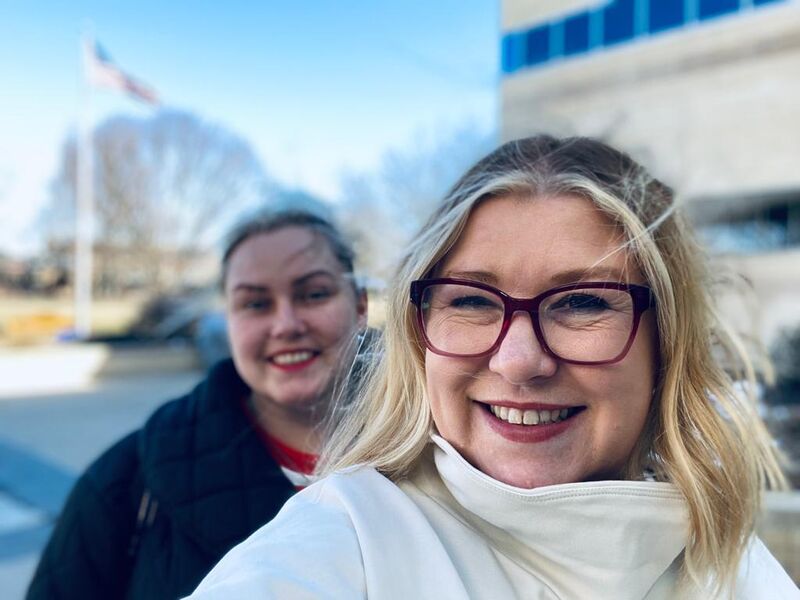 Blathnaid Doherty and Stephanie McGuinness, two of NWRC's lecturers who previously worked in social work are currently with Health and Social Care students at Pennsylvania College of Technology as part of the 'Global Perspectives Skills Development.'