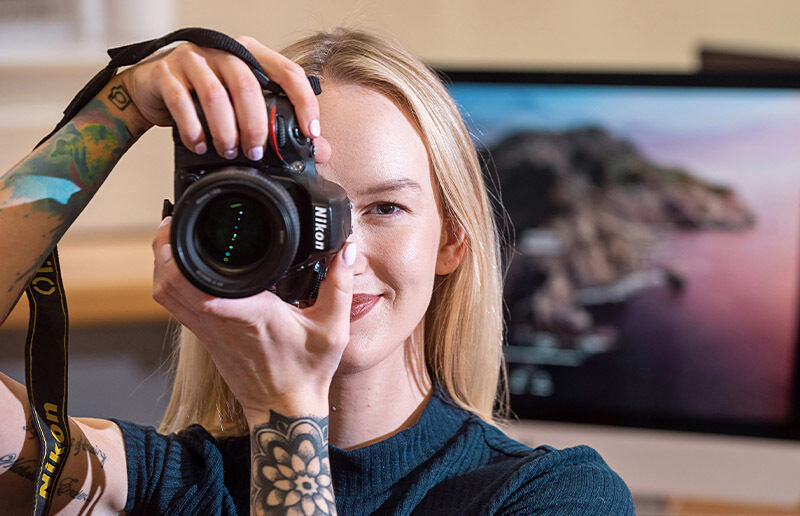 Linda McGlinchey
Name: Linda McGlinchey
Course: City & Guilds Level 1 / Level 2 Certificate in Photography (Digital Imaging)
Meet Linda, who gave up the security of full-time employment to pursue her dream of starting her own photography business.

This course had a huge impact on my life. Not only did it give me the confidence to start my own photography business, but I also gained friends for life!
Why did you choose to study Photography at NWRC?
I have a young family so being able to study close to home was really important to me. The City & Guilds qualifications looked like the perfect fit to help me upskill in the area I was interested in.
NWRC also has a great reputation for being the best so I knew that's where I wanted to study.
-----
Tell us a bit more about your course
I studied both the Level 1 and Level 2 Certificate in Photography. Level 1 taught us the basics of image capture and how to use the different camera settings and equipment. Level 2 was more in-depth focusing on the digital manipulation of raw images using Photoshop. We also covered more advanced camera techniques and explored different shooting styles – including studio photography.
The tutors were professional photographers themselves, which made their expertise and guidance invaluable. I met so many amazing people of all ages, from all walks of life, who I am happy to call friends for life.
-----
What did you enjoy most about your time at the College?
What I enjoyed most was having fun while learning what I wanted to do as a career. At the start, I felt very hesitant about going back to education. I didn't think I was good enough and was scared I might not make any friends, but it was the best thing I could have done.
There is such a supportive atmosphere at the College. It didn't matter what skill level you were at, everyone helped each other to succeed. We felt more like family than classmates.
-----
What advice would you give to anyone considering a part-time course?
My advice to anyone who is thinking about doing a course at NWRC is to absolutely jump on it - you will not regret it! I'm so happy I took the leap and grateful for the awesome people I met at the College during my time there.
-----
What made you decide to start your own business?
I've always had a passion for photography but never thought I could do it professionally. At the time I was working full-time at Asda stacking shelves, which paid the bills but it wasn't what I wanted to do with my life. After completing the Level 2 qualification in Photography I knew that's what I wanted to do for a living.
My time studying at NWRC opened so many doors for me. I would never have had the confidence to pursue a career in this area otherwise.
-----
What are you doing now?
The following year, after completing my course, I set up my own photography business called Wild & Free Photography specialising in outdoor portraiture which captures and extenuates the subject's self-confidence and inner passion for life.
Over time I have developed my own unique style and I couldn't be happier with how things are going right now, but I wouldn't be where I am today without the help and support I received at NWRC.
Follow in Linda's Footsteps
Make your mark with a course that excites you, challenges you, and prepares you for career success.