Life at NWRC is about so much more than just studying. It is also about broadening your horizons by embracing new experiences and building friendships right across the College.
Our Students' Union is made up of students of varying courses, age and gender, who support the general welfare of all students. It is the main channel of communication between students and College management and organises a range of events and societies for students throughout the year. A Students' Union President and class representatives are elected at the beginning of each academic year.
The Students' Union helps to organise Clubs & Societies, Freshers' Week, student socials, fundraising, European travel, external collaboration, sporting and Team Building activities.
Union members also enjoy NUS-USI benefits such as travel and shopping discounts.
Clubs and Societies
A fantastic way to make the most of your time at NWRC is to join one (or more!) of the many clubs and societies that the College has to offer. Our Clubs and Societies are all 100% free so there's no reason not to get involved.
If you can't find a society that floats your boat, then why not set up your own? All you need are a number of like-minded people to help you run it, then simply contact us and we will sort out the rest.

Sports Clubs
Athletics
Basketball
Boxing
Kickboxing
Football (Men and Women's)
Gaelic (Men and Women's)
Gym
Martial Arts
Men's Rugby (affiliation to UUSU)
Outdoor Pursuits – includes Canoeing, Rock Climbing, Orienteering, Coasteering and Bush Craft
Societies
Bowling
D&D Table Top
LGBT
Movies and Film
Photography
Video Games
What Our Students Say
Greta Whorriskey, our current Students Union President and Eamonn Kelly, a former Students' Union rep, discuss life at NWRC and why you should make it your first choice.
There's such a social and friendly atmosphere at the college. My lecturers are extremely supportive and the facilities are first class.

Leroy Grant (Barbering)

Barbering

My time at NWRC gave me the confidence to open my own Beauty Salon. Now I'm a part-time lecturer for the College.

Vanessa Canning (Hair & Beauty)

Hair & Beauty Management

The College has helped me become a better musician. I started at NWRC, now I'm supporting Robbie Williams at Hyde Park!

ROE (Roisin Donald)

Music

My course has helped ignite my passion for Musical Theatre and gave me the confidence to follow my dreams!

Eoin Callaghan (Performing Arts)

Performing Arts

I now have the opportunity to progress to University and achieve my chosen degree in only two years due to the preparation I received here at NWRC.

Jordan Downey (former Student Union President)

Sport and Exercise Science

I progressed from NWRC directly into final year of a degree programme at Glasgow School of Art, along with my twin sister.

Tipsudar Cochrane

Fashion & Textiles

The College gave me so many amazing opportunities, such as competing at the 'Worldskills' Finals in Russia!

Declan Porter

Advanced Automotive Studies

The support I received at College helped prepare me for work in the Healthcare sector. I'm now a fully qualified, registered nurse.

Tonya Webb (Health & Welfare)

Health & Welfare (Access)

I have always enjoyed Engineering and Computer Science. My course at NWRC has helped me secure a place at Queens University.

Joycie Rajan

Engineering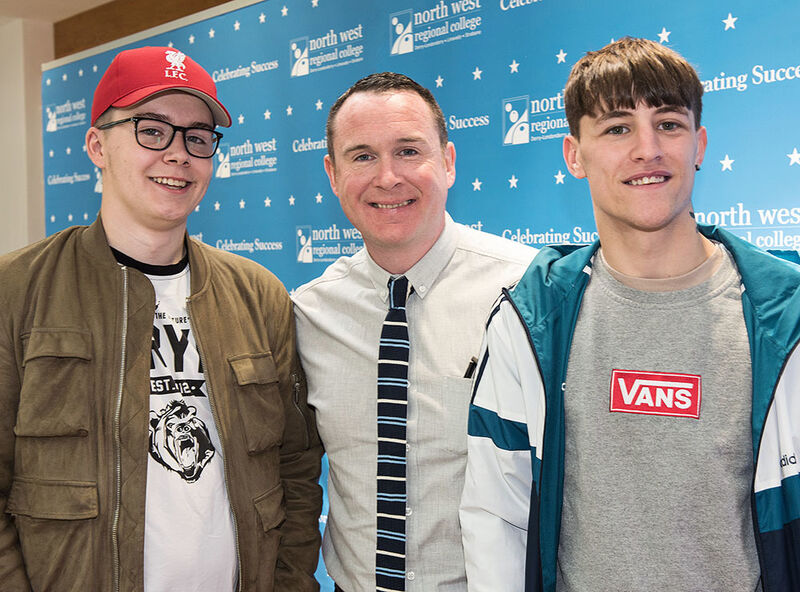 Ask a Question
If you want to find out more about our Students' Union, Clubs & Societies and opportunities for work and study abroad please email our Student Liaison & Events Officer.