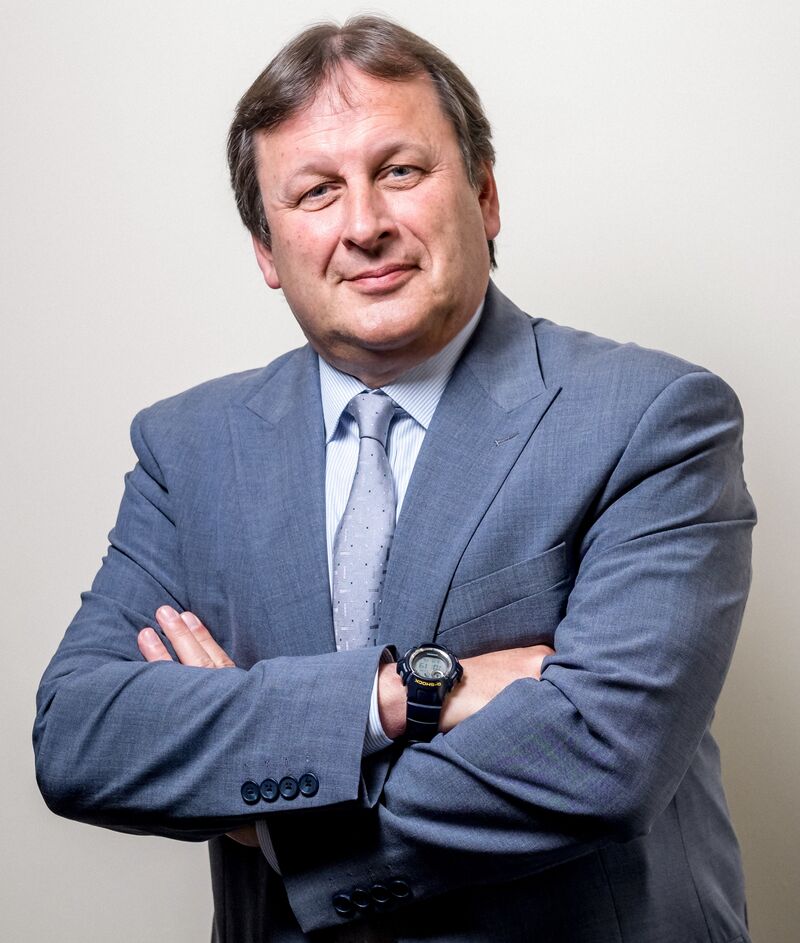 CONGRATULATIONS FROM OUR PRINCIPAL
Our Best in Further Education Awards 2023 are a week-long series of events taking place across our campuses in Strabane, Derry-Londonderry, and Limavady which recognise and celebrate over 200 College learners from more than 60 Further Education programmes, including Level 1, Level 2 and Level 3 Diplomas.

To each of you collecting awards, I offer you my warmest congratulations. We are acknowledging the best of the best from our Further Education courses – some awards recognise academic and skills excellence, whilst others reflect the dedication and commitment you have made to our college community and your future success. This is a day I am sure you will look back on with very fond memories in the company of your fellow students, and with your families who have supported you every step of the way.
Congratulations again to each you, and I wish you continued success in the next stage of your career.
Leo Murphy,
Principal and Chief Executive
Orla McIntyre – Zachary Geddis Memorial Cup

Raphael Archibald - Academic Achievement

Nicola McCloskey - Academic Achievement

Caolan McLoone - Academic Achievement

Victoria Nicholl Academic - Achievement

Bella Roddy Academic - Achievement

Ruth Smyth Academic- Achievement

Matthew McBride - Services to the Vocational Area

Lewis Hughes - Contribution to a Team

Martin Mongan - Contribution to a Team

Katelyn Begley - Personal Achievement /Commitment

Rachel Donaghy - Personal Achievement /Commitment

Kevin McAteer - Displaying Creativity and Innovation

Evan Moore - Outstanding Communication

Devin Houston - Enterprise and Entrepreneurship

Charlotte Conn - Academic Achievement

Emily McClelland - Academic Achievement

Holly McGarry - Academic Achievement

Sarah McLaughlin - Academic Achievement

Kerry Moffatt - Academic Achievement

Demi O'Donnell - Academic Achievement

Grainne Turton - Academic Achievement and Enhancing College Reputation

Elizabeth Priestly - Academic Achievement and Services to the Vocational Area

Chantel Donaghy - Services to the Vocational Area

Decla Irwin - Services to the Vocational Area

Whitney Stephenson - Personal Achievement /Commitment

Molly McVeigh - Enhancing College Reputation

Rhiannon Barton - Outstanding Communication

Lauren Boyd - Academic Achievement

Lewis Brown - Academic Achievement

Grace Dorrian Carlin - Academic Achievement

Shea McMacken - Services to the Vocational Area

Cathal Farren - Contribution to a Team

Oliver Condon - Personal Achievement /Commitment

Mona Irwin Personal - Achievement /Commitment

Anastacia McClay - Personal Achievement /Commitment

John Keys Enhancing - College Reputation

Reuben Gallucci - Displaying Creativity and Innovation

Lukasz Plata - Displaying Creativity and Innovation

James Kirk - Outstanding Communication

Katie Thompson - Outstanding Communication

Jake Hunt - Academic Achievement

Ethan McKeown - Academic Achievement

Poppy Miller - Academic Achievement

Jamie-Lee Moore - Academic Achievement

Patrick O'Kane - Academic Achievement

Harvey Butcher - Academic Achievement and Personal Achievement /Commitment

Amy Currie - Services to the Vocational Area

Grace McClean - Services to the Vocational Area

Morgan Nutt - Services to the Vocational Area

Jack Culbertson - Contribution to a Team

Patrick Neeson - Contribution to a Team

Odhran OBrien - Contribution to a Team

Enda Heany - Personal Achievement /Commitment

Thomas Meenagh - Personal Achievement /Commitment

Ethan Brolly - Enhancing College Reputation

Kiernan Daly - Enhancing College Reputation

Jack Deery - Enhancing College Reputation

Dylan Steele - Enhancing College Reputation

Ellie Caulfield – Eileen Cairns Scholarship

Eloise Downey - Academic Achievement

Rebecca Doherty - Services to the Vocational Area

Marie Moss - Personal Achievement /Commitment

Catherine Taylor - Enterprise and Entrepreneurship

Ellie Caulfield - Academic Achievement

Chloe Brisbane - Academic Achievement

Conor Harkin - Academic Achievement

Ryan Diver - Displaying Creativity and Innovation

Elisha Moss - Academic Achievement

Lorraine McNabb - Academic Achievement

Marie Daly - Academic Achievement

Lisa Hogg - Academic Achievement

Eimear McCole - Academic Achievement

Matthew McGrory - Academic Achievement

Maria McLaughlin - Academic Achievement

Aisling McLaughlin - Academic Achievement

Jason Moran - Academic Achievement

Niamh O'Leary - Academic Achievement

Kaitlin Rutherford - Academic Achievement

Donna Sheerin - Academic Achievement

Amy Campbell - Services to the Vocational Area

Elizabeth Doherty - Services to the Vocational Area

Jamie Houston - Services to the Vocational Area

Jamie Kavanagh - Services to the Vocational Area

Lee Millar - Services to the Vocational Area

Shane Wallace - Services to the Vocational Area

John Conway - Contribution to a Team

Emmett Hargan - Contribution to a Team

Caoimhe Murphy - Contribution to a Team

Demi Lee O'Kane - Contribution to a Team

Nadine Dockery - Personal Achievement /Commitment

Taylor Donaghy - Personal Achievement /Commitment

Nyasha Gopoza - Personal Achievement /Commitment

Kevin Grint - Personal Achievement /Commitment

Casey Kealy - Personal Achievement /Commitment

Joshua Lowry - Personal Achievement /Commitment

Sarah Ramsey - Personal Achievement /Commitment

Conor Walker - Personal Achievement /Commitment

Tiarnan Burke - Enhancing College Reputation

Aidan McFadden - Enhancing College Reputation

Samantha McFadden - Enhancing College Reputation

Aidan Harrington - Displaying Creativity and Innovation

Eimear McSheffery - Displaying Creativity and Innovation

Andree McBride - Outstanding Communication

Gemma McDaid - Outstanding Communication

Evelyn Hannon - Enterprise and Entrepreneurship

David McGarrigle - Enterprise and Entrepreneurship

Darcy McMorris - Enterprise and Entrepreneurship

Blathnaid ODonnell - Enterprise and Entrepreneurship

Parker Benson - Academic Achievement

Kieran Dallas - Academic Achievement

Roma Dorrian - Academic Achievement

Amy Giff - Academic Achievement

Jasmine Hyndman - Academic Achievement

Charlie McCarthy - Academic Achievement

Antony McGuinness - Academic Achievement

Stephanie Neely - Academic Achievement

Frances O'Deorain - Academic Achievement

Michaela Rauta - Academic Achievement

Blaithin Skett - Academic Achievement

Jack Guy - Services to the Vocational Area

Carleigh Irving - Services to the Vocational Area

Aaron Kee - Services to the Vocational Area

Rebecca Lynch - Services to the Vocational Area

Alara Thompson - Services to the Vocational Area

Caoimhin MacHugh - Contribution to a Team

Sean Martin - Contribution to a Team

Dayne Roberts - Contribution to a Team

Caitlin Buchanan - Personal Achievement /Commitment

Chloe Curran - Personal Achievement /Commitment

Laura Devenny - Personal Achievement /Commitment

Seanitta Diver Duffy - Personal Achievement /Commitment

Colleen Kerr McMahon - Personal Achievement /Commitment

Stephen Logue - Personal Achievement /Commitment

Sinead McCahill - Personal Achievement /Commitment

Chiyanne McGrotty - Personal Achievement /Commitment

Samantha McLaughlin - Personal Achievement /Commitment

Amy ODonnell - Personal Achievement /Commitment

Audrey O'Donnell - Personal Achievement /Commitment

Caitlin Barr - Enhancing College Reputation

Emma Gallagher Cooke - Enhancing College Reputation

Ciara Kealey - Enhancing College Reputation

Amy McCloskey - Enhancing College Reputation

Ben Mellon - Enhancing College Reputation

Lydia Wasson - Enhancing College Reputation

Alisha Catterson - Displaying Creativity and Innovation

Natalie Eckeberg Timoney - Displaying Creativity and Innovation

Margaret Farren - Displaying Creativity and Innovation

Rachel McCormick - Displaying Creativity and Innovation

Charley Turner - Displaying Creativity and Innovation

Marjorie Kealey - Outstanding Communication

Daniel Martin - Outstanding Communication

Nadine McGeoghan - Outstanding Communication

Mathew Russell - Outstanding Communication

Caterina Shiels - Outstanding Communication

Conan McShane - Enterprise and Entrepreneurship

Cara Stevenson - Enterprise and Entrepreneurship

Shannon Tedstone - Enterprise and Entrepreneurship

Emmett Gallagher – Gerard Finnegan memorial cup

Jamie Wilson - Academic Achievement

Niall McLaughlin - Academic Achievement

Patrick Barber - Academic Achievement

Jessica Underwood - Academic Achievement

Shea McKeever - Academic Achievement

Ryan McGill - Academic Achievement

Theobold Dube - Academic Achievement

Olivia McMonagle - Services to the Vocational Area

Aidan Nash - Services to the Vocational Area

Brian Barber - Services to the Vocational Area

Dylan Smith - Contribution to a Team

Bryony Halford - Contribution to a Team

Megan (Mikey) Bonina - Contribution to a Team

Kieran Breslin - Personal Achievement /Commitment

Brian McGill - Personal Achievement /Commitment

Jac Carr - Personal Achievement /Commitment

Roisin Quinn - Personal Achievement /Commitment

Ben O'Donnell - Personal Achievement /Commitment

Kaley Sheerin - Enhancing College Reputation

Erin Halford - Enhancing College Reputation

Jacob Crawford - Enhancing College Reputation

Kaylee Finegan - Enhancing College Reputation

Jude Gilchrist - Enhancing College Reputation

Ben McGlinchey - Enhancing College Reputation

Jenny Wright - Enhancing College Reputation

Shea Devine - Displaying Creativity and Innovation

Kyle Peoples - Displaying Creativity and Innovation

Aaron Smith - Displaying Creativity and Innovation

Ben Earley - Displaying Creativity and Innovation

Eve Jack - Displaying Creativity and Innovation

Lewis Kennedy - Displaying Creativity and Innovation

Thomas Harkin - Displaying Creativity and Innovation

Zach Richardson - Outstanding Communication

Aodhan Taylor - Outstanding Communication

Ciaran Gormley - Outstanding Communication

Emmett Johnston - Outstanding Communication

Jake Harrigan - Outstanding Communication

Alexander Wallace - Outstanding Communication

Elizabeth McGarrigle - Enterprise and Entrepreneurship

Kayla O'Doherty - Enterprise and Entrepreneurship

Vinny Kavanagh - Enterprise and Entrepreneurship

Melika Azhdari Shirazian - Enterprise and Entrepreneurship

Carolyn McGeehan - Academic Achievement

Liam McAllister - Academic Achievement

Liam Bradley - Academic Achievement

Isabella Laverty - Academic Achievement

Kelly McLaughlin - Academic Achievement

Sophia Donaghy - Academic Achievement

Stephen Irvine - Academic Achievement

Oisin McKillop - Academic Achievement

Oran O'Doherty - Academic Achievement

Lily Barr - Academic Achievement

Liam Blake - Academic Achievement

Jane McCauley - Academic Achievement

Oran McGowan - Academic Achievement

Chloe Campbell - Academic Achievement

Margaret Wilson - Academic Achievement

Sinead Boyle - Academic Achievement

Gary Mckinley - Academic Achievement and Enterprise and Entrepreneurship

Kyle McCarron - Services to the Vocational Area

Hollie Mai Bradley - Services to the Vocational Area

Flynn Gallagher - Services to the Vocational Area and Displaying Creativity and Innovation

Derek Jay Gurney - Personal Achievement /Commitment

William Clarke - Personal Achievement /Commitment

Katy Sue Duncan Buchanan - Personal Achievement /Commitment

Annabelle McGlinchey - Personal Achievement /Commitment

John McLaughlin - Personal Achievement /Commitment

Rachel Wright - Personal Achievement /Commitment

Kieron Gallagher - Personal Achievement /Commitment

Jessica Brown - Personal Achievement /Commitment

Cassie Adair - Personal Achievement /Commitment

Lee Gillespie - Personal Achievement /Commitment

Kyrone McLaughlin Reid - Personal Achievement /Commitment

Peter Mitchell - Personal Achievement /Commitment

Michaela McCauley - Personal Achievement /Commitment

Emma McMullan - Enhancing College Reputation

Janice Nelson - Enhancing College Reputation

Chloe Rankin - Enhancing College Reputation

Patryk Surawski - Displaying Creativity and Innovation

Cathal McSheffery - Displaying Creativity and Innovation

Jake Quigley - Outstanding Communication

Jarvis Bell - Enterprise and Entrepreneurship

Kian Thompson - Enterprise and Entrepreneurship

David Moore - Enterprise and Entrepreneurship