How we can support your business
Research has shown that companies who invest in training and innovation, gain the competitive edge and grow their business faster. At NWRC we can help you to up-skill your existing workforce and management whilst attracting new, talented staff.
The Department for the Economy (DfE) supports small and medium enterprises across Northern Ireland, who want to grow their skills and drive innovation. Ann Williamson from DfE explains that "by investing in Skills, we are investing in the future growth and sustainability of our economic competitiveness."
These DfE programmes (Skills Focus and Innovate Us) are delivered exclusively for DfE by the six FE colleges.
NWRC has a dedicated, experienced Business Support Team who work closely with employers to deliver upskilling and innovation to meet the specific needs of the business. Our Business Support team will meet with you to review your business training needs and discuss with you, in detail, the range of training and funding solutions available.
If you are a business based in Northern Ireland with fewer than 250 staff and looking to upskill, you could be eligible for the DfE Skills Focus Programme which offers 100% fully-funded part-time training courses.
Skills Focus
Skills Focus is a skills development programme which supports and encourages collaborative working between Further Education (FE) colleges and businesses with fewer than 250 employees.
Skills Focus will increase the skills levels, motivation and productivity of the existing workforce by offering industry specific and accredited qualifications at Level 2 and above. In turn, this increase in productivity will help your business prosper.
This programme is funded by the Department for the Economy (DfE).
Innovate Us
The Innovate Us programme enables small businesses, with fewer than 50 employees, to acquire the skills necessary to engage in innovation activities. The programme offers up to 60 hours of bespoke training and skills development support, normally delivered over a six month period.
By gaining these individualised skills, small businesses can then exploit innovative opportunities or undertake additional projects, which will contribute to growth and development.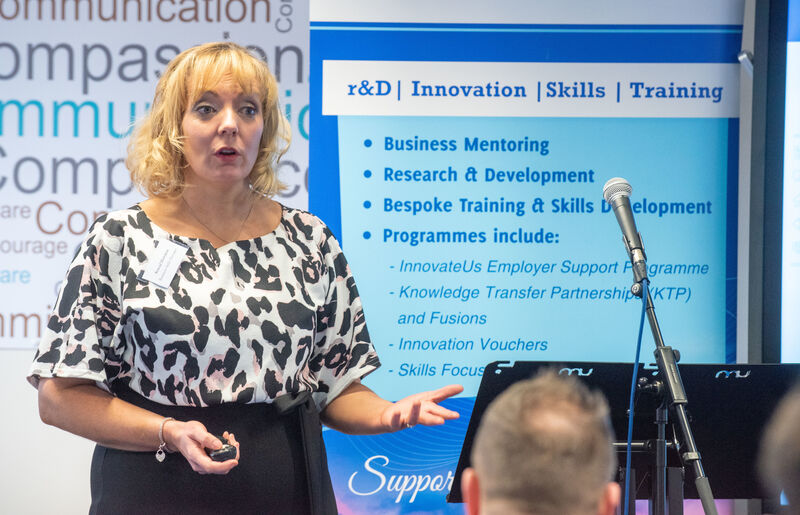 Bespoke Training
NWRC can also deliver bespoke training for businesses of any size.
Following consultation, our Business Support Team will be able to provide you with a detailed quotation and advise of any possible funding available.
Find out more
To find out more about the programmes we offer, please complete our short enquiry form, or if you would prefer to speak with someone directly, contact Clare on 07436839960 or clare.mclaughlin@nwrc.ac.uk