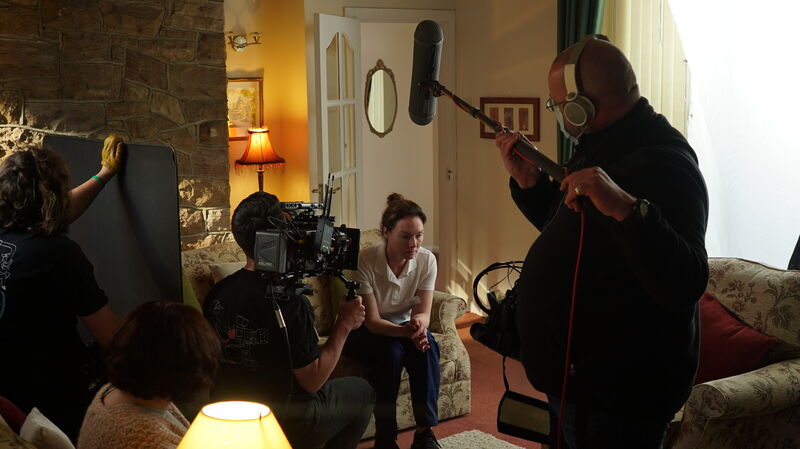 Young people, aged 18-25, interested in the creative industries, are set to benefit the 2022 Creative and Digital Technologies Academy delivered by Cinemagic in partnership with Belfast Metropolitan College and North West Regional College, supported by Department for the Economy Skill Up Programme. Cinemagic is calling on young people from all over Northern Ireland to apply to be considered for a place on the Academy which will take on 50 trainees and offer invaluable skills development opportunities, including film production, from September to November 2022.
The ground-breaking initiative, now in its second year, brings the creative industries together with the Further Education and career sectors, to showcase how partnerships focused on digital and film skills development and investment in young talent can create a strong pipeline to employment and local economy growth.
In 2021, Cinemagic produced 3 short films as part of the initiative which have gone on to win multiple awards at film festivals across the world and the trainees have gained opportunities in various aspects of the film and television industry. Visit Cinemagic TV to view the 2021 Behind the Scenes videos Cinemagic TV - YouTube (Lose Your Way, The Carer, A Bitter Pill)
The 2022 Academy will feature practical in-person and online masterclasses hosted by film and television crew, culminating in the production of two short films and behind the scenes documentary. The colleges will also lead students in achieving qualifications as part of the project. NWRC will be completing the BTEC Level 3 in Production and BMC will be completing the OCN Level 3 in Professional and Technical Media Production Practices.
Cinemagic CEO, Joan Burney Keatings MBE commented "We are looking forward to working collaboratively once more with our partners Belfast Metropolitan College and North West Regional College, with support from Department for the Economy, to help 18-25 year olds develop new skills, explore opportunities and give them the confidence to thrive in a career in the creative and digital sector. This is especially important in a time where the digital industries are playing a significant role in reshaping how young people can access learning and gain invaluable insight which will help facilitate entry to this type of employment. The success of the 2021 programme is both testament to the young talent in Northern Ireland and partners involved, and the need for such a project to significantly help young people as they begin their careers in the industry".
Economy Minister Gordon Lyons MLA said: "Following on from the success of previous programmes I am pleased that my Department is once more able to support the Creative and Digital Technologies Academy. Northern Ireland is home to a wide range of creative arts companies from those involved in award winning film and television productions to those in the thriving digital games industry. This program helps to give young people the skills and expertise they need to succeed in the creative arts and digital sectors and gives them a real insight into the roles available."
Belfast Metropolitan College Belfast Metropolitan College, Director of Partnerships and Sustainability, Damian Duffy said "We are proud to be working with our partners at Cinemagic and NWRC once again on the Creative and Digital Technologies Academy. This programme has a significant impact on young people to build their skills and develop their confidence to start a career in the creative industries sector. We would encourage those interested in film and television production to apply for this excellent opportunity to gain industry-relevant skills and experience, underpinned by a qualification in production to enhance their chances of gaining employment."
Dr Danny Laverty, Head of Department Technology and Creative Industries at NWRC added: "NWRC is delighted to be partnering for a second year with Cinemagic and Belfast Met in the delivery of this innovative and ambitious Academy. Creative Industries continue to be one of the fastest growing sectors and this academy offers young people an exciting opportunity to gain valuable experience and skills. NWRC has a strong track record in the delivery of creative and digital technologies with many students now leading lights in the industry. We are grateful to DfE for funding this initiative."
To apply for the project, which is free of charge, 18-25yr olds from Northern Ireland are asked to submit an application form https://form.jotform.com/222074237355352 by 12 noon on Friday 26 August 2022. No prior qualifications or experience in the creative industries is required. The project is looking for individuals from all backgrounds that are interested in creative and digital technologies, and who wish to further their skills and work on a practical filmmaking project. Interviews will take place in the second week of September. Visit cinemagic.org.uk or email laura@cinemagic.org.uk for enquiries.
Key dates are as follows
21st Sept 22nd Sept 26th Sept 28th Sept 3rd Oct
5th Oct 8th Oct 10th Oct 12th Oct 17th Oct
19th Oct 21st Oct 24th Oct 26th Oct 31st Oct
1st Nov 2nd Nov 11-13 Nov 25th Nov 28-30 Nov