Work Skills students at North West Regional College have created handcrafted Christmas Eve boxes, which they have been selling to staff as part of the Enterprise Unit of their course.
The boxes, which include: a personalised Santa nice list certificate, letter for Santa & Christmas pencils, Santa's magic key, reindeer food, shortbread for Santa, Rudolph's hot chocolates, decorated gingerbread men, chocolate stirrers, and candy canes & chocolate coins, have been big sellers with staff and students at Strand Road Campus.
Carolyn McKinley, Lecturer with the Work Skills team at NWRC said: "Our Work Skills students have made a huge effort with this year's Christmas project.
"Due to the difficult situation that we all find ourselves in, as we normally showcase at the college's annual Christmas Fair, we had to adapt to create our Christmas product to complete our unit.
"So, we decided on a direct marketing approach to staff and students. It was an interesting learning curve for all the students, changing and adapting to meet the needs of business and enterprise.
"We are delighted to have been able to complete the unit, whilst ensuring all Covid-19 regulations around mask wearing, hand washing and social distancing were adhered to.
"The finished boxes looked fantastic and it was a real team effort by everyone involved, with plenty of Christmas spirit. All profits from the enterprise will be donated to the college's nominated charities Foyle Hospice and Foyle Search and Rescue. "
The BTEC Work Skills programme at NWRC is a course that provides opportunities for students to gain 'work ready' skills to progress into employment or on to a specialist Level 2 course.
The qualifications focus on developing employability skills, essential skills, skills for business and enterprise and specialised crafts.
For more information on Work Skills programmes at NWRC go to www.nwrc.ac.uk/apply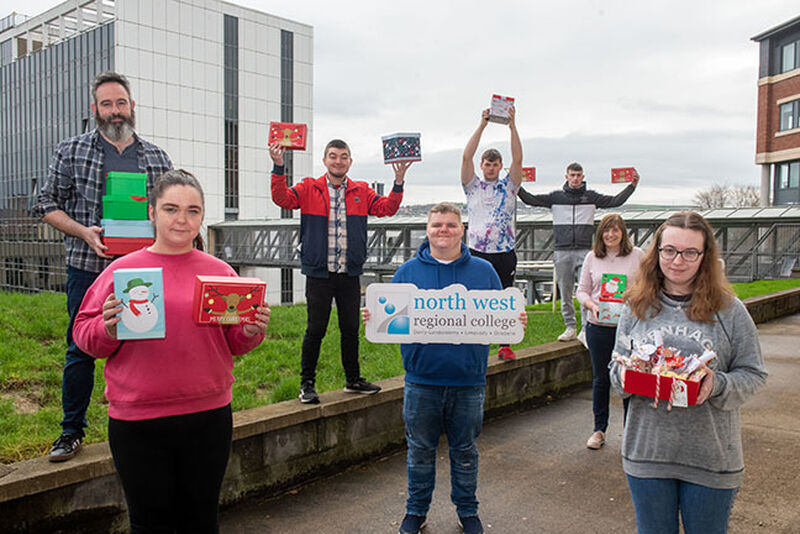 The Work Skills Team (l-r) Alex Sherriff, Support Worker, NWRC Learning Link, Nicole Wright, Support Worker, NWRC Learning Link, Martin Gallagher, Dylan Holmes, Ciaron Cullen, Leighton Boyle, Carolyn McKinley, NWRC Lecturer, and Casey Kealey. (Pic Martin McKeown)