It was during my time at Limavady NWRC that I truly started taking fashion design seriously and realized it was my true passion.

Aoife Harvey

Designer and NWRC graduate
An Art and Design graduate from North West Regional College (NWRC) is set to appear on popular BBC TV show 'A Stitch through Time' later this month, representing the North West.
Fashion designer Aoife Harvey, who is also the only Northern Irish designer showcasing at Northern Fashion Week in Manchester from 14th- 16th of July, will go head-to-head against three other designers over four weeks of competition.
Aoife previously studied the BTEC Level 3 in Art and Design and the UAL Foundation Diploma at NWRC Limavady and will graduate from Ulster University with a first class honours degree in Fashion and Textiles on July 7.
She's now working full-time on her fashion brand AH Designs specialising in upcycled fashion using her fabric-first approach and hopes to return to university in September to take part in their artist-in-residence programme.
Inspired to sew by tales of her great aunts working in shirt factories in Derry~Londonderry, Aoife revealed that sewing has always been in her family.
She said: "My mum can sew, and when I was younger, I would always have her alter clothes for me because I am too short for most of the clothes I buy.
"It is truly special to represent Derry, as I grew up hearing stories about the rich textile history in Derry and its shirt-making factories. Whenever I'm in Derry, I always pass by the "A Stitch in Time" sign above the Rosemount Shirt Factory, and it feels amazing to think that I am now going on a show called 'A Stitch Through Time.'
"When I was young my granny would often share stories about her aunts who worked in the shirt factory in Derry. She would also tell me about how her mom would upcycle and sew flour bags into pillowcases and shirt collars. It makes me incredibly proud to be upcycling clothing in my fashion designs today, just like she did.
"I have always been a creative person from a young age, participating in competitions and studying arts and crafts for the past eight years. It was during my time at Limavady NWRC that I truly started taking fashion design seriously and realized it was my true passion. From my first four-piece final collection at NWRC, where I experimented with upcycling seat belts, to my most recent twelve-outfit upcycled collection at Ulster University, I couldn't envision myself pursuing any other career."
Aoife also has the double excitement of showcasing her work at Northern Fashion Week.
She explained: "I saw the event advertised on social media last year when they had their 2022 Northern Fashion Week and I made it my goal to have a collection for 2023," she said. "I did it and I couldn't be more excited!
"At the event I will be showcasing my final graduate collection, I've taken textile waste and turned it into a stylish wardrobe. To create these pieces, I've used historical techniques like patchwork and quilting, combined with modern 2023 fashion trends. I've upcycled upholstery, denim, and leather that would have otherwise ended up in landfills. The colour palette for my collection was inspired by the destruction that textile waste causes to our beautiful surroundings. I drew inspiration from the shapes and silhouettes of our patchwork Irish fields and an iconic landmark, the Giants Causeway, with its hexagonal steps.
"I've incorporated gold hardware and eyelets. The gold was inspired by the Japanese method of repairing pottery called Kintsugi, which adds beauty to the object by highlighting the story of its repairs. The white thread and ties represent new beginnings and fresh starts, which is how I feel about the colour white.
"I've designed this collection to be versatile, so you can mix and match the pieces and wear them again and again. I hope this collection inspires others to rethink their approach to design and upcycling, and to change their attitudes towards upcycled clothing."
A Stitch Through Time filmed by Doubleband starts on Monday 17th July at 8pm on BBC One NI.
NWRC offers a full range of courses in Art and Design at Strand Road and Limavady campus. For more information go to www.nwrc.ac.uk/apply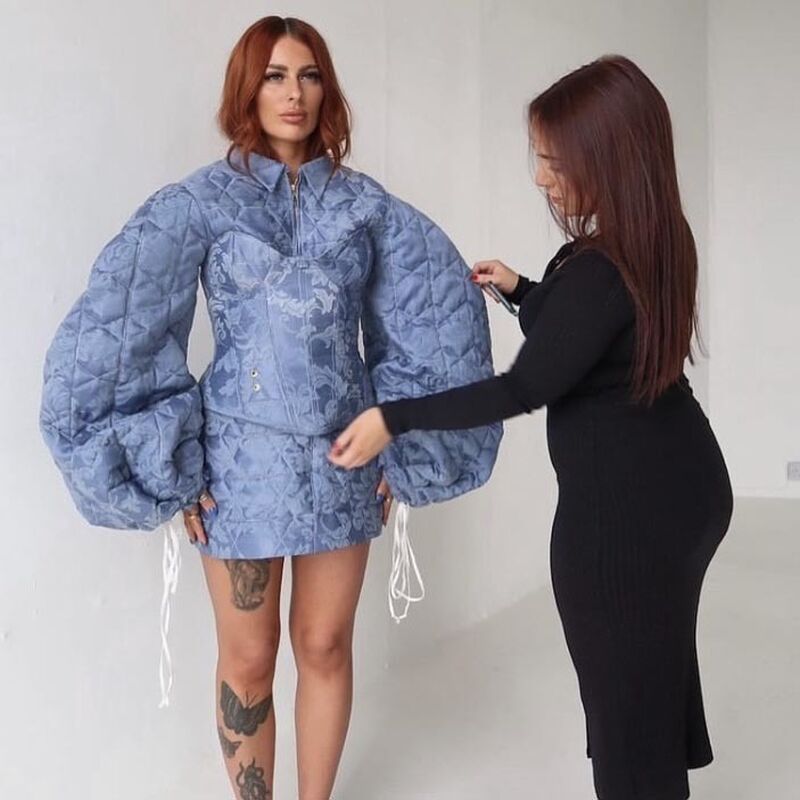 Art and design student Aoife Harvey (in black dress) fits clothes to model