NWRC receives Elemental Prescription
NWRC kicked off 2021 by joining forces with award-winning company, Elemental Software, in a groundbreaking new partnership which will revolutionise the way students can access support services and programmes.
NWRC was the first ever Further and Higher College to adopt Elemental's Digital Social Prescribing Platform, which will enhance student wellbeing, build resilience, and promote new ways of working using social prescribing.
Finneen Bradley, Manager of NWRC's Careers Academy, said the partnership with Elemental will provide the college with a clear, high-tech referral pathway to provide support when needed.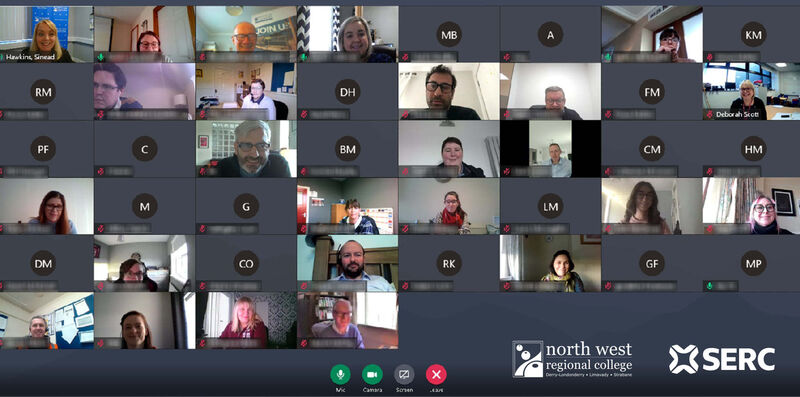 Colleges Help Navigate Brexit with International Transport and Documentation course
North West Regional College (NWRC) and South Eastern Regional College (SERC) are set to help local businesses navigate Brexit in a unique collaboration which offers the route to gaining a valuable Level 3 qualification from the Institute of Export and International Trade.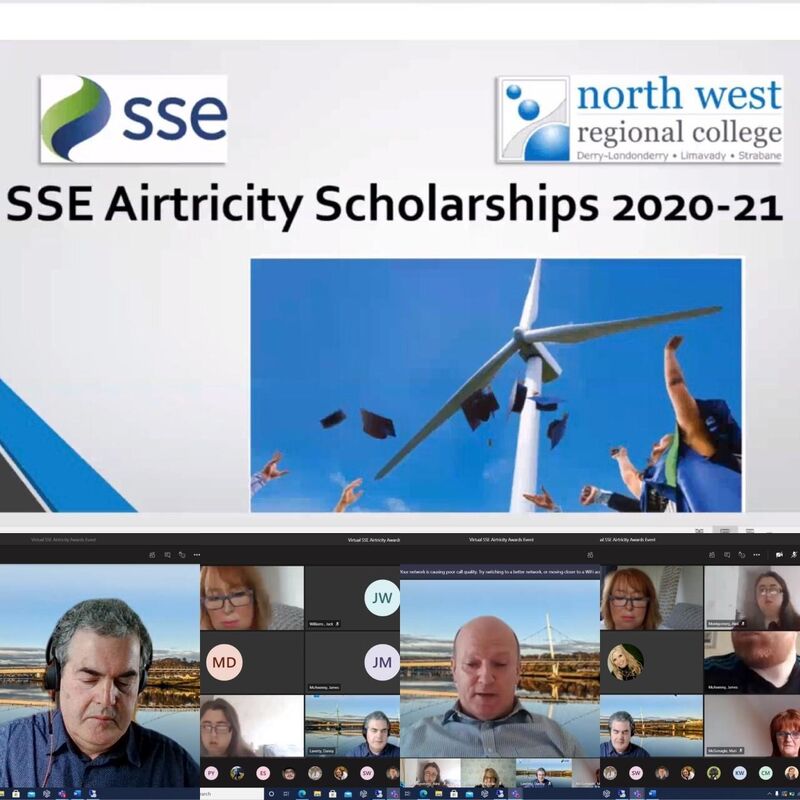 NWRC students awarded SSE Airtricity Scholarships
Twenty-two Higher Education (HE) students studying Science, Technology, Engineering and Mathematics (STEM) associated subjects at North West Regional College (NWRC) were awarded scholarships totalling £44,000 from the 2020/21 SSE Airtricity Scholarship Fund.
This is the third year that students from the college have benefited from the fund, which is run by SSE Airtricity, Northern Ireland's largest renewable energy generator. The fund supports students living close to the company's wind farms in Tyrone, Derry~Londonderry, Fermanagh and County Donegal and provides 50% funding support towards the cost of third level fees for recipients commencing first year studies in STEM-associated subjects at partner colleges.
Since the initiative began three years ago, 59 HE students have now been awarded this prestigious scholarship, sharing a total fund value of over £130,000. The significant majority of students each receive a scholarship of £2500.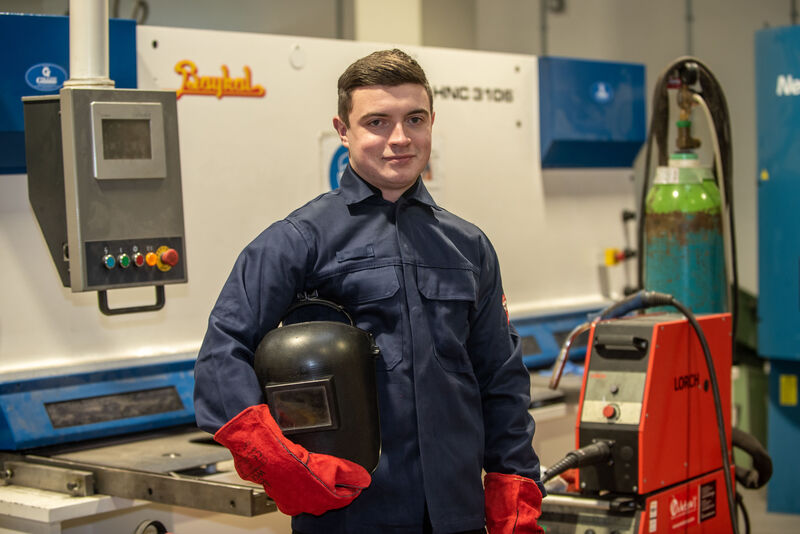 Weld-Done Declan
A student at North West Regional College (NWRC) who is training in one of the most sought after skills in Northern Ireland, was shortlisted as a finalist in the N.I. Apprenticeship awards.
Declan McEleney is currently studying for the Level 3 Diploma in Fabrication and Welding, one of many Welding courses offered by NWRC in a bid to tackle the chronic shortage of skilled welders in Northern Ireland.
The 19 year-old, who is also an Apprentice with Fleming Agri, was recently nominated for the NI Apprenticeship awards which seek to recognise excellence and showcase the apprentice opportunities available to young people.

Virtual Higher Education week, Feb 22-28

"Virtual HE week gave prospective students a real insight into the range of University level courses that are offered at the college"

Finneen Bradley

Manager of NWRC's Careers Academy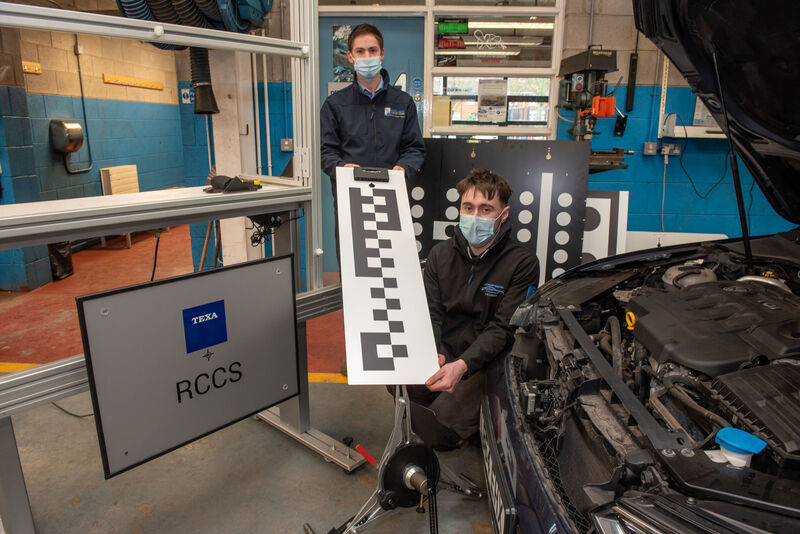 NWRC first to deliver ADAS training
North West Regional College became the first college in Northern Ireland to offer training in Advanced Driver Assistance Systems (ADAS).
This training, one of several new courses offered in NWRC's Greystone and Limavady Main Street Campus, is an IMI Accreditation, designed to ensure that motor vehicle technicians can calibrate Advanced Driver Assistance Systems (ADAS), an increasingly popular system in modern vehicles.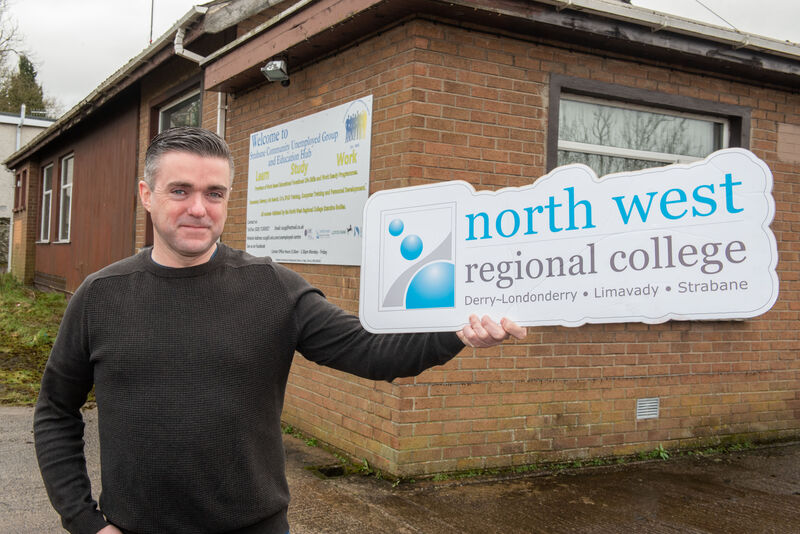 Focus on Community Education at NWRC
We were pleased this year to profile the success of community learner Adrian Brown.
45 years-old Adrian Brown thought he had missed his chance at education.
Diagnosed with a heart condition when he was just 5, the Strabane man spent weeks at a time in and out of hospital, missing valuable years of early schooling.
He left school with very few qualifications, with the notion that through bad luck he had missed out.
However when he turned 40, Adrian found out about a community education course run by North West Regional College (NWRC) at the Strabane Community Unemployment Group. It was a turning point.
Six years-on and life has completely changed for the Strabane man. After completing his Level 3 in Art at NWRC, Adrian went on to Higher Education and recently graduated from Letterkenny Institute of Technology with a Degree in Graphic Design, and is now setting his sights on a career in the Creative Industries.
You can read Adrian's story here: https://www.nwrc.ac.uk/news/i-...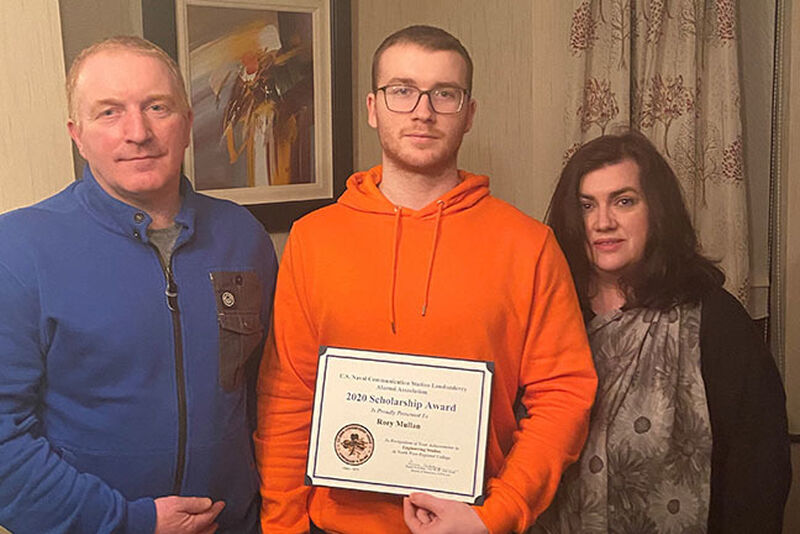 NWRC students receive US scholarship awards
Four students studying I.T. and Engineering courses at North West Regional College (NWRC) were presented with scholarship awards by the US Navy Alumni Association.
The presentation of the awards, which took place virtually this year, marks the fourteenth anniversary of the Association's Educational Scholarship Award programme with the college.
The recipients of the Naval Communications Station Scholarship are: Engineering student Rory Mullan, and Darragh McLaughlin, Eimear Barber, and Ben Ferguson who are all studying I.T.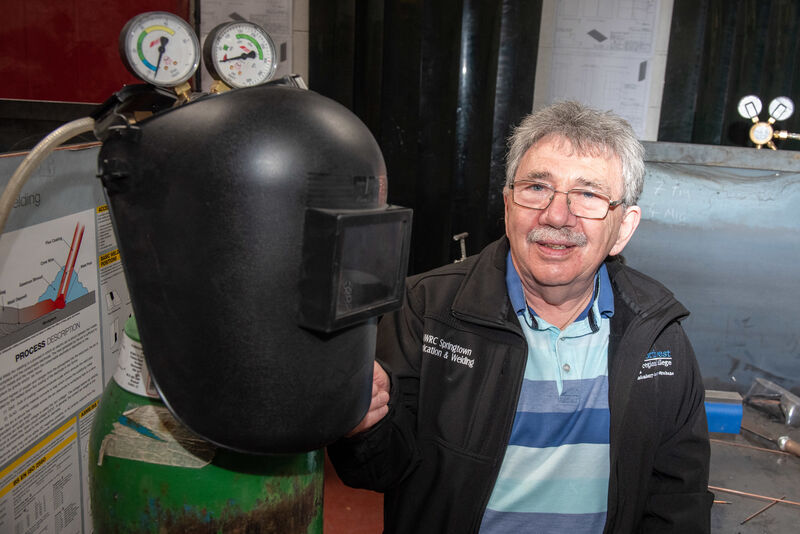 NWRC's Welding Lecturer Gerry Burke calls it a day after 40 years
College lecturer Gerry Burke announced his retirement this year.
The multi-talented lecturer at North West Regional College (NWRC) announced he was hanging up his Welding Hood, after spending 40 years passing on the much sought-after skills of Fabrication and Welding.
It's a bittersweet end to a long and committed career in which Gerry has managed to survive without a single sick day.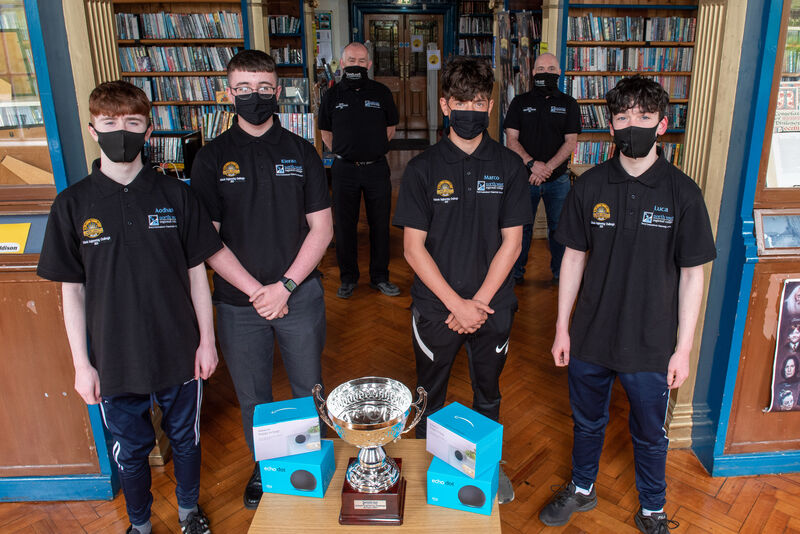 Lumen Christi Solar Designs win NWRC Engineering Cup
Four students from Lumen Christi College were presented with North West Regional College's (NWRC) inaugural Challenge Cup for Engineering.
Three teams of students from the Bishop Street Grammar School made it to the final of the competition, which was held as part of National Apprenticeship Week.
All of the finalists have now been invited to NWRC's Product Design Centre in Limavady to prototype their designs.
Aodhan Gillespie, Kiernan Nash, Marco Logue and Luca Dunlop, Year 11 students, scooped the top prize for their winning design of a portable charger using solar plus back wind-up dynamo. All four team members were also presented with their own individual prize of an Amazon 4th Generation Echo Dot.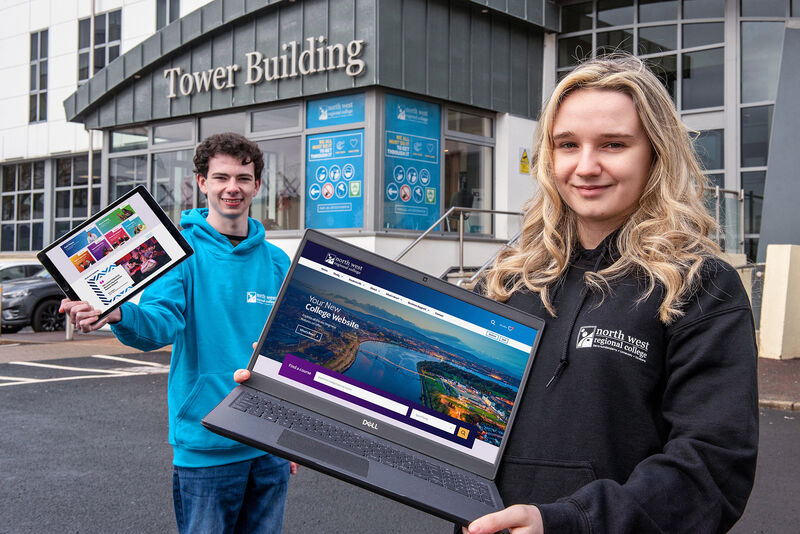 NWRC launches brand new website
North West Regional College (NWRC) has launched a brand-new website which aims to give visitors, students, and stakeholders, information on the college's five campuses, at the click of a button.
The new college website, which has been planned and built over the past year, offers all visitors to the site, an engaging and interactive experience.
Triumph at Media Awards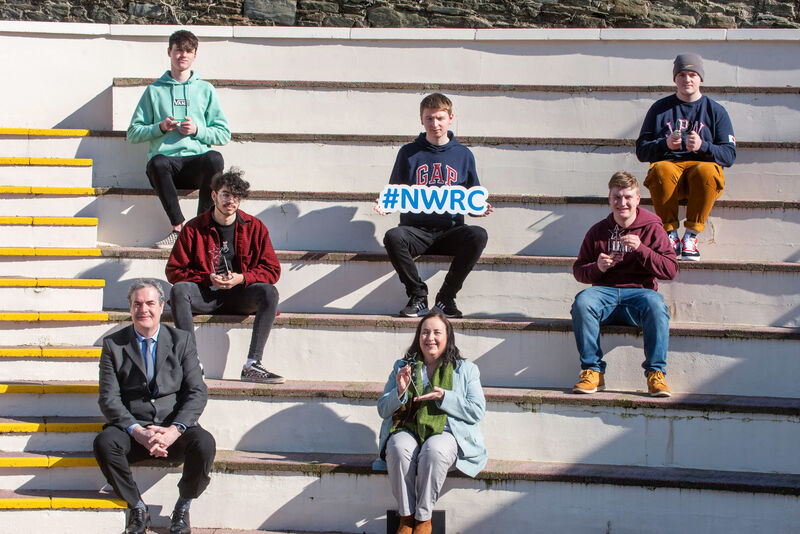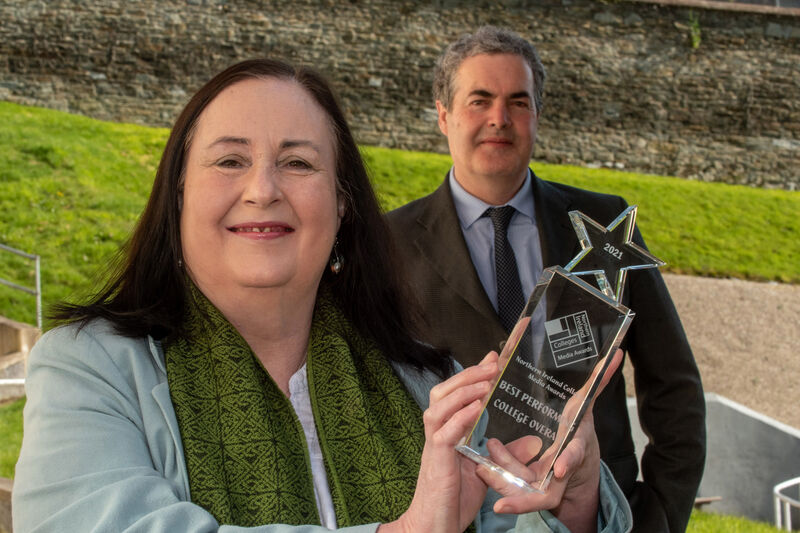 NWRC named top performing college in NICMA awards
North West Regional College (NWRC) was named top performing college at this year's Northern Ireland College's Media Awards.
This is the fourth year of the NICMA awards, which were held virtually in 2021 because of Covid-19 regulations.
NWRC dominated in the Photography, Moving Image Factual and Ad Production sections, with strong wins in Moving Image Fiction and Animations from SERC and SRC.
The NWRC winning entries in the NICMAs, which included students from both Strand Road and Limavady campus, dealt with a number of issues in the modern world, ranging from anxiety, community involvement and advertising.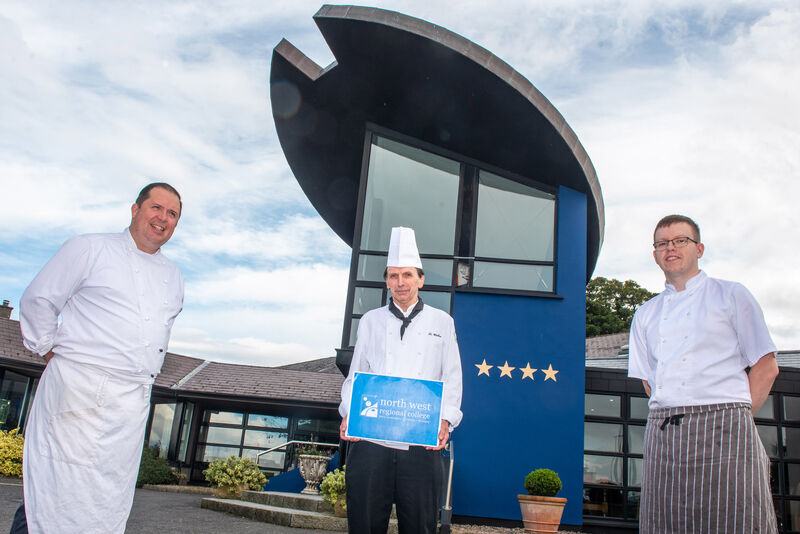 Lecturer Douglas Walker cooks up his final lesson at NWRC
This year we bid farewell to Douglas Walker.
One of North West Regional College's (NWRC) Hospitality and Catering Lecturers, Douglas Walker hung up his chef's apron for the last time, he spent his final day working for the college being reunited with two of his former students, Noel Ward and Andrew Taylor, based at the White Horse Hotel in Campsie.
Retirement now beckons for Douglas, following a varied career in which he has worked in restaurants and hotels in countries across Europe. His final destination was NWRC, where he has dedicated three decades to training up new generations of chefs, bakers, pâtissiers, and chocolatiers.
And with so many former students now happily in successful jobs within the Hospitality and Tourism Industry, Douglas looks back on a career in which he and his colleagues have worked to forge strong and sustainable connections with local employers, building new careers and strengthening the local economy.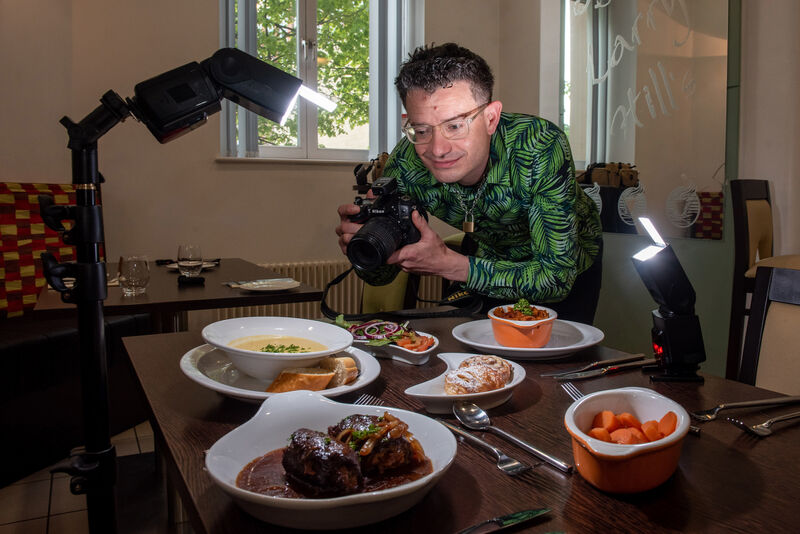 NWRC offers NI's first accredited qualification in Food Photography
North West Regional College (NWRC) became the first college in Northern Ireland to offer an accredited Food Photography course, which will run at both Strand Road and Limavady campus.
The OCN Level 2 course in Food Photography, is a brand-new part-time course.
Denzil Browne, Lecturer in Photography at NWRC, who will teach the OCN in Food Photography, said the course is a comprehensive new addition to the college's already extensive offering in photography classes.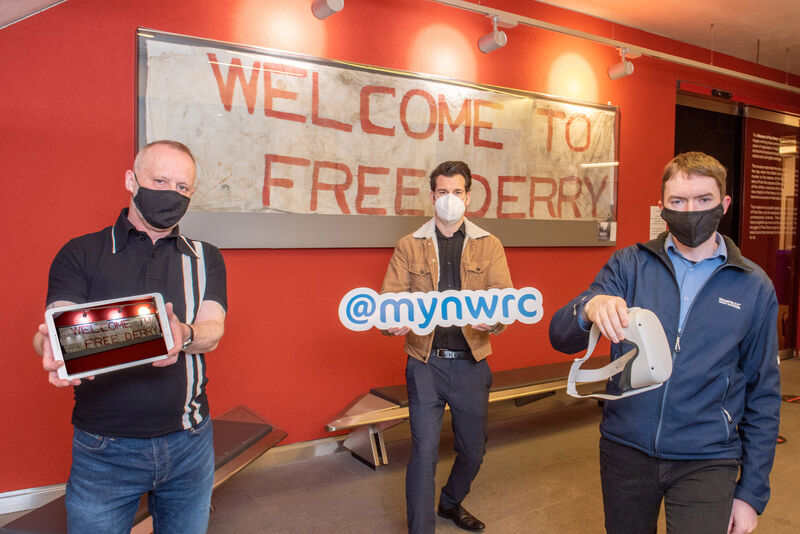 Free Derry museum develops interactive virtual tours with help from NWRC
Museum of Free Derry has developed a guided 360 video tour and a fully interactive 3D VR tour of the museum which they will utilize for virtual tours with help from North West Regional College (NWRC) Business Support Centre (BSC)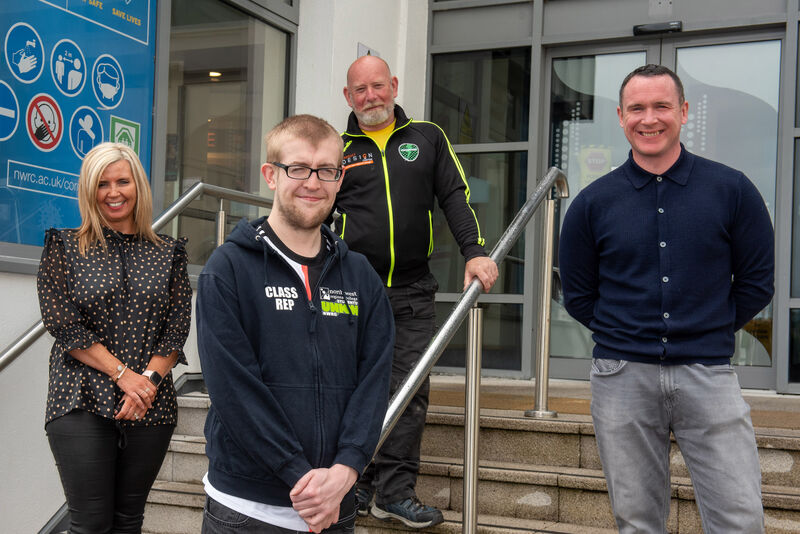 NWRC clinch major award for outstanding teamwork during lockdown
Two teams at North West Regional College (NWRC) won a major national award recognising their work to support students during lockdown which resulted in an increase in attendance at online classes.
The NWRC Student Welfare and Students' Union team beat off competition from universities and colleges across Ireland, winning the Welfare Campaign of the Year award at the United Student of Ireland (USI) Student Achievement Awards 2021.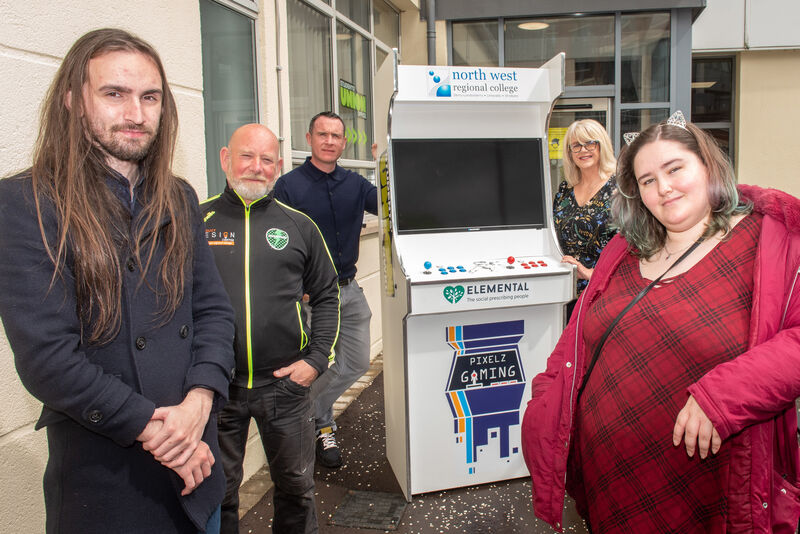 GAME ON – NWRC students triumph at regional PBL awards
Young people studying a range of subjects at North West Regional College (NWRC) scooped a number of awards at this year's Project Based Learning (PBL) awards – including the Sectoral award for Innovation.
The Pixelz Gaming Club Arcade Machine from the NWRC Students' Union was deemed to be the most innovative project across all six Further Education Colleges across Northern Ireland.
Four gaming machines will now be made and located around the college sites allowing 1000s of games on each machine. They will also feature important mental health messages and signposting of safeguarding support. When restrictions allow, Pixelz members will build the machines with supervision by NWRC Health and Well-Being Office Danny McFeely and PDC staff. They will learn carpentry skills, electronics, software and creative skills on the build element of the project. The Pixelz team won the College award for the Innovation sponsored by Enterprise NW, as well as the Sector award.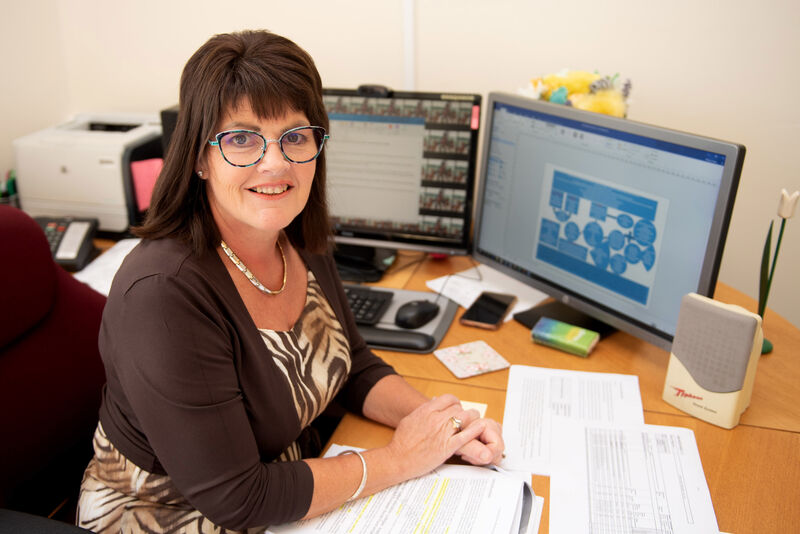 NWRC's Karen Moore receives MBE for services to Education
The Head of Quality Enhancement at North West Regional College (NWRC), Karen Moore, was awarded an MBE in the Queen's Birthday Honours.
Karen, who has been described as having a "heart of gold" by one of her former students, has been honoured for her services to education during the past 30 years.
Speaking following the announcement of the Birthday Honours, Karen said: "I am absolutely delighted to receive this honour. I'm lucky to have spent the past three decades at NWRC in a job that I absolutely love, guiding our young people into rewarding and successful careers.
"I'd like to thank all my colleagues at the college because everything that we do at NWRC is a team effort and I look forward to many more years working in Further Education."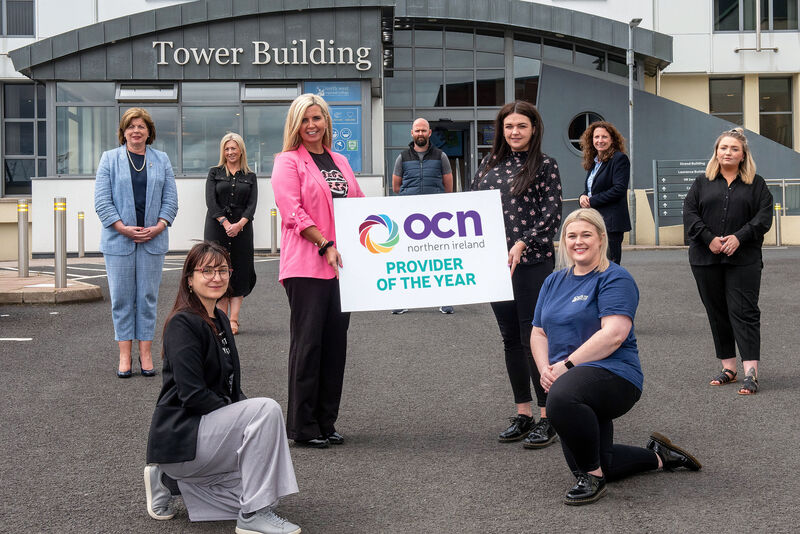 NWRC wins top OCN award
North West Regional College (NWRC) was named Provider of the Year at the 2021 OCN Learner Awards, recognising the difference the college has made to the lives of local learners, the local community, and the economy over the past 12 months.
This year's NI Open College Network Awards were held virtually, in line with Covid-19 restrictions, and had more than 200 entries across the categories.
As well as collecting a Highly Commended in the Further Education Learner of the Year, NWRC won Provider of the Year, recognising its innovative forward-thinking approach to student wellbeing.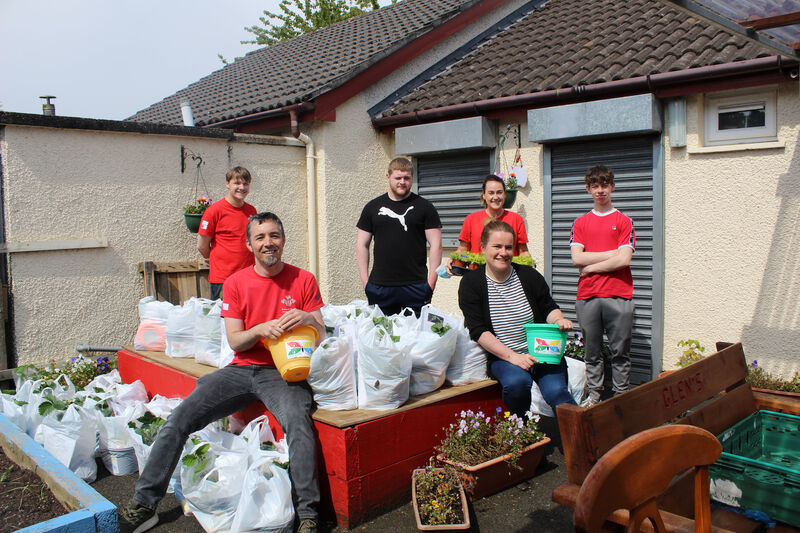 NWRC Training Team walk 250,000 steps
Young people taking part in North West Regional College's (NWRC) Prince's Trust Team Programme have donated their time to help a local community organisation.
The group are currently half way through the 12-week programme delivered by the college, aimed at boosting the employability skills of young people. As part of the Community Project module of their course, the young people raised money for the Glen's Community Association.
As part of this programme the students and mentors completed in a 250,000 step challenge raising £240 for the association. This money was put towards the DRIVE environmental project, which was the focus of their project.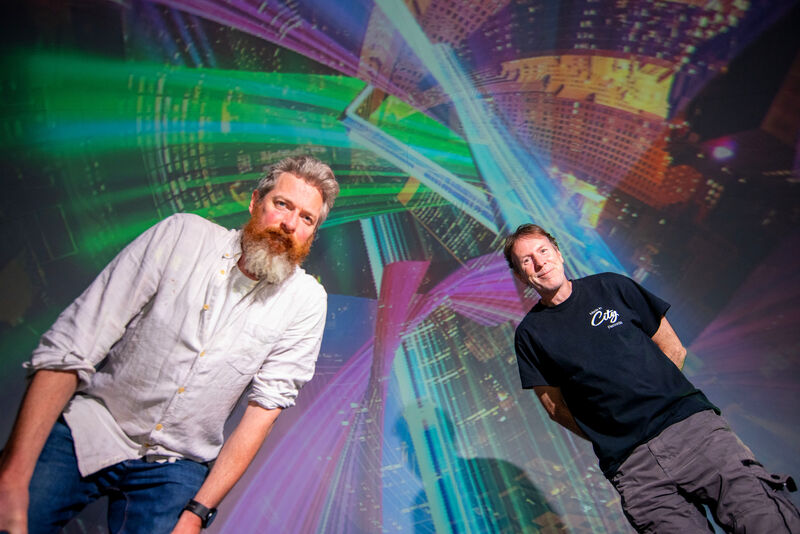 Psychlorama dome production comes to NWRC's Foyle Theatre
North West Regional College (NWRC) showcased a unique 360° audio-visual production made for dome projection, the first of its kind in Northern Ireland.
Psychlorama, was screened in the college's Strand Road campus, and is a 30-minute, four-part experimental piece incorporating hugely inventive visuals and electronic music.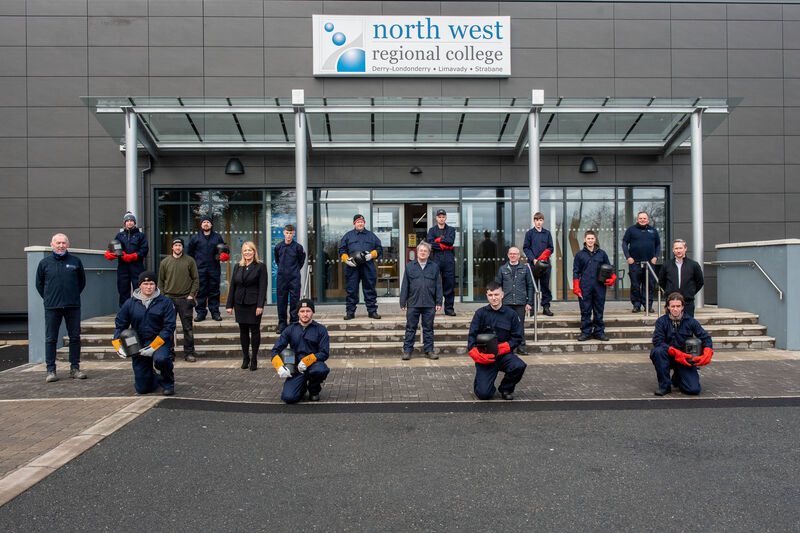 Apprentice Welders receive job offers after completing Assured Skills Academy
Twelve Apprentice welders have all received an offer of employment after completing an Assured Skills Welding Academy at North West Regional College (NWRC).
The dozen young men, who were among the almost 200 applicants for the Academy, will now be working with local companies Fleming Agri, GES, Crossland, AE Global and SGS NI Ltd, who partnered with the college to offer paid employment for the participants.
Sinead Hawkins, Business Development Manager at NWRC's Business Support Centre congratulated everyone involved with the academy, which she said has been one of the most successful to date.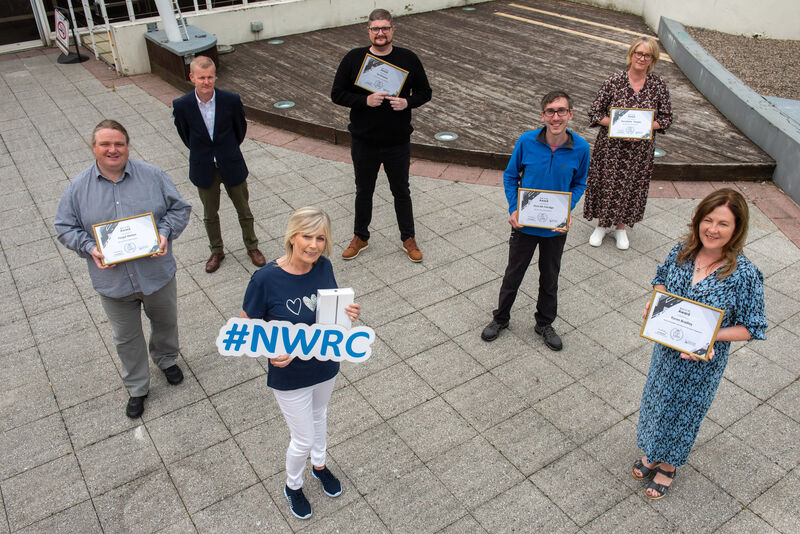 Lecturers triumph at NWRC's 2021 Technology Enhanced Learning Awards
A Lecturer in Health and Care won the top award at North West Regional College's (NWRC) 2021 Technology Enhanced Learning (TEL) Awards.
Fergal Mellon won the Best Use of TEL in Higher Education and the overall Best in NWRC. Judges praised the repertoire of apps he used to make his students' learning interesting, engaging and fun, and included: quizzes, animations, interactive videos, pre-class discussions and feedback and more.
Martin Peoples, Head of Technology Enhanced Learning and Support at NWRC said: "Congratulations to all of our lecturers in what has been a challenging year in education.
Further Education and FinTech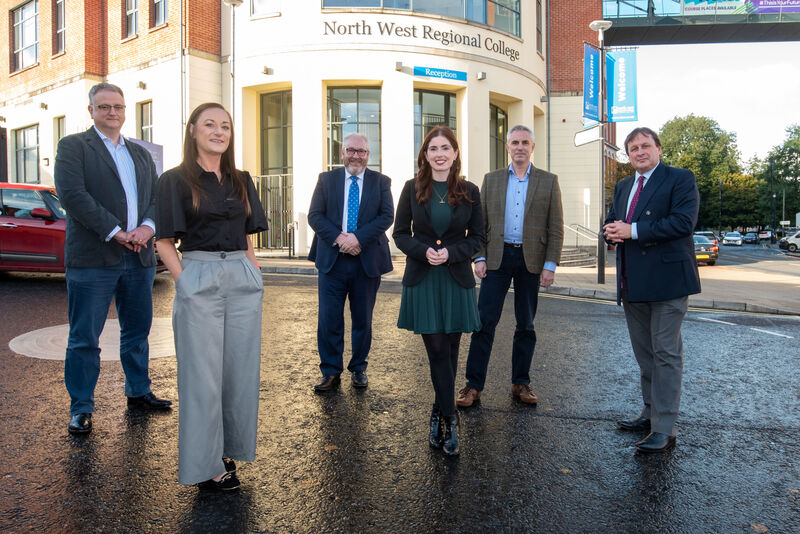 Hugely successful event and panel discussion at Strand Road Campus - Further Education and FinTech.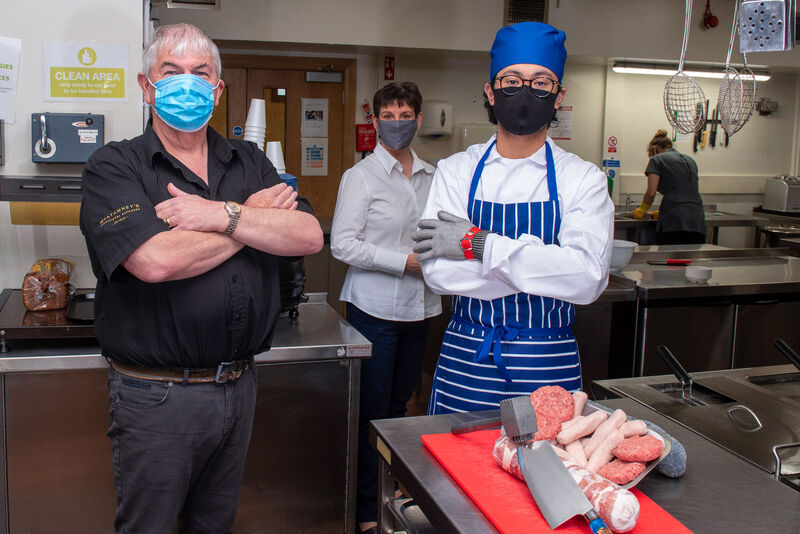 A cut above – NWRC introduces new course in Butchery
North West Regional College (NWRC) added the skill of butchery to its extensive list of Food, Hospitality and Catering courses.
NWRC Limavady is the first college in the North West to offer a course in Butchery, which can lead directly to employment or further study in Food, Hospitality or Catering.
Leyonia Davey, Curriculum Manager at NWRC Limavady said the college is delighted to offer this qualification in a skill that dates back centuries.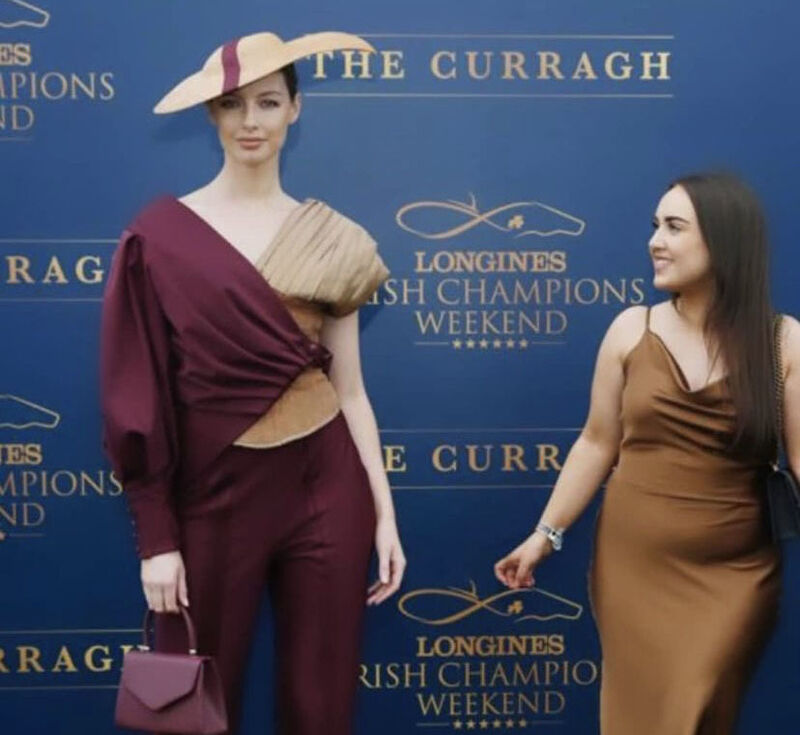 Artist Aoife in the race for successful career as fashion designer
A North West Regional College Art (NWRC) graduate was named in the top three of the inaugural Longines Irish Champions Weekend Young Designer Award.
Aoife Harvey, whose passion is to make garments from reclaimed materials, was runner up in the competition, putting the spotlight on 'Race Day Elegance.' The top three winning designs were then showcased at the Longines Irish Champions Weekend at the Curragh.
Aoife studied the BTEC Level 3 in Art and Design and the UAL Foundation Diploma at NWRC Limavady, before progressing to the Belfast School of Art. She is currently on placement working as an intern with Lucinda Graham at A Quiet ceremony.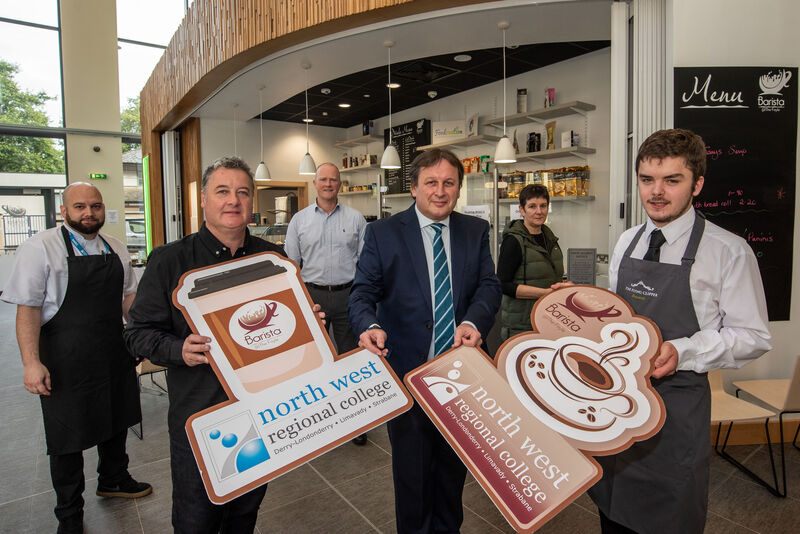 NWRC officially opens 'Barista @ the Foyle' coffee shop
North West Regional College (NWRC) officially opened a brand new coffee shop at Strand Road campus.
'Barista @ the Foyle' is based on the ground floor of the college's Foyle Building, serving speciality coffees, drinks, and freshly baked produce, daily.
The new coffee-shop, which is open to public, also doubles up as a teaching space for Barista Skills Training classes which are offered on a part time basis at NWRC.
Success for Art Graduate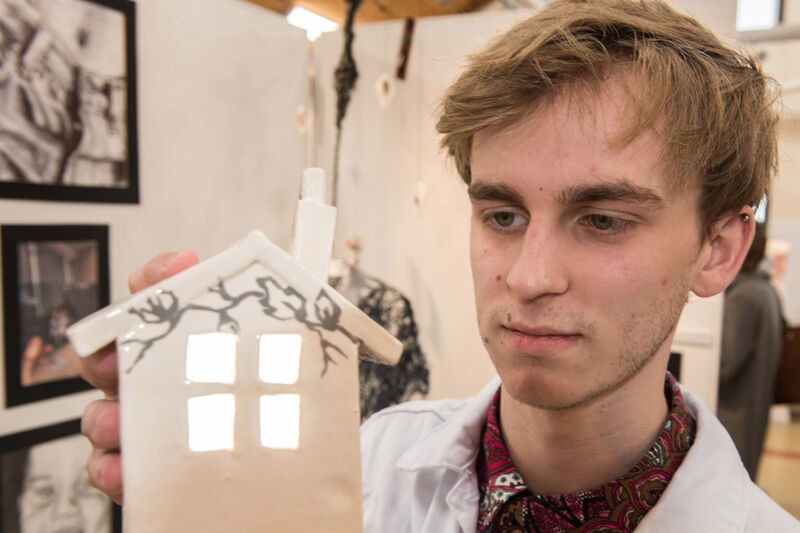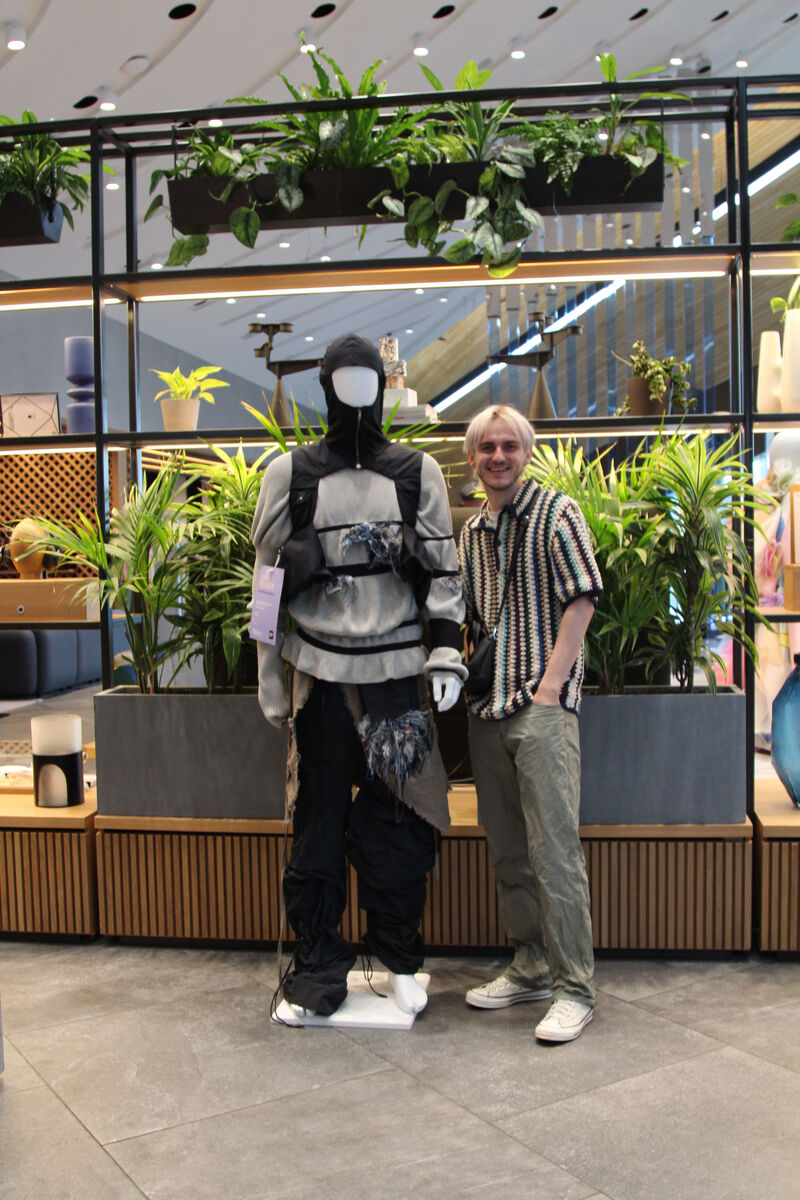 Life's Gucci for NWRC Art graduate Conor
A North West Regional College (NWRC) Art & Design graduate made it to the finals of the 2021 ArtsThread Global Design Graduate Show in collaboration with Gucci.
Conor McLaughlin, recently graduated with a First in Fashion Design and Marketing from Northumbria University. He spent of a year of his degree interning at MCQ Alexander McQueen, and is now asking the local public to get behind him by voting for his online showcase.
More than 5000 students around the world uploaded their end of year projects for the show. Conor has made the shortlist in the Menswear category, where he's up against students from London, Israel, Rome, and Paris.
He said: "For the Global Graduate Show I submitted my entire digital graduate collection, consisting of branding, concept development, design development and a marketing plan."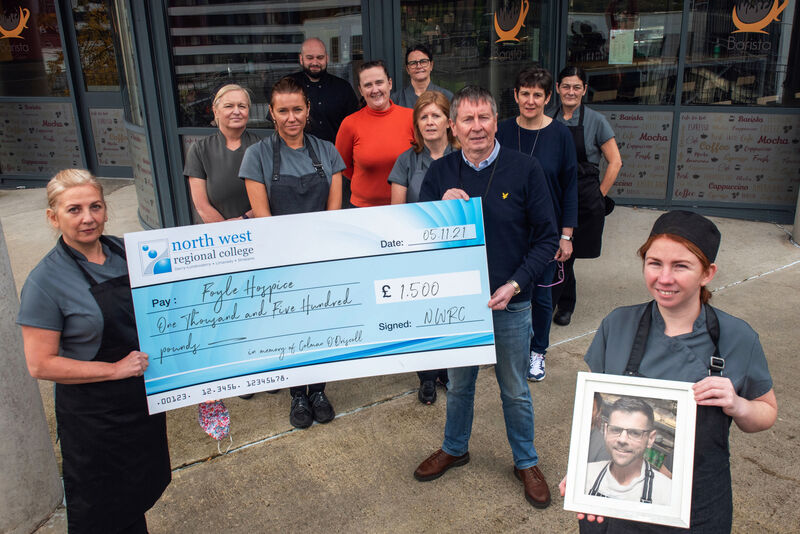 NWRC staff's charity fundraiser in memory of colleague Colman
Staff at North West Regional College (NWRC) donated £1,500 to the Foyle Hospice, in memory of their colleague Colman O'Driscoll, who passed away last year after a short illness.
Colman, who was originally from Cork, was NWRC's Hospitality and Catering Manager since 2018 and previously worked as Head Chef at the Everglades Hotel in Derry~Londonderry.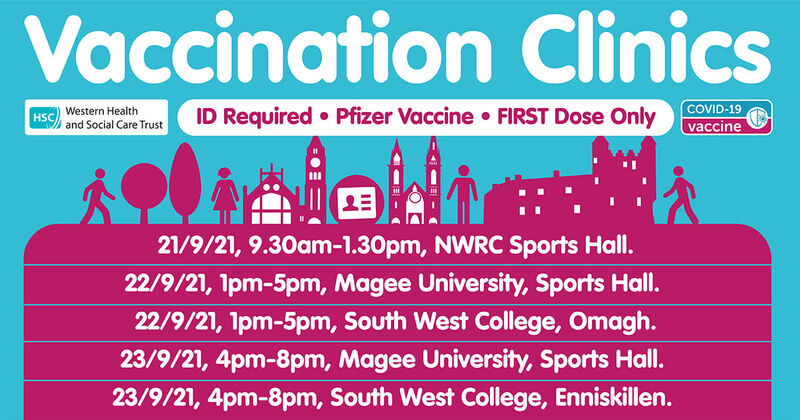 NWRC offers vaccination clinics as new and returning students are welcomed back to all campuses
North West Regional College (NWRC) hosted onsite Covid-19 vaccination clinics for all students and staff.
The clinics took place at NWRC Limavady, Strand Road, and Strabane campuses and all students and members of staff were encouraged to avail of the vaccine.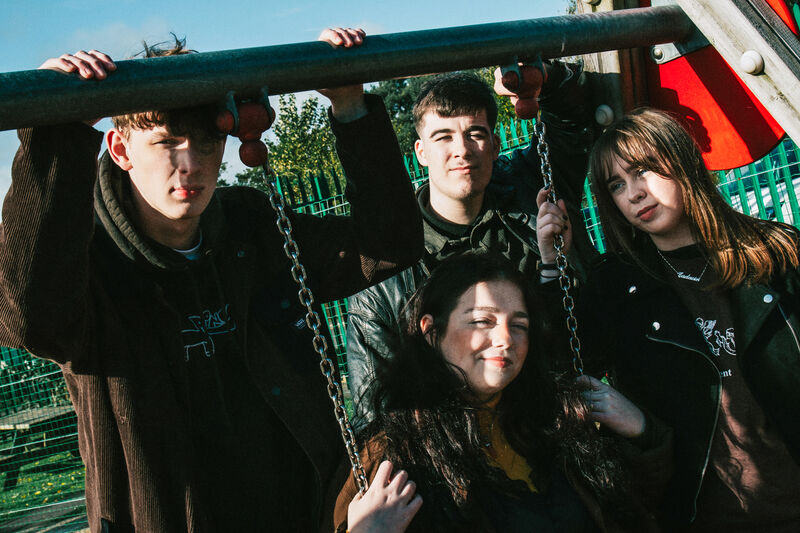 NWRC's Fake Friends are a 'New Breed' of Band
A group of North West Regional College (NWRC) Music students won the Clash of the New Breeds Band competition in Belfast.
The band, Fake Friends, clinched first place during the live finals at the Oh Yeah Centre, where six finalists competed for the trophy.
Despite their quirky name, the four members of Fake Friends, who are studying for the HND in Music at NWRC, are all best buddies.
"It's ironic," said Éadaoin O'Kane, the band's bass player, "and we always get asked about the name, but we really are best friends."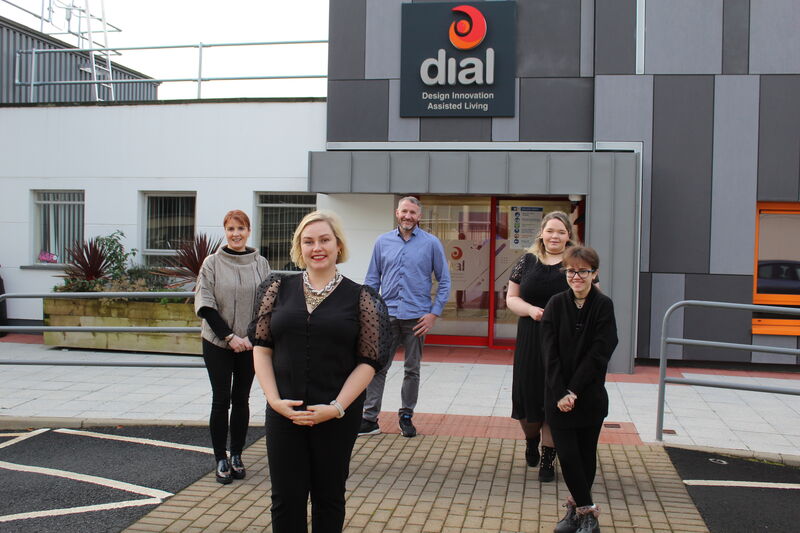 Global Perspectives on Health and Social Care Conference
Academics, assistive technology innovators, healthcare practitioners and managers from both sides of the Atlantic shared best practice at a free two-day virtual conference.
Global Perspectives on Health and Social Care, Collaborative Discussions with Northern Ireland and the U.S on November 16 – 17, was organised by North West Regional College, Northern Regional College and Ulster University, in partnership with St Petersburg College in Florida.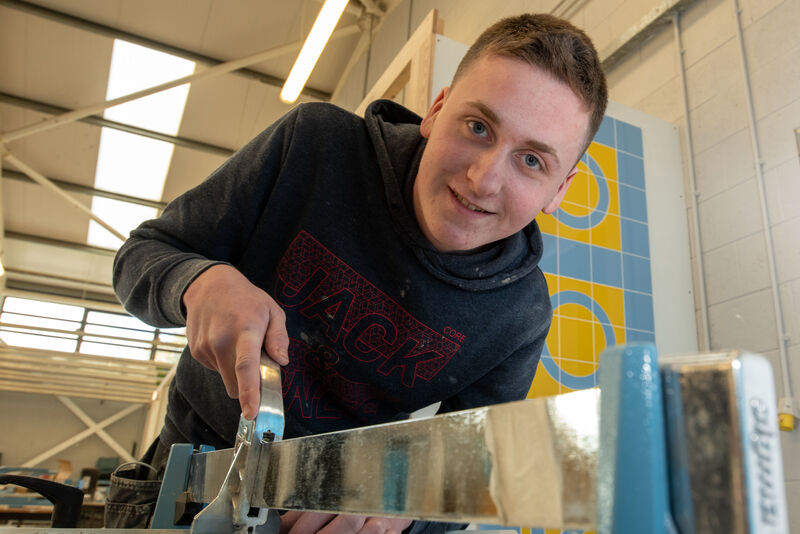 Morgan Nutt won a bronze medal in Tiling.
STRABANE HALLOWEEN HAY-TRAIL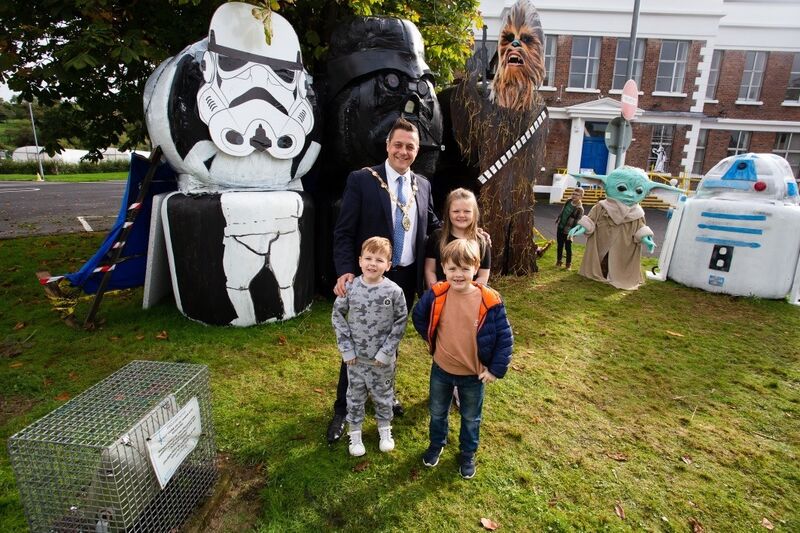 Delighted to welcome the Mayor Graham Warke to our Strabane Campus to view the hay sculptures made by local school children and our early years students.
Economy Minister Visits Limavady on Results Day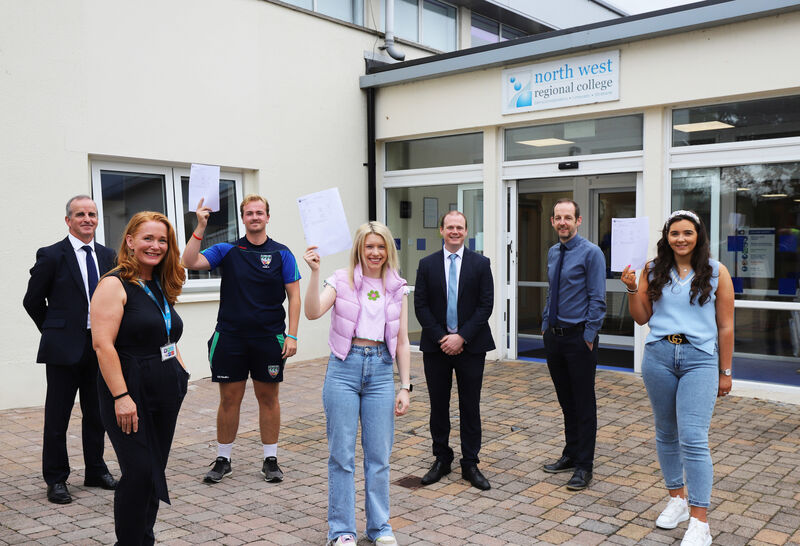 Economy Minister, Gordon Lyons MLA met with Further Education Students at North West Regional College to discuss alternative routes to higher education.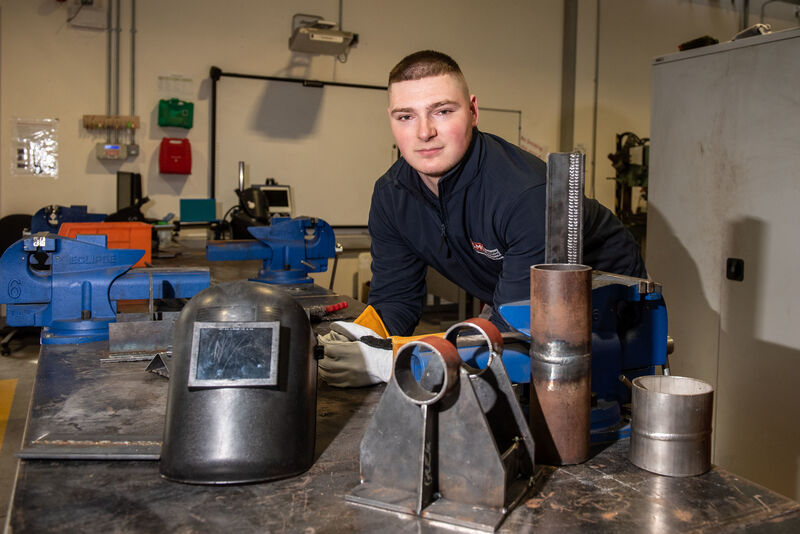 Science, Welding and Tiling put to the test as 3 NWRC students make the UK Worldskills finals
Three students from North West Regional College (NWRC) were among the most talented students in the UK at the Finals of the Skills Olympics.
Welder, Reiss Killen, Wall and Floor Tiler, Morgan Nutt and Lab Technician, Mya Kelly, faced three days of intense competition.
Tiling Apprentice Morgan Nutt from Claudy came away with a Bronze medal at the competition.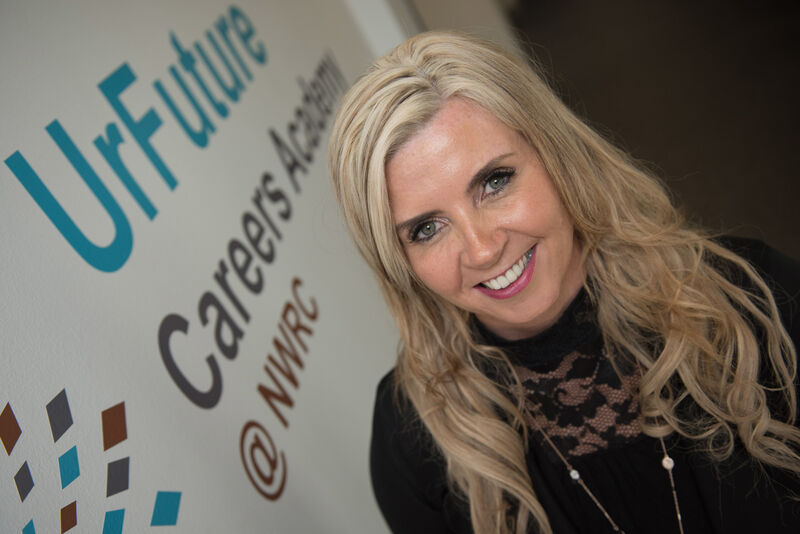 Online Careers Night at NWRC - Preparing students for jobs of the future
North West Regional College (NWRC) hosted an Online Careers Night on Tuesday, December 7, giving prospective students an insight into the education and employment opportunities available in the North West.
The virtual event brought together lecturing staff from all aspects of the NWRC curriculum, as well as some of the region's top employers, to advise local people of the opportunities available on their doorstep to help steer them into a successful career.