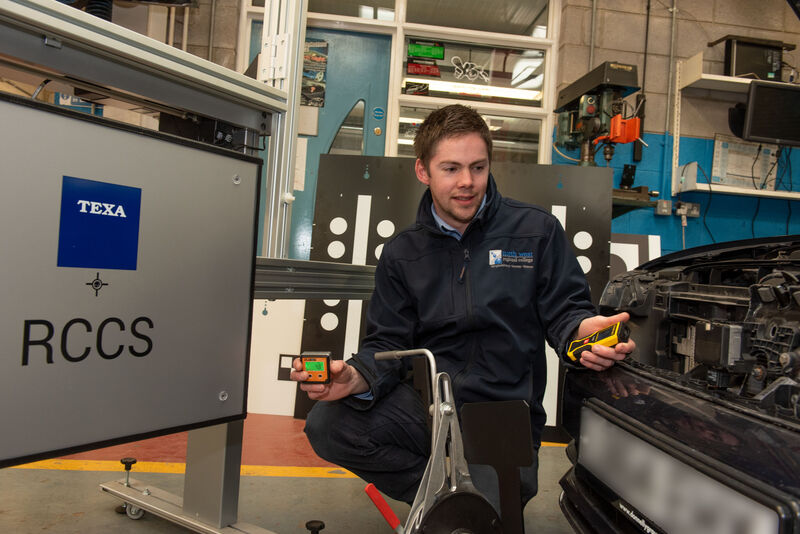 North West Regional College has become the first college in Northern Ireland to offer training in Advanced Driver Assistance Systems (ADAS).
This training, one of several new courses offered in NWRC's Greystone and Limavady Main Street Campus, is an IMI Accreditation, designed to ensure that motor vehicle technicians can calibrate Advanced Driver Assistance Systems (ADAS), an increasingly popular system in modern vehicles.
The training also allows the technician to become proficient in identifying and correctly interpreting information relating to a specific vehicle and its ADAS features, allowing them to determine which method of calibration is required.
Peter Semple, Lecturer in Motor vehicle Technology at NWRC, who deliver the ADAS training at Greystone Campus, said the growing and developing technology in this sector of the Motor Vehicle Industry has led to a demand for training in ADAS in Northern Ireland.
He added: "Advanced driver-assistance systems (ADAS) are electronic systems that assist drivers in driving and parking functions. ADAS systems use automated technology, such as sensors and cameras, to detect nearby obstacles or driver errors, and respond accordingly.
"Advanced driver-assistance systems are systems developed to automate, adapt, and enhance vehicle systems for safety and better driving.
"NWRC at Greystone has been offering training in ADAS since November 2020 and we will also be delivering this training from our Springtown Campus. NWRC are currently the only college in Northern Ireland delivering this training. Current industry professionals and employers who completed the training include Charles Hurst, Browne and Day Ford, Claudy, and JT Auto repairs in Coleraine.
"Recently we were delighted to welcome visitors from other colleges from across Northern Ireland who were given the opportunity to look at the ADAS equipment on display and in operation at NWRC which is manufactured by TEXA."
NWRC also deliver other industry relevant courses such as Electric Vehicle, L2, L3 on both campuses and L4 Electric vehicle in Greystone.
For more information on the training at NWRC contact peter.semple@nwrc.ac.uk or barry.mcdaid@nwrc.ac.uk