North West Regional College (NWRC) will host a series of events during Northern Ireland Apprenticeship Week (Feb 6-10) across its campuses in Derry~Londonderry, Limavady, and Strabane.
The week will showcase the benefits of becoming an apprentice, and how apprenticeships can transform the future for apprentices and businesses.
NWRC will promote a wide range of subject areas that offer apprenticeships including: Dental Nursing, Veterinary Nursing, Health and Social Care, Hairdressing, Construction, Motor Vehicle, Engineering, Painting and Decorating, Welding, Hospitality, Higher Level Apprenticeships… and much more.
Join NWRC on Monday, February 6 from 4-6 p.m. at Strabane Campus for the 'Try before you Buy' future skills for Apprenticeships event. Visit the dental surgery, hair and beauty salons, vocational training workshops, fully resourced IT suite and classrooms, library and learning resource centre, students' union and recreational area, horticulture pods, and early years classroom. You will also meet students and staff as well as attend a careers talk and learn more about HLA provision.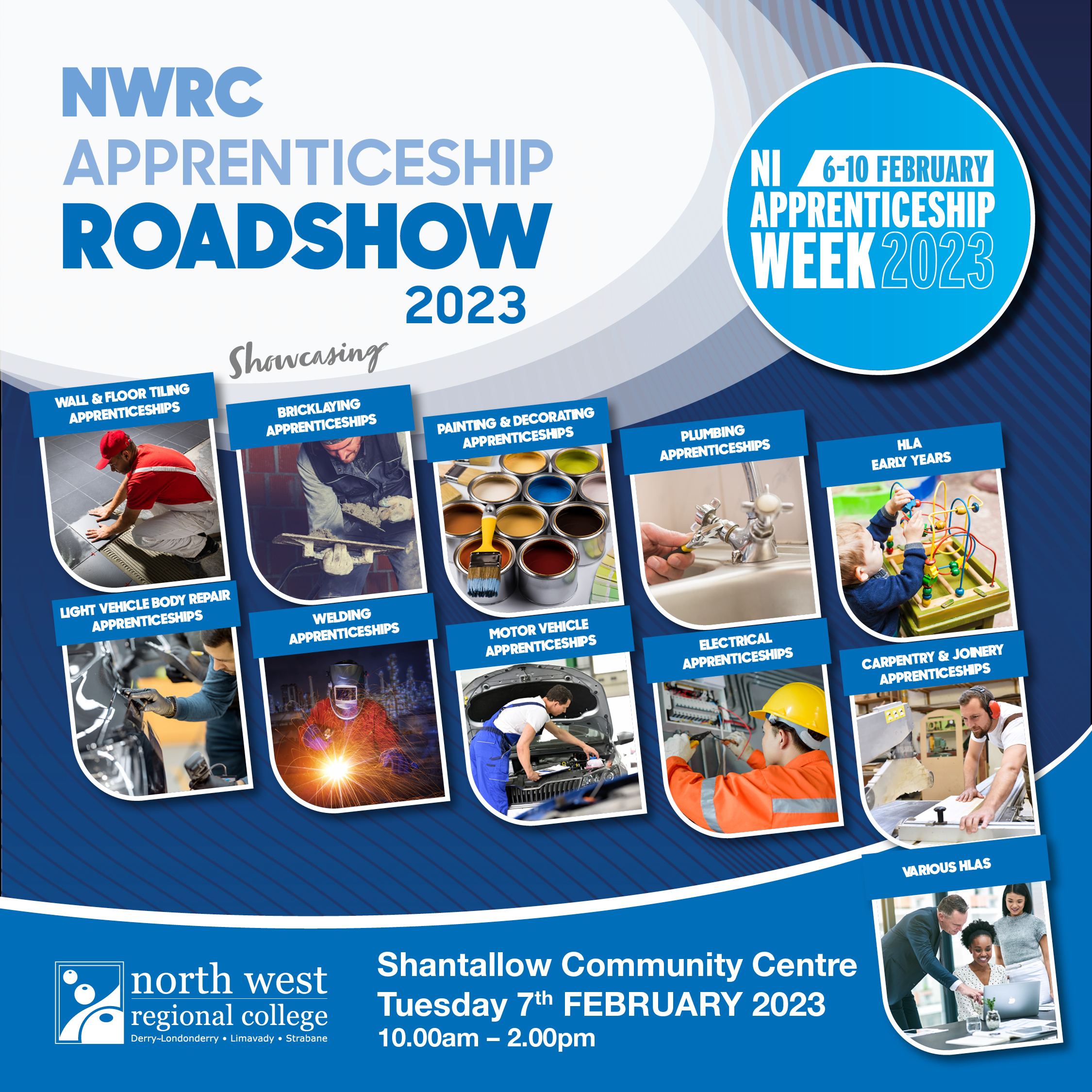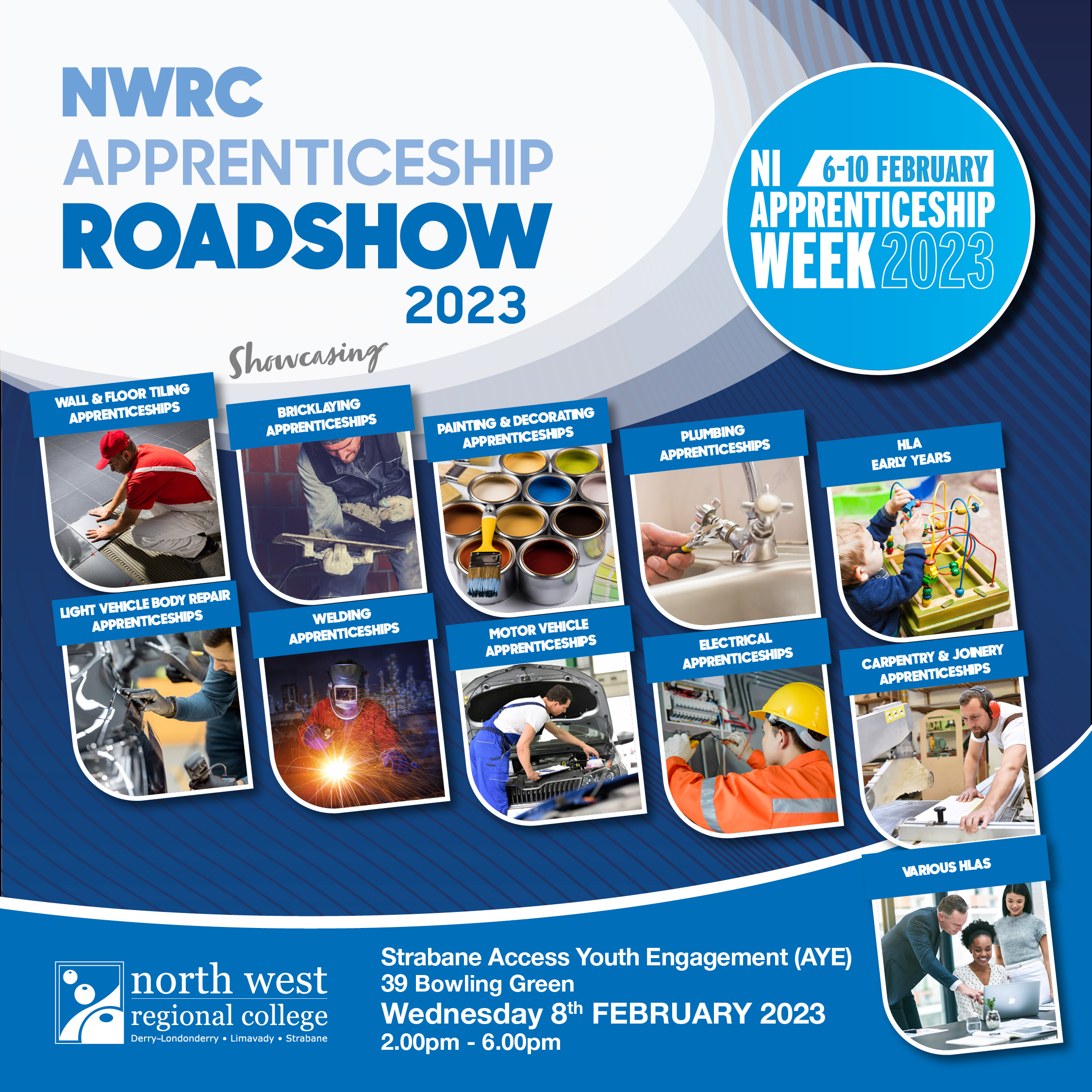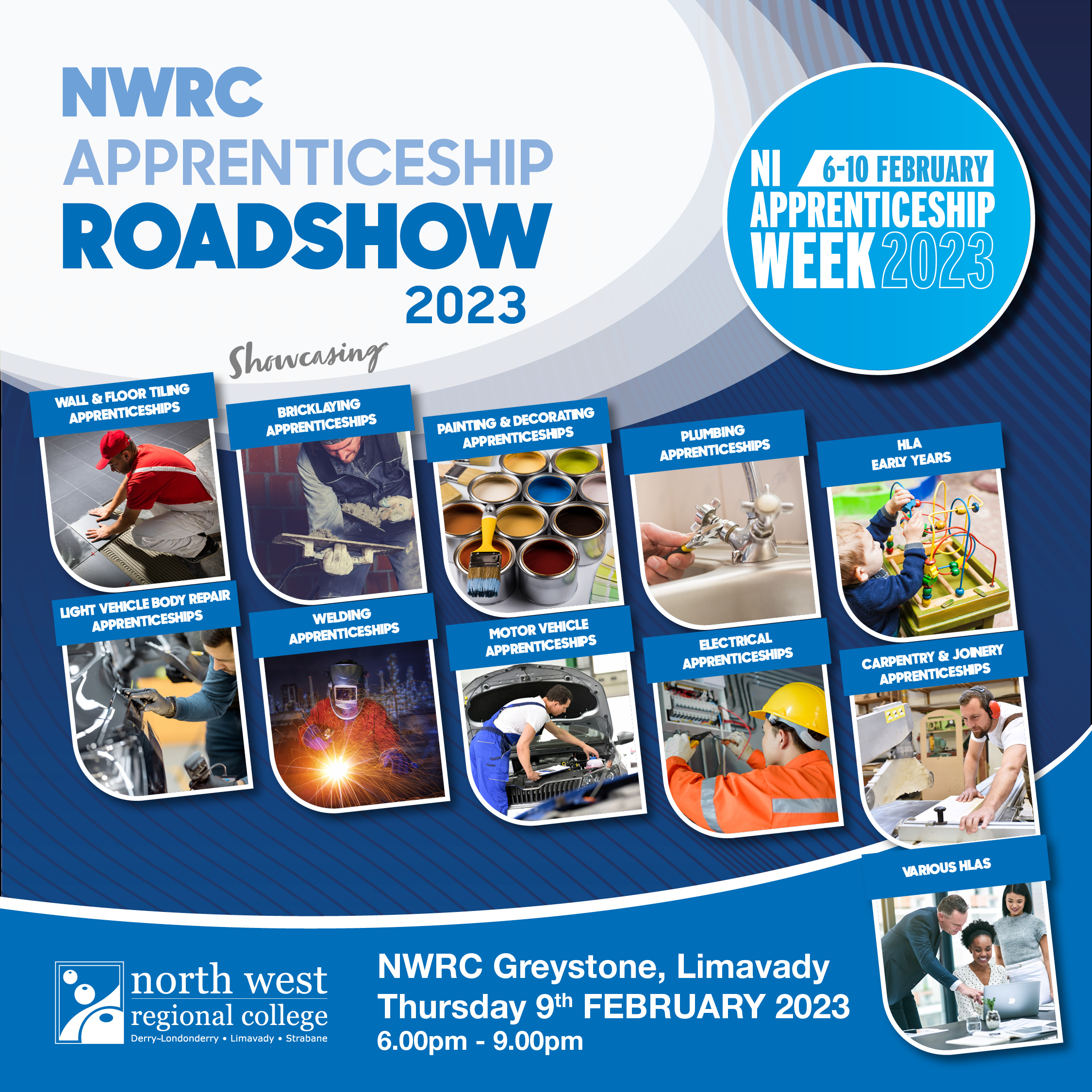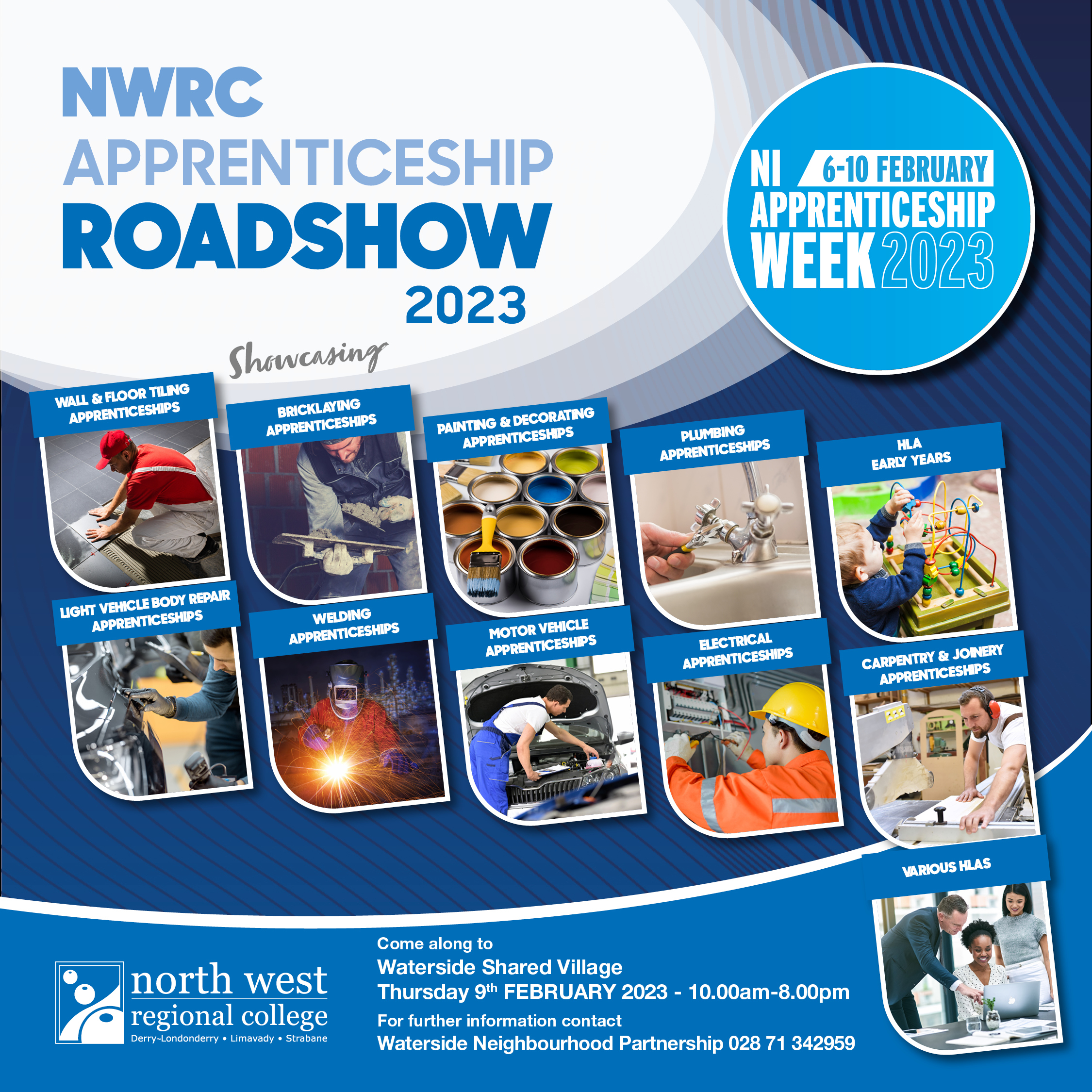 On Tuesday, February 7 from 10.30 a.m. – 3 p.m. NWRC will host an Apprenticeship Roadshow at Shantallow Community Centre showcasing apprenticeships in Painting & Decorating, Bricklaying, Mechanical Engineering, Wall & Floor Tiling, Welding, Electrical, Plumbing, Motor Vehicle, Light Vehicle Body Repair and various HLAs. NWRC will have practical demonstrations and curriculum staff available to answer questions you may have about the various Apprenticeship options available from L2 to HLAs at L5.
Further Roadshows will take place in
* Strabane Access Youth Engagement (AYE) on February 8 from 2-6 p.m.
* Greystone Campus, Limavady on February 8 from 6-9 p.m.
* Waterside Shared Village on February 9, from 10 - 8 p.m.

On Tuesday, February 9, 2023 from 10-11.30 a.m. Strand Road Campus will host a Higher Level Apprenticeship Employers Coffee Morning. This event is open to current employers and potential employers interested in finding out more about Higher Level Apprenticeships. During the event you can: meet with current employers to find out their experience of HLAs, find out how HLAs would benefit your organisation, learn more about the different HLA curriculum areas and how these would link in with your organisation, hear student feedback about their experience of HLAs and build relationships with other industry professionals.

On Thursday February 9, Limavady Main Street Campus and Greystone Campus will host the Roe Valley Learning Community Apprenticeship Information Evening at 7 p.m. This event will provide information about Apprenticeships, Traineeships and /WBL Information. Pupils & Parents can find out opportunities for apprenticeships and traineeships, finance queries and Higher Level Apprenticeships. There will also be testimonials from current and past apprentices and potential employers. Visitors can then visit areas within the campuses including: Dental Nursing, Veterinary Nursing, Professional Chef, Retail, Health & Social Care, Hairdressing/Beauty Therapy, Early Years/Childcare, Construction Skills, Brickwork, Wall & Floor Tiling, Carpentry & Joinery, Fabrication & Welding, Motor Vehicle, Painting & Decorating, Electro Technical Services (Electrician) and Engineering.
On Friday, February 10, (3-5.30 p.m.) Strabane Campus will host Destiny in Dental where you can hear from industry experts on the role of dental nursing and attend a demonstration of the training equipment. Visitors to the campus can also take part in a live Q&A and learn about the core elements of student and apprenticeships
The final event of the week is a Health and Social Care Taster Class at the Dial Centre, Strand Road campus on Friday, February 10 from 3-5 p.m. During the event there will be an overview of the apprenticeship in health and social care, tour of the Digital Innovation and Assisted Living Centre, dementia awareness activity with industry experts and a Q& A session.
All of the events are free and can be booked Here