North West Regional College (NWRC) lecturer David McCay has been presented with the Skills Competition Diversity Champion award, at the 2023 WorldSkills UK Equity, Diversity and Inclusion Heroes Awards.
The award, sponsored by the Education and Training Foundation is awarded to those that have driven diversity and inclusion in WorldSkills UK Skills Competitions through their participation in or delivery of the competitions.
North West Regional College was also awarded the Skills Competitions Advocate award, given to organisations that have delivered activities that have facilitated entries into WorldSkills UK competitions from underrepresented groups.
David McCay is a Wall and Flooring Tiling Lecturer at NWRC's Greystone Campus, however, he also delivers classes as part of the curriculum at Magilligan Prison.
The lecturer who has more than 30 years of experience working in education received the award for his work on a skills competition at the prison.
David said: "The prisoners got so much out of a recent competition we held where they were able to compete in wall and floor tiling, cabinet making, carpentry and joinery, and hairdressing and barbering. It was an extremely successful event."
For the past three decades, David McCay has shown unstinting dedication to his students. He has been responsible for guiding dozens of students at NI Skillbuild, UK Skills, and even the Worlds Skills Finals held at dozens of different locations around the globe.
David's success on the WorldSkills stage is so noted that for many years he worked as UK Training Manager. He is renowned for inspiring students during competition with his capacity to handle pressure, keep a cool head, motivate his squad members, build respect, and promote teamwork.
Dr Neil Bentley-Gockmann OBE, Chief Executive, WorldSkills UK said: "Congratulations to all of this year's winners. We were overwhelmed with the number and quality of nominations this year, demonstrating the importance the sector is placing on addressing inclusion and diversity. We have been so inspired by the people and stories behind the nominations and are pleased that we can celebrate those who are leading the way in the technical education sector and are impressive role models for others."
Simon Feneley-Lamb, Chief Operating Officer, Skills and Education Group said: "The WorldSkills UK Equity, Diversity, and Inclusion Heroes Awards recognises and celebrates the work that all award nominees have carried out to support diverse and inclusive practices. The high standard of nominees, and the work that they are doing, meant that selecting category winners was very difficult. All nominees and winners should be proud of the difference that they making to equity, diversity, and inclusion."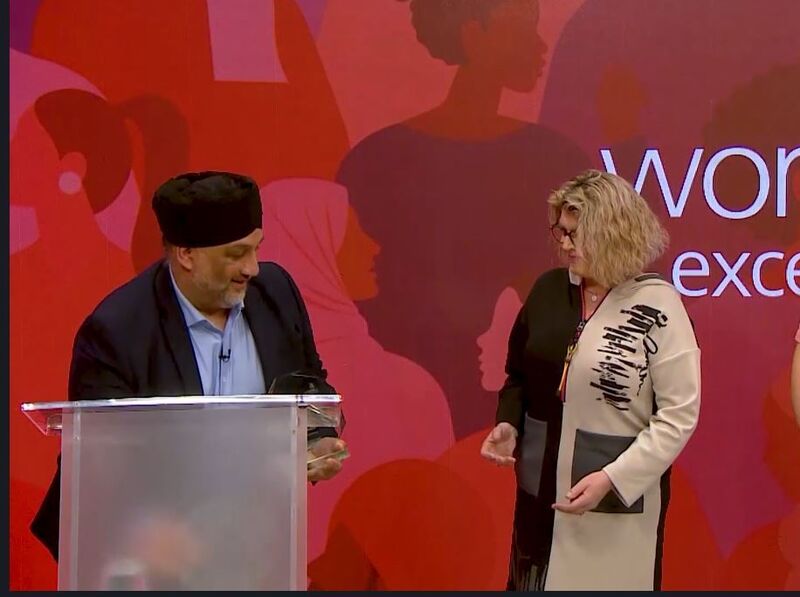 Head of Quality at NWRC Karen Moore collects the Skills Competitions Advocate award.