Derry City and Strabane District Council Trainee Electrician Shea Moore is vying for the highest accolade for apprentices in Northern Ireland after a successful first two years of a four year placement.
The North West Regional College student has been nominated for the NI Apprenticeship Awards which seek to recognise excellence and showcase the apprentice opportunities available to young people.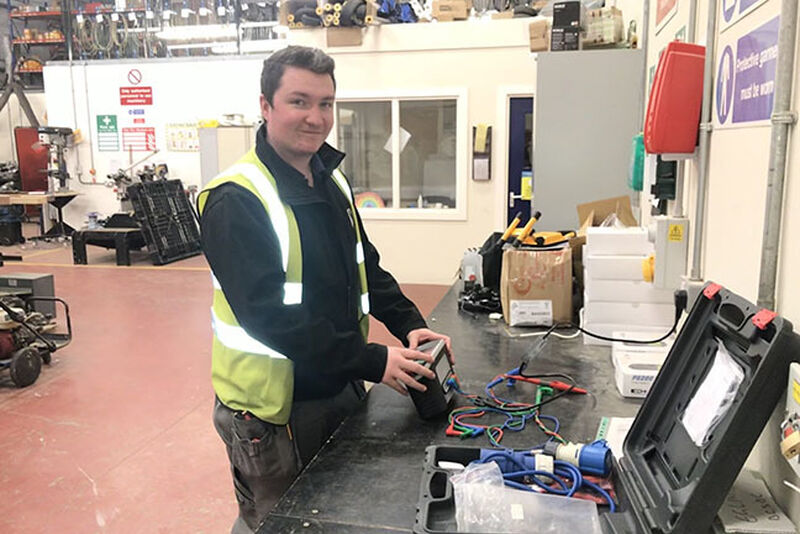 Shea is currently studying for an NVQ Level 3 qualification in Electro Technical Technology under the watchful eye of Mechanical and Electrical Manager at Council, Paul Higgins at Council's Maintenance Depot at Skeoge Road.
"We're delighted for Shea and it is just reward for the hard work and dedication he has shown since joining us two years ago," said Paul.
"He's blended in well with the team and is very eager to learn and has surpassed all expectations.
"His apprenticeship has allowed him to develop a wide knowledge of systems, some of them unique to Council such as the Guildhall Clock.
"His course has given him the knowledge and core learning required for the role and he has been able to put that into practise with us on a daily basis at our various sites.
Shea, a talented snooker player, who recorded a record break of 146 at the Northern Ireland Snooker Under 21 championships last year, said his practical experience at Council has complimented his studies.
"I was starting from scratch as an Electrician but I've gained a wide range of experience over the last two years working on maintenance and installation projects in domestic, industrial and communal settings," he said.
"I've been working on site four days a week and then a day of classes that I've been doing from home during Covid.
"I'm learning a lot on my course but it's invaluable to put it into action and I am working with an experienced team who are always willing to give advice and guidance."
Samantha Traynor, Head of Training and Skills at NWRC said: "Shea Moore is a dedicated student who fully applies himself to every task, both in college, and on his work placement with Derry and Strabane District Council.
"We are delighted with the news that he has been nominated for a NI Apprenticeship award.
"Shea's NVQ Level 3 in Electro-Technical Technology allows him to combine college studies with practical work placement on a professional site, a valuable training pathway to lead to employment success in the future. His success has been fantastic."
The Northern Ireland Apprenticeship Awards 2021 will be hosted in a special 'virtual' awards ceremony on Wednesday 28 April 2021 – one of the highlight events during Northern Ireland Apprenticeship Week 2021, which will run from 26 to 30 April 2021.