Driving Entrepreneurship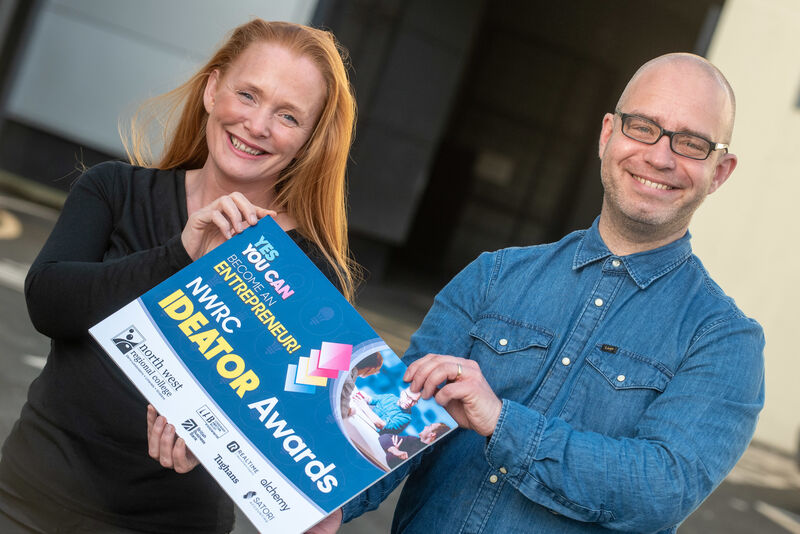 Lynne Kelly-Carton, Careers Co-ordinator at NWRC and Alastair Cameron, Entrepreneur in Residence at NWRC.
North West Regional College (NWRC) has launched a brand new competition with a prize pot of £4000, to inspire and reward entrepreneurial thinking and endeavours.
The NWRC IDEATOR Awards are open to students in the college, recent NWRC alumni and NWRC staff members, giving them the opportunity to develop business ideas.
Launched during Global Entrepreneurship Week, the awards are one of the first initiatives launched by Alastair Cameron, NWRC's first ever entrepreneur-in-residence.
Alastair is based at NWRC to help support students and drive entrepreneurship as a career pathway, as well as inspire students to take their first steps into business.
Alastair said: "One of my first aims at NWRC is to identify and reward innovative ideas and entrepreneurial thinking throughout the college network. The IDEATOR Awards will serve as a steppingstone for both students, recent NWRC alumni, and the staff network, to develop business ideas further.
"We have been very fortunate that alongside NWRC, a number of NI organisations have committed to support and back the awards financially, meaning we currently have a prize pot of £4,000 and 7 awards up for grabs.
"I am also delighted that the launch is taking place during Global Entrepreneurship Week, a week when NWRC will profile the creativity and innovation of local entrepreneurs.
"I look forward to seeing the entries for the IDEATORS come in as we continue to encourage drive forward entrepreneurship and start-up culture throughout the College."
The NWRC IDEATOR Awards are open and you can apply at
https://www.nwrc.ac.uk/whats-new/key-events/nwrc-ideator-awards
Winners will be selected and announced at a mini pitch and celebration event which will take place in February 2023.
This competition has been kindly supported by NWRC, The Lab Fund, RealTime Recruitment, Alchemy Technology, British Business Bank, Tughans and Satori Accounting.