A Tiler from North West Regional College (NWRC) is set to compete against the top apprentices across the UK, at the Skillbuild National Finals in Milton Keyes.
Timothy Gilmore, who works for SMC Tiling and studies the Level 3 in Wall and Floor Tiling at NWRC's Greystone Campus, is one of the 16 top construction trainees from across Northern Ireland to compete on November 21, 22 and 23 at the Marshall Arena in Milton Keynes, England.
The 18-year-old from Aghadowey said he decided to enrol at NWRC after completing his GCSEs at Limavady High School.
He added: "My dad Henry is a kitchen fitter and my Samuel works in trades, so this was always something I wanted to do. I like studying a trade that is so useful.
"My lecturer David McCay has supported getting me this far, as well as my employer SMC Tiling."
Ahead of the competition, Timothy has also been receiving some tips from NWRC Tiler Morgan Nutt, who won the Silver Medal at the National Finals last year.
David McCay, Lecturer in Wall and Floor Tiling at NWRC said: "At Greystone Campus we are very proud of Timothy who will represent the entire college and the North West at this competition. His success is another example of what we do at NWRC – train the best in skills such as Wall and Floor Tiling, Welding, Motor Vehicle, and much more. We wish him the very best of luck."
SkillBuild is delivered by the Construction Industry Training Board (CITB) and Timothy's success comes after competing at the Northern Ireland regional heats, which took place in NWRC's Greystone Campus in Limavady in May.
In the National finals Timothy will be tasked with constructing a project designed by an expert panel of judges, within an 18-hour timeframe. The project will test his knowledge and skills, as well ability to work under pressure within strict timelines, ensuring they adhere to health and safety protocols.
Helping hand from a fellow student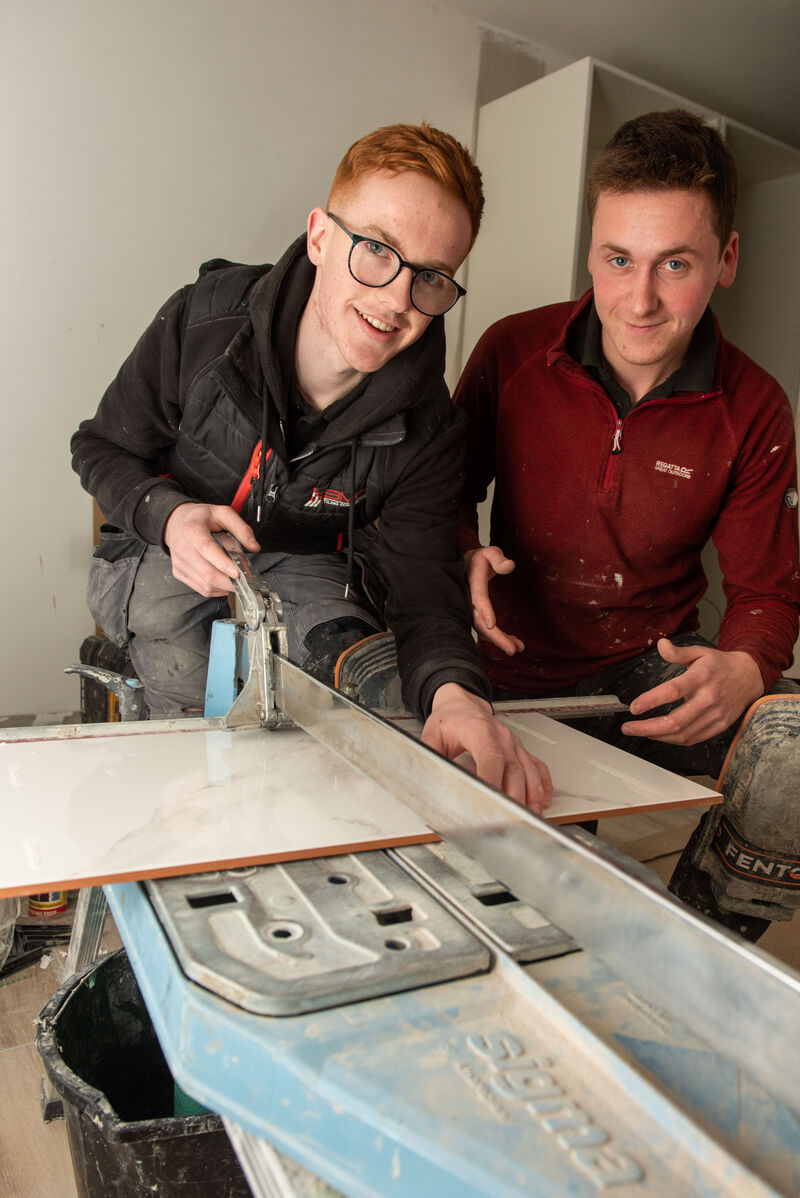 Timothy Gilmore receives some tips from last year's Silver Medal winner Morgan Nutt.