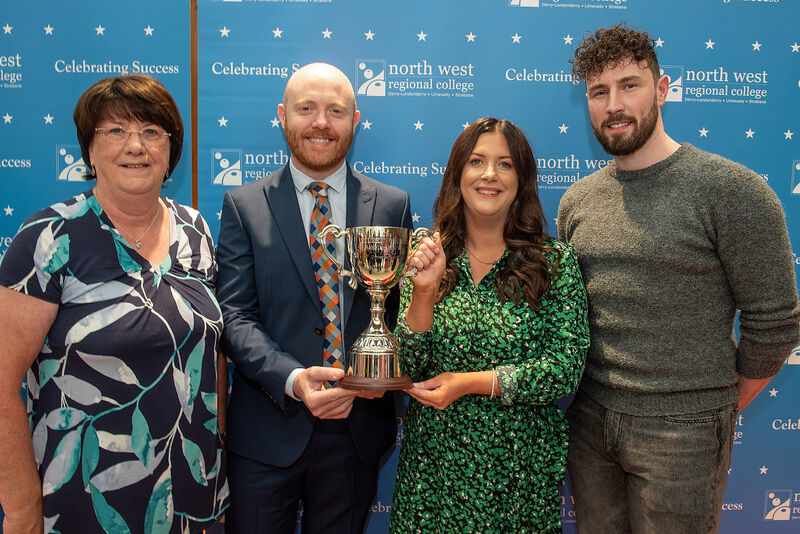 North West Regional College (NWRC) student Lorraine Moore-McLaughlin has been named the first-ever recipient of the Eileen Cairns Scholarship Cup, at the 2022 Best in FE (Further Education) celebrations.
Mum of 3 Lorraine, who completed the CACHE Level 3 CCLD (Children's Care, Learning and Development) Diploma at the college's Strabane Campus, was among more than 240 students whose achievements were celebrated after completing courses at one of NWRC's five main campuses.
This is the inaugural year of the scholarship, which was founded in memory Eileen Cairns who spent more than 30 years of her teaching career at the College. Lorraine was presented with the scholarship cup onstage by Eileen's son Gavyn, representing the Cairns family.
NWRC's 2022 Best in FE event took place at Derry~Londonderry's Millennium Forum hosted by BBC presenter and weather forecaster Barra Best. The event celebrates the achievements of Further Education graduates from the College's campuses across Derry~Londonderry, Strabane, and Limavady. The special guest for this year's event was former student and Ultra Athlete Danny Quigley who completed ten iron man challenges in ten consecutive days raising more than £100,00 for local charities.
Pam Canning, Lecturer in Early Years at NWRC Strabane, who nominated Lorraine for the award said: "Lorraine is a mature student who enrolled on this course so she could do a job which she enjoys, as well as get satisfaction out of seeing children grow and develop.
"Lorraine's work and her commitment to both placement and course work are outstanding. She was also a great support to the other students in her course.
"As a result of Lorraine's hard work, she was offered paid employment in her work placement which speaks volumes in relation to her work ethic and professionalism. She is amazing with the children and offers great support to the teacher."
Lorraine Moore-McLaughlin said: "I am absolutely delighted to have received this award especially as it is in memory of a lady who was so loved and respected across the North West. I thoroughly enjoyed my time at NWRC, it was a challenging course, but I had great lecturers and support around me. To receive this award at the Best in FE event was brilliant."
Eileen Cairns, who lived outside Sion Mills, passed away on July 25th, 2020, she had Parkinson's disease. Eileen, a native of County Tyrone had lectured in I.T. and Business Studies at NWRC. She was an immensely respected and popular educator, having spent more than three decades teaching within Strand Road and Strabane NWRC campuses.
'The Eileen Cairns Scholarship', along with a specially engraved trophy, carries an annual financial support compliment for the recipient to purchase technology or educational resources.