There are many reasons students choose to study for their Higher Education qualification at an FE College. Further Education Colleges are the more affordable option, with much lower tuition fees. Students also have the option to live at home, reducing the substantial living and maintenance costs that come with moving away.

Dr Catherine O'Mullan

Director of Curriculum and Academic Standards at NWRC
As thousands of young people received their A-Level and BTEC Level 3 examination results last week, Dr. Catherine O'Mullan, Director of Curriculum and Academic Standards at North West Regional College (NWRC) explains the benefits of studying Higher Education courses at your local Further and Higher education college…
This is your future
"At this time of year students are reaching a crossroads. Exam results are arriving, and decisions are being taken that will shape future lives and careers. At NWRC we do things differently, and our message to students is 'This is Your Future.'
"Results Days can be an exciting and challenging time. For many, the traditional route of A-Levels and Degree study has been seen as the only route to a successful career, but there is another option available locally. Enrolments are open at NWRC for a wide range of Higher Education qualifications in a range of professional and technical areas, a number of which are validated by Ulster University, Queen's University, Stranmillis College, and the Atlantic Technological University.
"HE courses can be studied on a full-time or part-time basis offering flexibility for students. They include courses as diverse as Higher National Diplomas, Higher National Certificates, and Foundation Degrees. Students on our HE courses validated by Ulster University receive 'Associate Student' status giving learners access to a wide range of resources and facilities designed to enhance the learning experience.
"NWRC offers post A-level students the opportunity to enrol on a Higher Level Apprenticeships (HLA), a unique work-based programme, which enables participants to earn while they learn and gain a nationally recognised higher-level qualification. Successful candidates will be employed in a company relevant to their chosen profession to gain valuable experience over a 2 or 3-year period.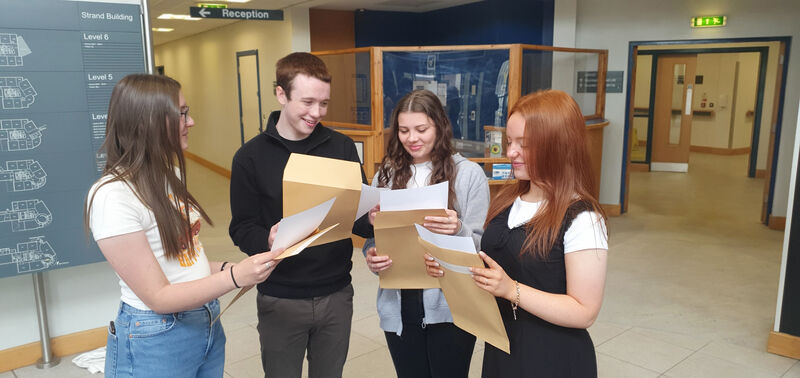 Caoimhe Hamilton, Cameron Monaghan, Clare Hamilton and Aileen Barber pick up their BTEC Level 3 Extended Diploma examination results (equivalent of 3 A Levels), at NWRC.
Far reaching curriculum
"Our curriculum is far-reaching and incredibly varied. For more than 100 years our college has been providing a huge range of education and training opportunities. Our full-time students range from school leavers (16+) embarking on Level 3 BTEC qualifications and Apprenticeships (the equivalent of 3 A-Levels), to students studying University standard qualifications from the Higher Education Curriculum.
"The college also offers the Access to Higher Education Diploma, in Health and Welfare, Combined Studies, and Science. This is a Level 3 qualification that's designed for adults wishing to return to education. Courses typically last either one year if studying full-time or two years if studying part-time.
"Every year NWRC attracts around 1,200 Higher Education students many of whom have gone on to work in successful careers in fields that include Construction Management, Hair and Beauty Management, Early Years, Healthcare, Journalism, Engineering, I.T., Teaching, Lecturing, Hospitality Management, Science, Music, Performing Arts, Sport, Engineering, Accountancy, Art and Design, and Graphic Design.
"Many of our HE students progress directly to employment or to Degree study. NWRC is proud to be the Curriculum HUB for Health and Social Care in Northern Ireland offering huge career opportunities for students. NWRC has a rich history of students progressing to employment and university in areas such as nursing and allied health professions.
"Last year our neighbours at Ulster University opened the new Medical School at Magee Campus, and this September the university will relocate its entire undergraduate Health Sciences course programme to its Campus in Derry~Londonderry.
"This move will bring significant benefits to the region, and I'm delighted to say that many of our students will progress to study their chosen courses locally. More students bring greater investment, new high-skilled jobs, and more prosperity for the North West region.
"There are many reasons students choose to study for their Higher Education qualification at an FE College. Further Education Colleges are the more affordable option, with much lower tuition fees. Students also have the option to live at home, reducing the substantial living and maintenance costs that come with moving away.
"NWRC also focuses on improving the health and well-being of students recognising the positive impact this can have on study and future success. NWRC has thriving student services facilities offering a number of extracurricular activities as well as advice and support on student finance, safeguarding, learning support and equality. Careers Advice at NWRC is now recognised as the best in the UK, offering a wide range of bespoke programmes, this support service assists students to meet their full educational and employment potential.
"Our students can also benefit from a wide range of extracurricular activities including work experience, international travels, as well as competing in competitions on a global stage, e.g. Worldskills. NWRC offers the highest quality, industry standard training facilities, for 'in demand' skills across Northern Ireland offering training relevant to the skills needs of local employers.
"In May of this year, I attended NWRC's Higher Education Graduation Ceremony and it was a wonderful occasion to be there to recognise the achievements of hundreds of our learners, who achieved their qualifications after choosing to study locally. Proof that the further and higher education sector is a transformational space, changing lives and empowering both people and communities.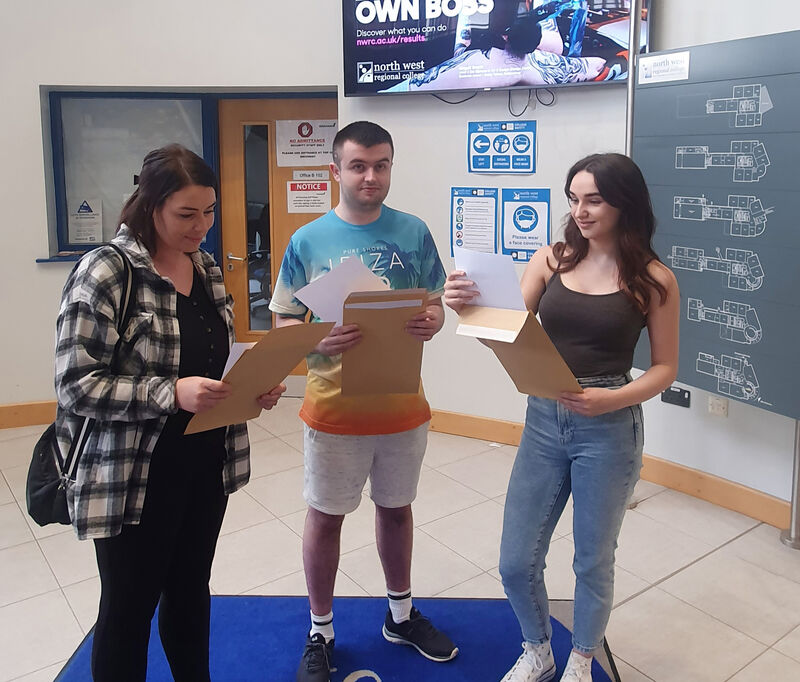 Amanda Courtney, Mark Doherty and Amy Hutcheon collect their BTEC Level 3 Extended Diploma examination results at NWRC.
"We wish all our young people the very best as they make the next decision in their future. Our Careers Academy operates an open-door policy for anyone who needs advice as they navigate this stage of their education journey.
"And as happens every year we are fully aware of those young people who may feel unsure about what to do next. Our message to those young people is that there are alternative routes to that fulfilling career at your local college and you can reach your end destination by taking on a higher education course or foundation degree in NWRC first.
"We look forward to you starting your future at NWRC."
For more information log on to www.nwrc.ac.uk/results or to speak to someone in the Careers Academy email careers@nwrc.ac.uk
You can also enrol for a course online at www.nwrc.ac.uk/apply