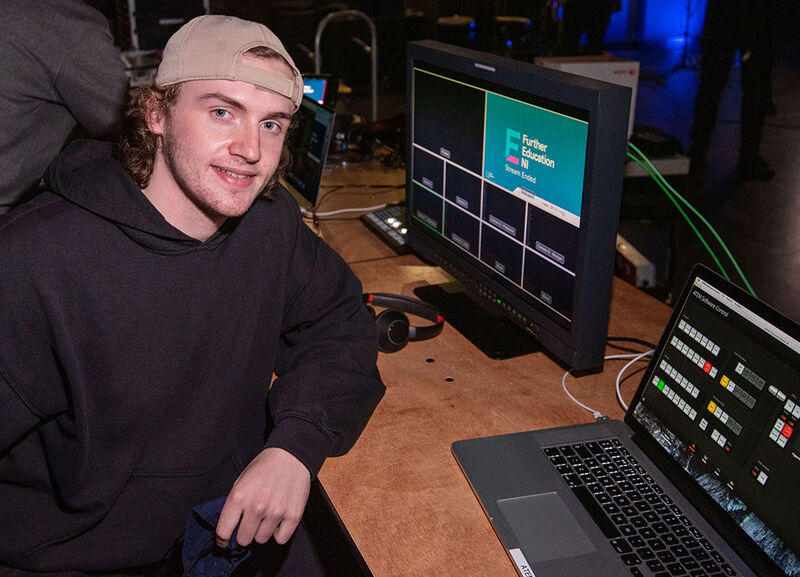 Adam Roulston
Course: HND in Creative Media Production (Film and Television)
Meet Adam, who is currently studying towards his HND in Media Production, specialising in Film and TV. He says the opportunities offered by the College have helped him develop his skills and confidence through various live projects and College events.
NWRC provides a great environment for kickstarting a career in Media Production.
Tell us a bit about yourself and your NWRC experience

I have been studying Media Production (Film and Television) for the past two years at the NWRC Strand Road campus.
The course was a great opportunity for myself to gain some real experience within the field as the College provides plenty of events and projects for students to develop valuable experience in all aspects of digital media production.

Through the staff and my peers, I have also acquired some great network connections for finding employment in the Media industry after completing my qualification. Having now nearly completed my HND year and with the skills I've gained over the last two years, I am confident about jumping head first into working in the field or advancing on to higher education at university.
-----
Would you recommend this course to other students?
I would really recommend this course to anyone interested in working in the industry! The NWRC is a great environment for kickstarting your career in media production.
Follow in Adam's Footsteps
Make your mark with a course that excites you, challenges you, and prepares you for career success.