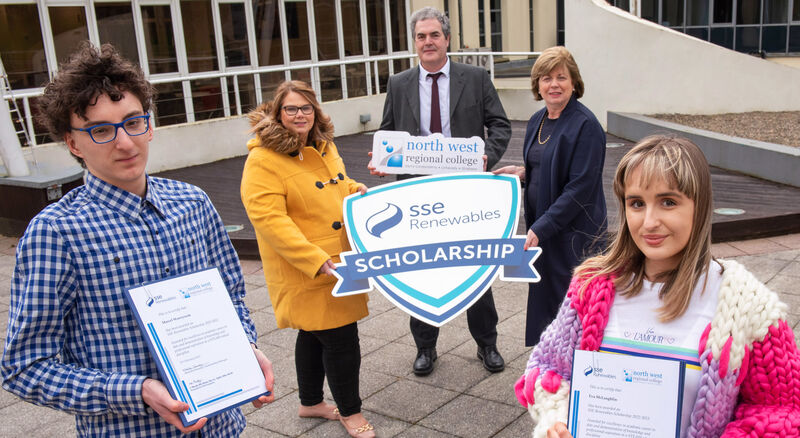 Key information
Deadline for applications: Friday 27 October 2023
Value: 50% funding towards the cost of your higher education course fees, for a maximum of 3 years fees.
Study Level: Higher Education (Level 4/5)
Study Mode: Full-Time, Part-Time
Scholarship Information

NWRC students from counties Tyrone, Derry-Londonderry, Fermanagh and Donegal have the chance to support their studies financially with the SSE Renewables 2023 Scholarship Fund, which is now open for applications.
This Scholarship provides financial support for students who are in their first year of a Higher Education course at North West Regional College, studying science, technology, engineering and mathematics (STEAM) subjects.
Successful applicants will receive funding support towards 50% of their course fees.

How to Apply

Please speak to your Course Director for application details.

Eligibility criteria
You are eligible to apply if you:
Hold a registered place on the first year of one of the higher education programmes listed below.
Have a home address in Co.Tyrone, Co. Derry-Londonderry, Co. Fermanagh or Co. Donegal.
Full Time and Part Time courses are eligible.
Eligibile Courses
Students studying the following courses are eligible to apply for the scholarship.



HND in Art and Design (Textiles)
HND in Art and Design (Art Practice)










Foundation Degree in Cyber Security

Foundation Degree in Software Development







HNC/D in Engineering (Mechanical)
HNC/D in Engineering (Electrical and Electronic)
HNC/D in General Engineering
Foundation Degree in Mechanical Engineering







NCTJ Diploma in Journalism
HND in Digital Design
HND in Creative Media Production (Film and Television)
HND in Creative Media Production (Journalism)







HNC/D in Music Production
HNC/D in Session Musician
HNC/D in Performing Arts (Acting)










HNC/D in Construction
HNC/D in Modern Construction and Renewables







HNC/D in Applied Sciences
Foundation Degree in Medical and Applied Science